Credit Suisse remains positive on the longer term outlook for US equities but tactically negative over the next few months. A Nov 24 report from the bank's investment committee sees increasing downside risk in fixed income, but expects low interest rates will continue to support commercial real estate.
With the US economy continuing to grow despite the Eurozone's problems, and equity valuations reasonable, our fundamental stock market outlook remains positive. This balances the technical downgrade that reflects the recent weak price action, to leave us still with a tactically neutral view on equities.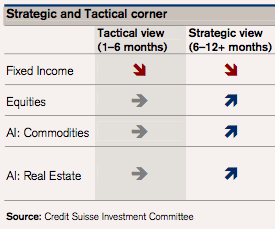 With ongoing intense funding pressure for Eurozone banks likely to gradually limit credit – especially to southern Europe – and intensify the slowdown, the crisis seems to be entering a new phase, with Italy and Greece making genuine steps to tighten fiscal policy, while Chancellor Merkel puts more emphasis on plans for fiscal union.
One result seems to be that German government bonds are coming under selling pressure. In short, policy moves continue in the right direction, but uncertainty and volatility remain elevated and likely to stay high for some time.
Downside risk in credit markets is increasing. Financials and High Yield are particularly at risk. Focus on top quality investment grade corporates.
Commercial real estate should continue to benefit from low interest rates, but the weakening economic outlook is likely to slow down rental growth.
For details see the full 10-page Credit Suisse Investment Committee Report US