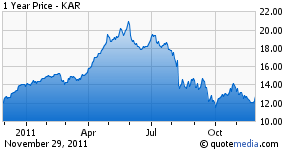 We like a bargain. We really like a quality franchise at a bargain. KAR Auction Services (NYSE:KAR) is the latter, misunderstood by the market because purchase accounting rules understate its true economic earnings.
KAR Auction services is in the business of remarketing autos in both whole or salvage condition to used car dealers. KAR also provides short-term, inventory-secured financing to said dealers, a financing business with relatively low credit risk.
A little bit of background on KAR is helpful. The company was formed in 2007 when publicly traded Adesa (whole car auctions) merged with privately held IAAI (salvage) and went private by a Goldman Sachs led consortium. At the time Adesa was valued at $2.7 billion in total enterprise value. The enterprise value of the merged KAR was $3.7 billion. KAR went public again in late 2009 at $12 a share. It is notable that the consortium did not cash out at that price, and instead the IPO proceeds were used by KAR to reduce debt.The current enterprise value is $3.3 billion.
The whole car auction industry is concentrated, with 71% of market share in the hands of KAR and Manheim (Manheim has half the market). The salvage market is similar, with the top two companies roughly splitting 72% of the market. The industry is relatively mature. It is also defensive, with volumes fluctuating far less than new car sales. Whole car auction volumes fluctuated between 9.2 and 10 million during the 10 years ending in 2008.
KAR does not take inventory of autos through the auction process. This is a big positive, as inventories suck up capital and reduce returns on invested capital. KAR's returns on capital are solid, and its market position is entrenched. The barriers to entry for new competitors are substantial due to KAR's established real estate footprint, technology infrastructure and the effects of scale.
At first glance KAR does not appear extraordinarily cheap. Consensus estimates for 2011 are $1.18, and $1.20 for 2012. However, KAR has beaucoup non-cash, annual amortization related to the 2007 merger. At $100 million a year, this expense shields taxes and flows straight through to cash. Annual operating cash flow is running at about $290 million a year versus an estimated $70 million in maintenance capex, producing free cash flow of $1.52/shr.
| | | | |
| --- | --- | --- | --- |
| | 2010 | 2009 | 2008 |
| Operating Cash Flow | $467.6 | $250.8 | $229 |
| Net Capex | $76.9 | $57.7 | $48.7 |
| Free Cash Flow | $390.7 | $193.1 | $180.3 |
| Earnings | $70 | $23 | -$50 |
As you can see above, the business has steadily, consistently generated cash although its bottom line GAAP numbers have been more erratic. In addition to excess D&A, KAR's bottom line has been obscured by debt issuance costs, which are declining, and high leverage, which is also declining. KAR has reduced net debt by about $240 million since going public in late 2009, and recently refinanced to a blended rate of about 5%. KAR also spent $200 million for the bolt-on acquisition of Openlane in August of this year.
Adesa was initially taken out at a 19x multiple to earnings, which at the time were very close to free cash flow. After going public, shares climbed to $21 this past May but have since sunk more than 40%. While a 19x multiple isn't warranted with KAR's current $1.86 billion in gross debt (or in this market), we think KAR shares are worth close to $20, or a 65% premium to the current price.
Disclosure: I am long KAR.