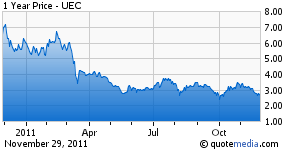 The uranium market is one I've been studying casually for some time now, and now preparing to invest in. My first investment in the uranium market is in Uranium Energy Corp. (NYSEMKT:UEC), a company that from my vantage point looks extremely well-positioned.
Here is the basic story:
1. As is the case with gold and other natural resources commodities, China is the "smart money" driving the bull market (see this Wall Street Journal article for a closer look at demand coming from China). Bullish sentiment has vanished in the wake of the earthquake in Japan that crippled the Fukushima Daiichi nuclear complex, though the underlying fundamentals have not changed. As such, now is a great buying opportunity.
2. I believe that ISR mining is a disruptive technology that will allow uranium to be mined at a lower price - which in turn will enable new business models for uranium mining companies. As such, I think the best opportunity is to find uranium mining companies that employ ISR technology. UEC is leader in this regard, currently focusing on ISR mining opportunities in the United States.
3. And the company is looking very good from the perspective of financial statements and technical analysis. It is currently trading at 2.80, near the bottom of its 52-week range. It has $30 million in cash, no debt, uranium in its possession that can be sold if needed, and a mining cost of under $25 per pound when uranium is currently trading at $50 per pound.
I spent a fair amount of time speaking with UEC management at the Hard Assets Investor Conference today, November 28, 2011, in San Francisco. I was left with a very favorable opinion of their team. Of all the companies I spoke with - and I spoke with quite a few - UEC is one I found most memorable, and am most excited to invest in.
Uranersz (NYSEMKT:URZ) is another company with a similar story that I will also be investing in. Ultimately, uranium miners leveraging ISR technology with healthy balance sheets and promising projects in the work constitute an opportunity I find extremely appealing, and one I believe is capable of generating phenomenal returns. At this point in time, I plan to hold UEC for at least several years - 2015, likely even later. As with all investments in stocks I make with a market capitalization of under $500 million (UEC currently has a market cap of $210), I am looking for a return of at least 10X my investment, and am entering with the understanding that wild price volatility may result in a loss of all capital if the venture fails.
Disclosure: I am long UEC, URZ.