Stealthgas (NASDAQ:GASS) is an international shipping company headquartered in Greece but based out of the Marshall Islands. The vast majority of their 39 ship fleet focuses on the shipping of liquid petroleum gas in Asia Pacific and the Mediterranean. For those unfamiliar with the company, please take a minute to read any of the three recent excellent write ups here, here and here. The most recent article by Sava focuses on how the company is trading at a large discount to book value so I will be focusing on how the company is discounted based on its current free cash flow to avoid reinventing the wheel.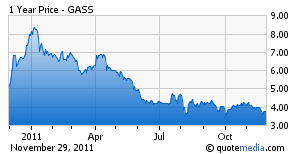 Stealthgas recently released their Q3 earnings that showed their QTD and YTD information. I will be using the YTD information to form my argument.
Adjusted net income through three quarters was $8.2M. Stealthgas is on the verge of completing a new shipbuilding program that will end with the delivery of two new LPG vessels in the first half of 2012. All of the necessary cash has already been paid for these new ships so there will be no further capex outflows. The company has the youngest fleet in the industry at an average age of 10.5 years compared to an industry average of 19.1 years. With these facts in mind, it is reasonable to assume that Stealthgas will not be purchasing any additional ships in the next few years. We can therefore add depreciation to the adjusted net income to get our true free cash flow of $28.8M through three quarters. Annualizing this brings us to $38.4M.
Stealthgas's current market cap is $78M, making the free cash flow yield on this company an unusually high 50%. The company is also currently sitting on a cash hoard of $42M and rapidly reaching a point where the cash balance will be greater than its capitalization. A company that generates enough cash to purchase itself in two years is hard to find and usually comes accompanied with outsized risks that are weighing down the stock price. I will attempt to address some of these risks next.
RISKS
Debt: The company currently has $344M in debt which is high when compared to its annual free cash flow (approaching 9x). However, the balloon payments on their loans are not due until 2014 and 2016 so there will be no financing problems in the short term. With the new building program nearing completion, the company will most likely start directing some of their free cash flow towards paying down their debt. Management has also indicated a willingness to sell off some of their older vessels with the proceeds to be used to pay down outstanding debt. In short, the debt is an issue that the company can manage through without taking any drastic measures.
Management: Stealthgas is headed by Harry Vafias, known as Harry Potter in his native Greece for his seemingly magical ability to grow his fleet over a short period of time. He has a proven eye for ship value and has been in the industry for over a decade (he is only 32). With that being said, it is puzzling why the company has not been returning excess cash to shareholders. This is a company that has over half of its market cap in cash and yet there is no dividend and the stock repurchase plan has been tepid at best.
The biggest investment risk right now is if management decides to use its cash to buy additional ships and take on additional debt as opposed to returning it to shareholders or paying down their current debt. I think this scenario is unlikely given the fact that new LPG ships are expensive given the continued strength of the yen (Japan is only builder of LPG vessels) and growing their debt even larger would be fiscally imprudent.
Finally, there was a chilling comment made by Mr. Vafias during the last investment call where he alluded to taking the company private if the stock price went much lower. This would be potentially disastrous for current shareholders. As of now, I still have faith in the CEO, but the next quarterly release will be very indicative of where management's priorities lie. At some point, all of that excess cash has to be allocated. It should be returned to the shareholders.
Market Conditions: The tanker industry is a very volatile industry. When it is good, it is very good but when it's bad, it is disastrous. We are currently in the trough of the market cycle that has been the result of an oversupply in the tanker market and the global economic slowdown. The market segment that Stealthgas serves (handy size LPG) however, is marked by steady rates and a low number of new ships coming online. The conservative nature of the segment is the reason that Mr. Vafias took the company there in the first place. The company also works to extend their ships on long term charters whenever possible to ensure consistent revenue streams. As of the last earnings call, 55% of available ship days have already been fixed for 2012 and 33% for 2013 so it is relatively safe to say that the risk of future revenue sharply declining is low.
In conclusion, Stealthgas is a company that is producing a 50% free cash flow yield that is trading as if it were on the verge of bankruptcy. At some point, company management will be forced to allocate their growing pile of cash and if a portion of it is returned to shareholders (as it should be), the stock price will ignite.
Disclosure: I am long GASS.