Business
Donaldson Company (NYSE:DCI) is a manufacturer of a broad range of filter products for use with engines and in specialty industrial applications. As shown in the Figure 1, Donaldson reports operating results in two segments: industrial and engine. The engine segment is the larger of the two, representing about 67% of sales and 64% of pre-tax operating profit. The segment has grown robustly over the past several years with cumulative growth of about 40% since 2007. The engine segment represents about 33% of sales, 36% of pre-tax operating profit and has declined in revenue terms by 9% on a cumulative basis since 2007. Of note, the growth in engine and the decline in industrial is somewhat overstated due to about three percentage points of revenue shifting from the latter to the former in a segment reorganization. Also, in addition to smaller acquisitions, the engine segment saw at least one large acquisition leading to two percentage points of additional revenue.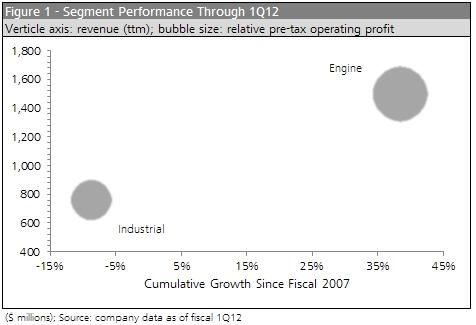 The engine segment comprises six product groupings as shown in gray shades in Figure 2. The off-road group includes air and liquid filtration products for mobile construction, mining and agricultural equipment. The on-road group includes similar filtration products as well as exhaust products for heavy trucks. Aerospace and defense includes air filters and rain repellent systems; and together with the previous product groupings are sold primarily into the OEM market. The aftermarket segment provides the company's engine filtration products into the replacement market while the smallest product grouping, retrofit emissions, sells exhaust products that remove particulate matter from the exhaust of heavy trucks.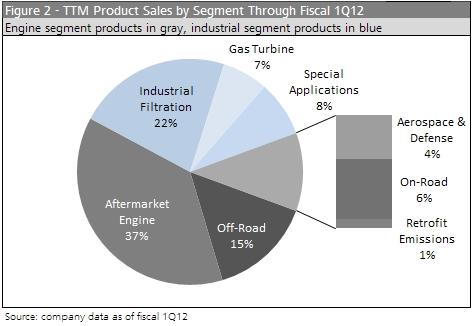 The blue areas in the above table are industrial segment product groupings, the first of which, industrial filtration, sells a wide range of air and liquid filtration products for use in machinery applications. One example is a product that removes dust from industrial processes. The company also sells fluid analysis systems and performs such services for customers. The gas turbine group primarily provides air filters to stationary gas turbine equipment used for power generation. Finally the special applications group's main products are filters used in hard disk drives, nanofiber membranes and filters used in semiconductor manufacturing.
Markets
A significant driver of Donaldson's business is the sale and use of construction, mining and agricultural equipment. The company supplies new parts to OEMs such as Caterpillar (NYSE:CAT) and replacement parts to end users. The health of the overall OEM market can be determined in large part by looking at dealer statistics published by Caterpillar, as shown in Figure 3. As the figure demonstrates, order rates have continued to grow at strong rates year-over-year (y-o-y) through October 2011, although recent months have shown some deceleration from prior rates.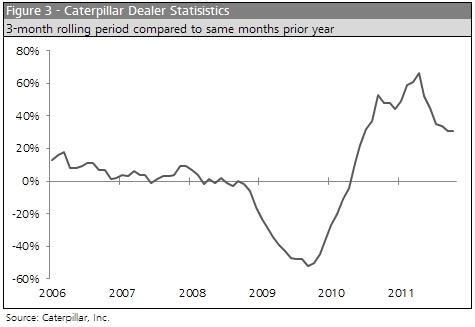 The replacement market can be somewhat cyclical as well due to changing utilization rates in existing fleets of equipment. The strongest leading indicator here is the price of metals, industrial materials and to some degree agriculture which peaked early in the third quarter and have since declined. As Figure 4 shows, the y-o-y change has just turned negative for metals and industrial materials while agriculture has remained positive. The prices for agriculture may not influence existing fleet utilization to a great degree but will impact the sales of new equipment if the trends become more negative. Although prices have declined somewhat, current levels remain consistent with strong utilization; however, further weakness may be of concern.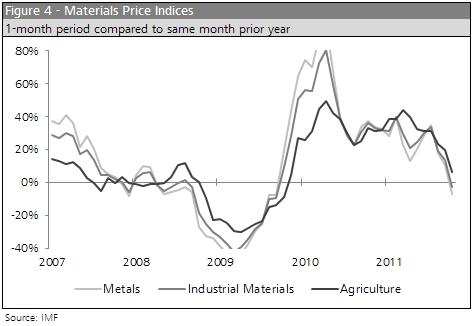 Heavy trucks are another important market for Donaldson both in OEM and replacement. The OEM market has been relatively strong in 2011 with U.S. and Canadian Class 8 truck activity up 29.8% and 23.2%, respectively in the first nine months of the year in terms of registrations, according to Polk. September registrations continued the strong pattern in the U.S. with y-o-y gains of about 25% although in Canada registrations were down somewhat y-o-y. A separate measurement of overall freight activity is produced by the U.S. Bureau of Transportation Statistics and this measure has shown strength recently, implying strong utilization of existing fleets, as shown in Figure 5.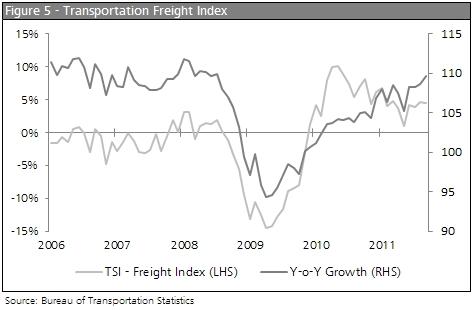 In Europe, gains in the first nine months of the year in heavy truck registrations were 44.3% while September gains were 16.6% y-o-y, showing a healthy but slowing market.[1] China's heavy truck industry has grown by leaps and bounds in the past few years, but in 2011 the industry has taken a breather with sales down about 4.5% at the top ten manufactures in the first nine months of the year and 3.8% y-o-y in October. The top ten manufacturers maintained about the same market share between the two periods at 70%.[2]
In analyzing Donaldson's overall business and the industrial segment in particular we can turn to the global PMI index compiled by JPMorgan and Markit. Figure 6 shows the evolution of this index since 1998. In September 2011, the PMI composite index hit its lowest level since August 2009. Data on individual countries for October shows further weakness, with the eurozone reading below 50 for the third straight month and China reading below 50 for the first time in six months and at its lowest level in the last 32 months.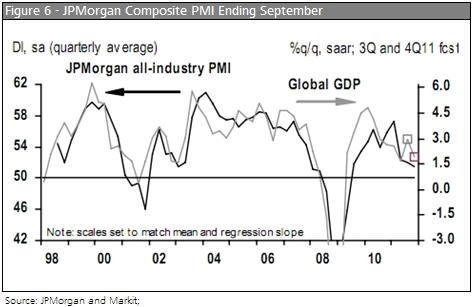 The industrial weakness implied by the global PMI index is corroborated by the recent eurozone and U.S. industrial production readings of -2.0% and 0.2%, respectively for September. In China, electricity usage, a proxy for industrial activity, has steadily cooled from a peak growth rate of 16.2% in June to 9.3% in October.
Financial Analysis
Stock market valuations reflect a company's long-term returns on invested capital and growth. In order to extract the market's expectations for future income generation an IRR based economic profit model is employed. The first step to employing the model is to determine all the capital invested in a business in replacement cost terms and including the impact of hidden assets such as research and development.
Table 1 shows capital invested in the business after making these adjustments.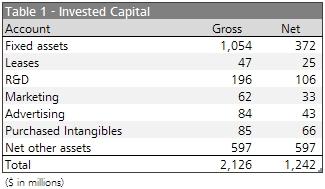 Fixed assets represent the largest slice of Donaldson's invested capital base followed by other assets (primarily working capital) and research and development. Fixed assets comprise the company's global manufacturing footprint including real estate and equipment and the company's distribution centers. Donaldson retains a large amount of inventory to support its business as well as a significant amount of accounts receivable which accounts for the company's large other asset position. Marketing and advertising capitalizations are based on estimated spending in those categories, while R&D is from the company's reported spending in that area. The company does not appear to disclose historical lease expense therefore the one-year forward commitment amount has been used to capitalize that expense.
The next step in determining returns on capital is to estimate run-rate profitability. Table 2 shows an estimate of gross income based on the reference period fiscal 3Q11 through 2Q12. Net income of $250 million conforms to actual results for 3Q11 through 1Q12 and analyst estimates for 2Q12 as compiled by First Call. A small adjustment has been made to future estimates to convert what are diluted per share figures to basic share estimates. Excluding the impact of share buybacks, the level of earnings is not projected to increase materially for several quarters after the reference period, therefore using a more forward estimate would not change the results materially.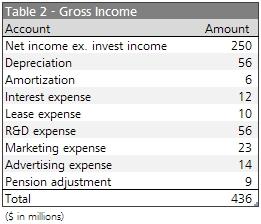 As Figure 7 below demonstrates, Donaldson's current returns on invested capital are 16.4%, in IRR terms. Because the Company cannot reinvest all the capital generated by the business, the effective (modified) IRR is reduced to 13.1%, a figure which assumes 40% of cash flow is reinvested to maintain the existing business. The value of growth capital is considered separately.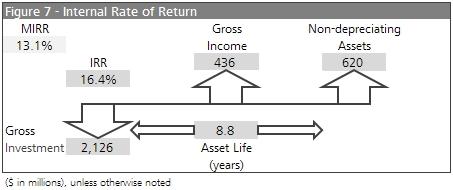 In order to bring context to current returns on capital, Figure 8 below shows a yearly measure of simple gross income compared to gross assets. The results are not strictly equivalent to the IRR above but give a good indication of differences over time. As is clear, returns had been quite stable until fiscal year 2011, never moving more than about half a percent from the average of 14.1%. In 2011, returns reached 16.2%, and for the TTM period returns have increased to 17%.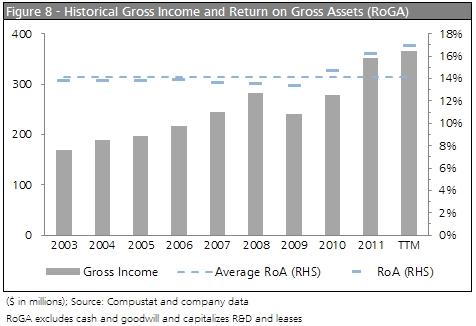 A number of factors likely drive Donaldson's ability to generate returns above the cost of capital. In recent years, the company has delivered a number of innovative new products to the marketplace and has been able to stay a step ahead of its competitors. Donaldson has also done well winning OEM programs thereby setting itself up for customer lock-in on replacement parts. In addition, the company maintains a good level of scale within the filter market enabling it to be price competitive with other companies. Finally, the company's products have relatively long product cycles which means the opportunity for competition is lessened. An offset to these factors is the reality that filters can only be so differentiated and eventually competition can copy successful designs and business processes.
Capitalization and Implied Income
Table 3 shows the full market capitalization of the company with equity being by far the largest component, followed by financial debt and employee options. The company shows $302 million of cash on hand which virtually eliminates Donaldson's gross debt position.
Given a total capitalization of $5 billion, a market implied level of gross income and growth can be established which will serve as a barometer for judging the attractiveness of Donaldson's equity. Table 4 shows the value of the existing $436 million of gross income at Donaldson is worth about $36 per share. The value of growth has two components, rate and longevity. If we assume the company will grow for 10 more years, the rate of growth necessary to equal the current share price is 7.8% per year in real terms given constant returns on capital. For reference, Donaldson should grow assets about 3.5% over the next year, in my view.

Conclusion
Donaldson is a well-run company operating in growing and relatively stable markets. The company has positioned itself well in a combination of OEM and replacement markets to earn attractive returns while still managing to grow. In recent years, returns have even accelerated with the recession only proving to be a minor blip in terms of income. Two factors however make the stock difficult to own.
First, many industrial markets have slowed dramatically in the last several months. Commodity prices are down and order rates for equipment have flattened although strength remains in certain areas. The second factor is valuation. Donaldson's stock is fully pricing today's earnings and returns on capital, as well as very strong growth over the next decade. In my view, the company needs to prove its new and higher level of returns on capital are sustainable and are not being driving by underinvestment; although, even with that done the question of growth still remains. Short-term growth projections for earnings and asset growth do not appear to comport with the market's growth expectations, let alone the longer-term ability to grow through inevitable setbacks in end markets.
One look at the chart shows that investor's in Donaldson's stock are not so sanguine about the future when times are tough as evidenced by the 50% drop in 2009 from the then 52-week high and the tripling of the stock since that time. In my view, an industrial recession of some strength is certain in the next several years and the company's stock will reach much more attractive long-term levels at that time, even if ultimately the company is able to achieve the growth discounted in the stock over the long-term. It may be of interest to very long-term holders, that in my view the stock has not reached the danger zone in terms of valuation and the company continues to perform well.
Footnotes
[1] European Automobile Manufacturers' Association
[2] China Association of Automobile Manufacturers
Disclosure: I have no positions in any stocks mentioned, and no plans to initiate any positions within the next 72 hours.