At the end of December 2014 and beginning of 2015 we started a separate Robur portfolio based on securities that were suggested by the Robur stock screener. After building a first shortlist of company stocks that we might be interested in acquiring, using the screening process, we performed proper financial due diligence, using the Robur individual company pages, and then from a second shortlist, we looked at the company's reports, publications and websites as part of the final decision process. We wrote about the portfolio choices extensively in this article. Here now is a followup to show what happened in Q1.
The object of this exercise was not simply to attempt to make good investments, though of course that is the big idea; after all, we founded Robur because we needed help in making equity investment decisions, but had realised that the trustworthy, impartial data and analyses that we needed were not available in the marketplace at prices individual investors, like ourselves, could afford, or in a form we could quickly digest. We also hoped to illustrate our investment decision processes, and the way we use the financial data we capture, standardise and process (i.e., the Robur Terminal) as building blocks in constructing a portfolio. We believe that intelligent investors, given the right tools and, most importantly, the right data in the right form, can carry out comparative analysis of equity opportunities without relying on the recommendations of outside analysts who may have a quite different agenda from yours. Value investing relies on looking for companies which may not be glamorous or in the news, but offer long-term growth prospects within a well-managed business, and are available at sensible prices. That's what Robur sets out to do.
Benchmarking
Since we are looking for companies that can outperform the index they are listed in (i.e., produce alpha), it is useful to consider our portfolio in the light of how the indexes moved (i.e., how our portfolio compares to just buying the ETF for the indexes concerned). The portfolio has securities listed in the SGX, DAX, Hang Seng, Nikkei 225, SWX, Nasdaq, NYSE, TSE and the FTSE 250. Below is the country breakdown and their relevant weightings.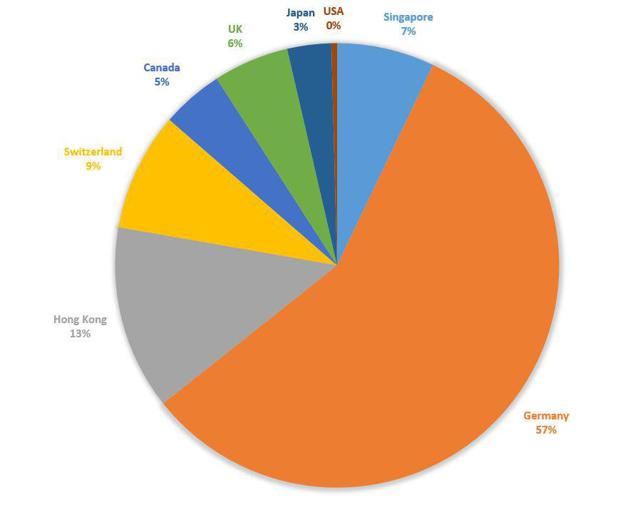 Globally, over the previous 3 months all major indexes have risen. Below is a table of how the indexes have performed since we purchased the securities: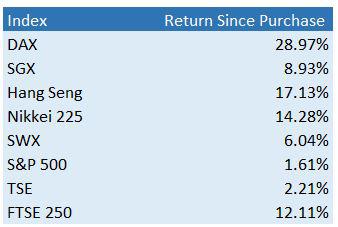 We are encouraged that our Robur screenings highlighted German companies as offering particularly good value, at the time we bought the stocks, and in that we appear to have anticipated the market - the DAX is the best index performer and that is where we put over half our money.
The average gain in the indexes is 11.41%, but since the portfolio is heavily weighted in German equities, our benchmark should more usefully lie in the 15-18% range. These are not absolute figures; for example we are using the S&P 500 instead of the 2 separate US exchanges, but it does give us a reasonable set of comparative figures to compare our stock selections against.
Results
On the 31st January we had 13 companies in our portfolio. We realised the gains on PICC Property and Casualty Company (47%), but we do not take much credit for this very large gain, because, as existing shareholders, we were able to exercise share options which meant we bought at very favourable prices.
We are not keen on portfolio churning, and we prefer to create a watch-list of companies and then wait for a market correction to buy our selections. So since there was no significant market correction in Q1 2015, we did not add many securities. However we did go for 4 companies:
We did not do a piece on Valero because we had to move quite quickly. We have had some discussion internally about the most attractive equity opportunities in the light of current oil prices. Ideas have ranged from shipping to downstream manufacturing, but the concept we liked the most was that of oil refiners - lower oil prices means they are purchasing their raw materials more cheaply, which should work through to the bottom line.
Valero is an international manufacturer and marketer of transportation fuels, petrochemical products and power. The Company subsidiaries employ approximately 10,000 people, and assets include 15 petroleum refineries with a combined throughput capacity of approximately 2.9 million barrels per day - and they should be purchasing these for a lot less than last year. Our theory was compounded when they announced that they planned to increase the quarterly dividend by an attractive 40% in January and released this statement:
Our strong operating performance and financial strength have enabled us to continue to prudently invest capital to increase the competitiveness of our business for the long term.
This might just be corporate-speak, but we took it as a signal that management believe cash reserves will increase significantly this year. We took a detailed look at their fundamentals, to make sure the company was financially healthy and not overvalued, (paying particular attention to long term debt levels, the dividend payout ratio and levels of cash from operations), and then decided to buy the stock.
Our original article was called 'Our Non-US portfolio', as we regard the US stock market as generally overvalued. However with Valero we saw an opportunity to buy and took it, although the quantities we purchased were small in relation to the total portfolio value. With GSVC, which is not a company especially loved by the analysts, the big attraction is the Dropbox IPO, which we hope will happen in 2015; GSVC has a big stake in Dropbox, so this was a way for us to obtain a foothold in the company before it goes public. If charged that GSVC is not necessarily a typical "value investment", we plead guilty: this is much more speculative than our usual purchases, but then again, we did not invest very much in relation to the whole portfolio.
Now for the actual results:

The base currency is USD, so that although we are dealing with multiple currencies, all FX fluctuations should be taken into account when calculating the overall return. The total gains, not including dividends, come out at 21.28%, so we seem to be 3% - 6% ahead of our indexes on balance.
Below we show how the individual stocks have fared, compared to the particular indexes with which we compare them.
Germany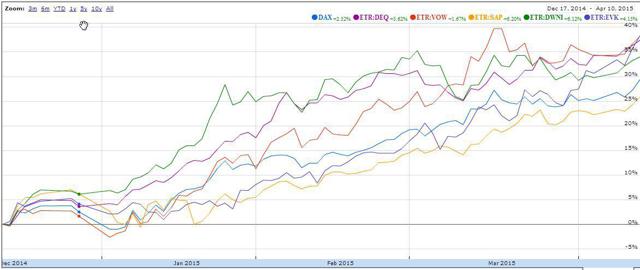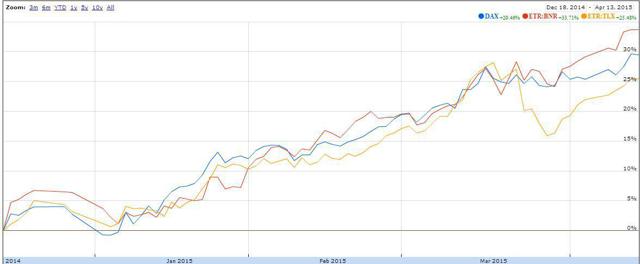 Out of the 7 German holdings, 2 (SAP and Talanx) have not beaten the index, but our two real estate outfits have justified (so far) our belief in both their business models and their management.
Singapore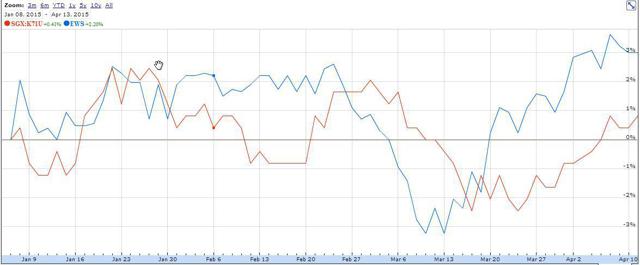 Keppel is trailing the Straits Times Index, although the whole Singapore stock exchange seems to have been trading sideways since January 7th. We bought Keppel for the long-term dividend prospects and remain happy with the decision.
Hong Kong/China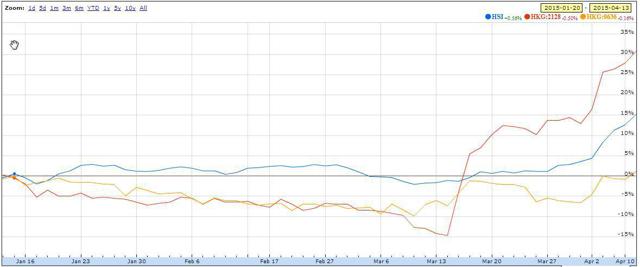 Hong Kong was fairly flat until about one month ago, when Hong Kong was infected with "Shanghai fever" and stock prices have leapt upwards. China Lesso, our "boring" pipe manufacturer, has out performed the index by 15%, whereas Kerry Logistics has remained flat and is therefore trailing the index by the same amount. This is good news for investors who did not buy Kerry, as we believe there is a lot of value in this business, and it is far from overpriced. Canny investors may wait for the Hang Seng to drop before buying, of course.
US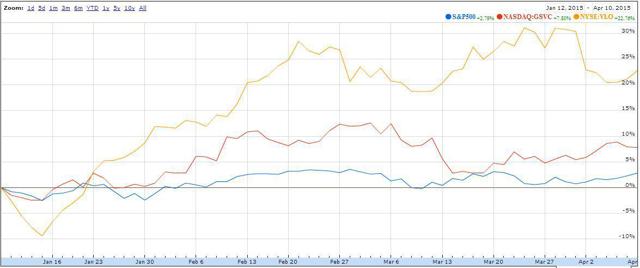 Our US holdings have both outperformed the S&P.
Switzerland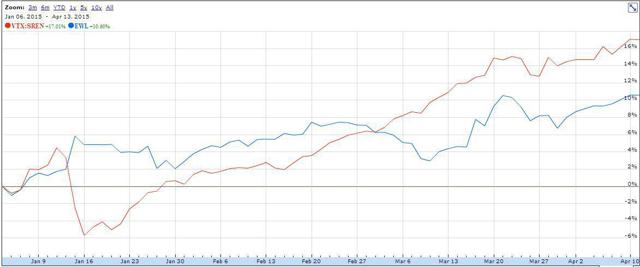 Swiss Re has significantly outperformed the STX, though after a shaky start when the effects of the CHF overnight upwards revaluation in January caused people to worry about earnings. In the event, the CHF is now almost right back where it was against the USD before all the drama.
Canada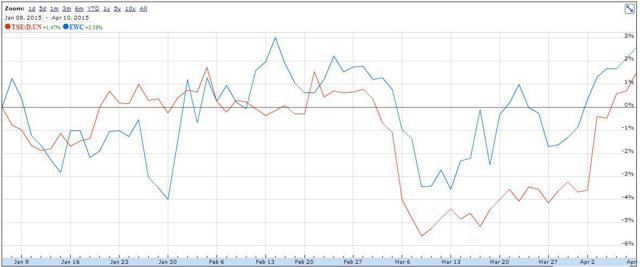 Dream offices has slightly under performed. Like Keppel in Singapore, we bought this REIT for the long term dividend prospects.
UK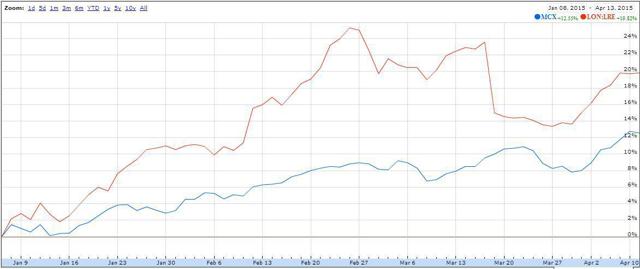 Lancashire has outperformed the FTSE 250 by around 7%. We should say that we don't really think of Lancashire as a UK stock; the business is based in Bermuda and the clientele are global. The special dividend in February of USD 0.50 per share, means that just the February total dividend adds up 6% gross on current prices, which is pleasant.
Japan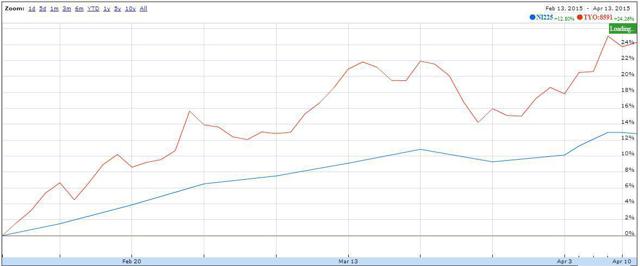 The Nikkei 225 has been roaring up, but so far Orix has done even better on the back of its recent strong earnings.
Conclusion
It is very early days, and one quarter does not make a five-year performance; complacency in equity investing is a sure-fire recipe for losses. Nonetheless, so far we are pleased with how the Robur Terminal has assisted with our portfolio picking. As we noted above, we attribute the majority of our gains in the last quarter to a general 15% - 18% rise in the indexes, but we do seem, so far, to be getting good alpha on top. The results also illustrate the importance of timing - picking good companies is an essential task, but investors need to show restraint and patience and wait for the relevant index to drop in order to buy their picks at good prices. Market corrections can happen very quickly, and be very short-lived - the October 2014 examples, as well as the December 2014 dips, show this clearly, so we believe that it is always important to have a properly researched buy list to hand, ready for any opportunity. Whether the portfolio is rising or falling, the research is never finished. Taking the drudgery out of the job is what Robur is here for.
Disclosure: The author is long GSVC, IX, KRYPF, VLO.
The author wrote this article themselves, and it expresses their own opinions. The author is not receiving compensation for it. The author has no business relationship with any company whose stock is mentioned in this article.