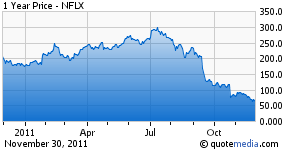 As I noted back in May, Wedbush Securities' analyst Michael Pachter has a pretty solid track record covering Netflix (NASDAQ:NFLX). Today, Pachter downgraded the stock to "underperform" and slapped it with a $45 price target. A look at Pachter's rationale for the downgrade proves ominous for Netflix.
Citing concern over subscriber losses, rising content costs and Netflix's "growth at all costs" business model, Pachter notes:
We think that the company's pricing structure is wrong, and its business model is broken. At current prices, we expect Netflix to continue to lose more hybrid customers than it adds, and those who remain will not be particularly profitable. We estimate that the average Netflix hybrid customer rented around four DVDs per month, and think it is patently obvious that the majority of the 11 million who traded down or defected rented fewer DVDs than the average. In our view, the 9 million subscriber difference between the June 30 figure (20 million) and the December 31 forecast (10.3 – 11.3 million) represents customers who rented an average of only 2 DVDs per month. To the extent that these customers traded down to streaming-only, Netflix will save on DVD purchases plus postage, but will lose an average of $8 per month; to the extent that they quit the service altogether, Netflix will see the same DVD/postage savings, but will lose an average of $16 per month.

There's the rub: the low-frequency hybrid customers were Netflix's most profitable, and the almost 60% price increase alienated them the most. While its overall subscriber count will likely be lower on December 31 than it was on June 30, the content owners are not impressed, and we believe that they will seek ever higher payouts for access to streaming content. As a result of lower revenues and escalating costs, we expect Netflix to cut corners on its streaming content, with substitution of lower cost (and perceived lower quality) content for higher cost content. As such, we don't expect the company to renew the Starz deal, even on a time-delayed basis, simply because we don't think that Netflix can afford it. Should we be wrong, and should Netflix renew Starz on a one-year delay at $200 million per year, its content costs will rise even more sharply than we have modeled, and its losses will accelerate.

The company's international expansion should continue to drain profits for quite some time. Given that domestic streaming-only subscribers generate only a 9% profit margin, we think it is unlikely that international subscribers will be eminently more profitable ...
Here's what Pachter thinks Netflix should have done:
It appears to us that Netflix shot itself in the foot with a price increase on its hybrid customers. Any five year-old can tell when something isn't fair, and raising prices on the DVD plus streaming customers only to acquire more content for all streaming customers wasn't fair. We think that the right solution would have been an across-the-board price increase.

We think that Netflix should have raised prices by $2 monthly across the board, and offered a DVD-only plan at the new $9.99 single-plan price point. While some customers would have quit and others would have traded down, we estimate that the combined impact would have been only 10% trade down (2 million customers) and 10% quit (2.5 million customers). If these estimates are close to the mark, Netflix would have ended 2011 with between 8 – 9 million single-plan customers paying $10 per month, and 16 million hybrid customers paying $12 per month, yielding revenues of $272 – 282 million monthly, or $3.264 – 3.384 billion annually. At the midpoint of this range, the company would have been better off by $250 million annually, not enough to offset its rising content costs, but positioned to better handle those costs.
And, in line with my thinking, Pachter believes Netflix should have "tempered" its international expansion. To that end, I still think you will see Netflix CEO Reed Hastings make the decision to pull out of several international markets over the next several months. The logic - or lack thereof - behind this aggressive push abroad was never sound. Consider one of the questions I wanted to ask Hastings in the interview that never was:
In a recent All Things D interview (mentioned above), Kara Swisher asked you about international expansion. Here's something you said in response: "It takes us one to three years to get a new country profitable for us. Canada (will) be profitable within a year, which is very fast." I was a bit puzzled by that statement. What are you basing that experience on, given the fact that Netflix has not existed in any markets other than the U.S. for that long?
Hastings based the international push on nothing or, at best, some figment of his overconfident imagination. This has put him in a somewhat unworkable jam. Does he backtrack again, further eroding investors' faith in his ability or does he stay yet another unsustainable course? It's quite a conundrum.
Taken together - and needless to say - I feel quite comfortable with my NFLX June 2012 $40 puts.
Disclosure: I am short NFLX.