A recent Deutsche Bank report projects a total airline industry first-quarter pretax profit of $3.5 billion, five times the $700 million pretax profit this time last year.
The bank estimates that nearly 110 percent of the earnings gain will derive from lower fuel prices. It states that "the industry over the past several years has demonstrated its ability to successfully offset most, if not all, of the rise in fuel expense via a combination of cost savings and various revenue initiatives."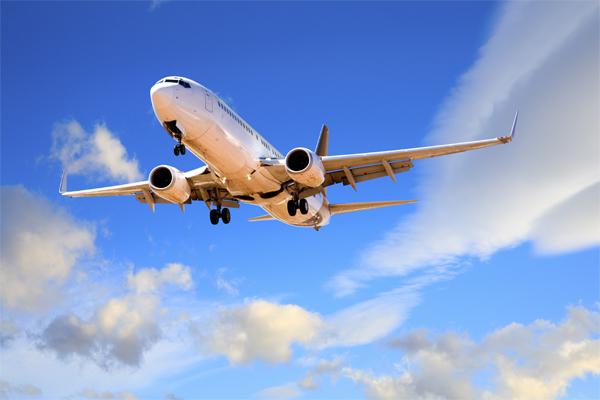 Looking ahead to the end of the year, Deutsche Bank sees airlines generating $24.7 billion in operating income, or the money that remains after certain operating expenses are paid such as research and development, wages, maintenance and the like.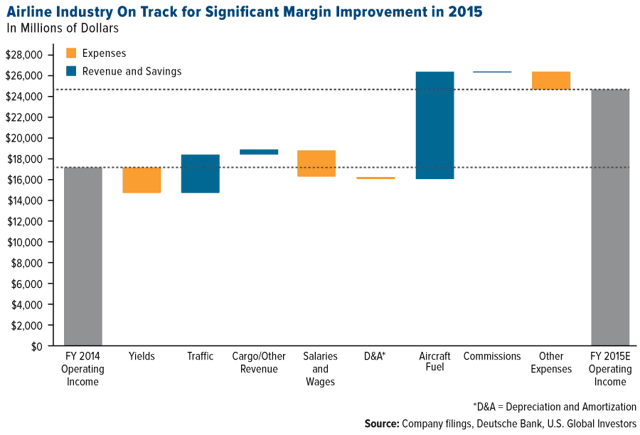 As we all know, oil has fallen nearly 50 percent since last summer, and jet fuel prices have followed closely at its heels, declining to multi-year lows. According to the International Air Transport Association (IATA) airlines worldwide are expected to spend $71 billion on fuel in 2015, a savings of $84 billion compared to 2014.

Efficiency Leading the Way
An important metric Deutsche Bank uses to illustrate that the industry is in expansion mode is operating margin, which measures a company's efficiency in generating revenue. This figure tells you how much of each dollar earned the company keeps as profit after taxes. Generally speaking, the higher the number, the more efficiently the company is being run and the more capital it can use to pay down debt and return to investors in the form of stock buybacks and dividends.
Because of fuel cost savings, all 11 of the companies below are expected to increase margins by the end of 2015.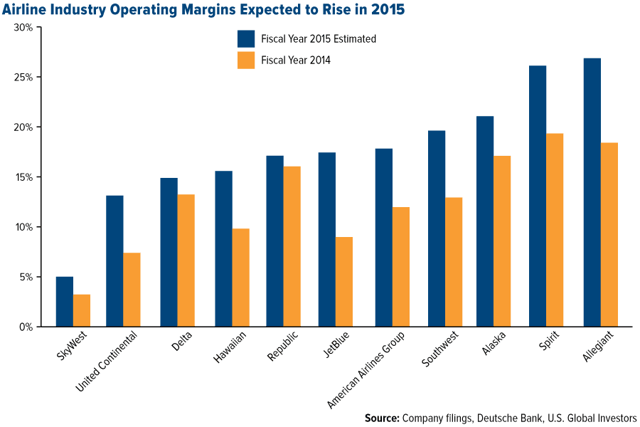 The carrier expected to see the greatest increase is Las Vegas-based Allegiant Air (NASDAQ:ALGT), the ultra-low-cost regional carrier that focuses on underserved cities. The company provides a "complete travel experience" that allows customers to book hotel stays and car rentals on top of flights.
Claiming the highest margins last year was Spirit Airlines (NASDAQ:SAVE), the carrier known for its "Bare Fare" pricing structure. Even though it offers some of the lowest prices in the industry-they're 40 percent lower than the competition on average-Spirit is able to maintain these margins because of its stripped-down, no-frills service and experience.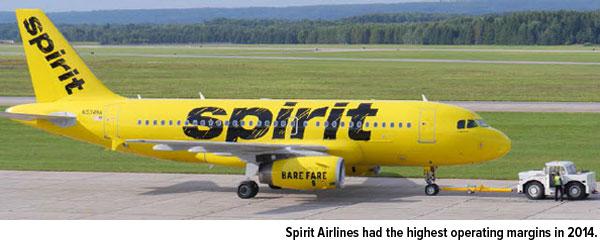 Spirit certainly has grounds to justify this highly-frugal business model. In a June 2014 survey, close to 1,500 air travelers were asked what they considered first when looking to purchase an airline ticket. Fifty percent of respondents cited price as the most decisive factor, whereas only 3 percent said it was legroom.
Earnings Season
A few airlines have already reported on first-quarter earnings, and so far most have beaten analysts' expectations.
American Airlines (NASDAQ:AAL), which was recently added to the S&P 500, reported a record net profit of $1.2 billion, or $1.73 per share. This is a tripling of the carrier's net profits in the first quarter of last year.
American CEO Doug Parker is so bullish on his company that he has asked to be compensated solely in company stock going forward.
Delta (NYSE:DAL), which we own in one of our mutual funds, reported higher-than-expected earnings-$0.45 per share-with an average beat of 5.11 percent over the last four quarters. This marks the company's eighth consecutive quarter of record profits.
Alaska Air's (NYSE:ALK) EPS came in at $1.12, with earnings up 75 percent on a year-over-year basis. The company reported record first-quarter net income of $149 million, a 67-percent increase from last year. During the quarter, the company also bought back $102 million worth of common stock and paid a $0.20 per-share dividend.
We also own Alaska Air.
Southwest (NYSE:LUV) reported record profits of $453 million-or $0.66 per share, beating consensus by one penny-up from $152 million in the first quarter last year.
United Continental (NASDAQ:UAL) reported record first-quarter profits of $582 million, earning $1.52 per share, beating estimates of $1.44. The company paid back $200 million to shareholders in its proposed $1 billion share buyback program.
Finally, Allegiant also posted a record quarterly EPS of $3.74, up from $1.86 last year. This marks the ultra-low-cost carrier's 49th consecutive profitable quarter.
JetBlue Airways (NASDAQ:JBLU) is expected to report tomorrow.
Please consider carefully a fund's investment objectives, risks, charges and expenses. For this and other important information, obtain a fund prospectus by visiting usfunds.com or by calling 1-800-US-FUNDS (1-800-873-8637). Read it carefully before investing. Distributed by U.S. Global Brokerage, Inc.
Stock markets can be volatile and share prices can fluctuate in response to sector-related and other risks as described in the fund prospectus.
Fund portfolios are actively managed, and holdings may change daily. Holdings are reported as of the most recent quarter-end. Holdings in the Holmes Macros Trends Fund as a percentage of net assets as of 3/31/2015: Deutsche Bank AG 0.00%, SkyWest Inc. 0.00%, United Continental Holdings Inc. 0.00%, Delta Air Lines Inc. 1.93%, Hawaiian Airlines Inc. 0.00%, Republic Airlines Inc. 0.00%, JetBlue Airways Corporation 0.00%, American Airlines Inc. 0.00%, Southwest Airlines Co. 0.00%, Alaska Air Group Inc. 1.42%, Spirit Airlines Inc. 0.00%, Allegiant Travel Company 0.00%.
The S&P 500 Stock Index is a widely recognized capitalization-weighted index of 500 common stock prices in U.S. companies.
There is no guarantee that the issuers of any securities will declare dividends in the future or that, if declared, will remain at current levels or increase over time.
All opinions expressed and data provided are subject to change without notice. Some of these opinions may not be appropriate to every investor. This news release may include certain "forward-looking statements" including statements relating to revenues, expenses, and expectations regarding market conditions. These statements involve certain risks and uncertainties. There can be no assurance that such statements will prove accurate and actual results and future events could differ materially from those anticipated in such statements.
Disclosure: The author is long DAL, ALK.
The author wrote this article themselves, and it expresses their own opinions. The author is not receiving compensation for it. The author has no business relationship with any company whose stock is mentioned in this article.