Last year at this time, many analysts were revising upward their forecasts for 2011. Optimism was running high and the stock market cooperated. Then the market stumbled when the rally ended in May followed by August, a very bad month. Stocks turned around in October with one of its best months in history, bringing the Dow back into the black YTD. But in November the Dow has gone back on defense. Even more disturbing is last week, traditionally a slow week with modest prices swings, when the Dow dropped over 500 to 11,200, taking it back into the red YTD. Bank stocks are market leaders and all year have been leaders in stock market price swings.
Dow Jones Industrials
Click to enlarge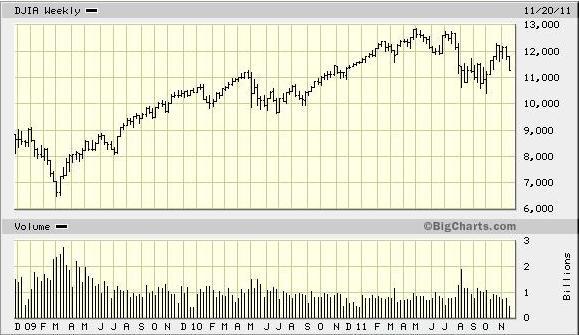 Bank stocks are facing big headwinds. The S&P 500 Financial Index, with some of the biggest financial institutions, has had major swings in recent years. It reached record levels above 500 in 2007, prior to the financial meltdown, and then plunged to 85 in early 2009 followed by a large rebound in the last two years. The index reached 230 seven months ago followed by the sell-off in May. Then it led the market rally in October, but stumbled badly in November. At 161, it's just 10 above the yearly low set two months ago.
S&P 500 Financials Sector Index
Click to enlarge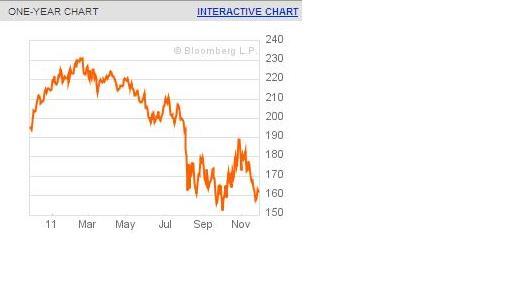 Source: Bloomberg
The big banks have more than than their share of problems. They have said that their holdings of European debt are manageable. Maybe, but European debt problems keep growing.
S&P just downgraded Belgium's credit rating to AA from AA-plus because chances are great the country will need more support. Hungary needs IMF aid after Moody's cut its credit grade to junk, Ba1 from Baa3 and was assigned a negative outlook. Greece has been struggling to repair its financial mess with little progress this year. Italy has a new government to deal with monumental financial problems. This week it paid substantially higher rates on new debt offerings. Spain also has a new government to repair its credit problems.
All of the big multi national banks have major exposures to these sovereign debts. Even Germany, the largest country with the strongest economy in Europe, had a less than successful debt offering last week (never before seen). And this debt had been seen as a "safe haven" investment.
The main business of banks is to lend to U.S. businesses. More loans will be difficult because regulators in the U.S. and Europe are requiring higher reserves by major banks, called stress tests. It is hoped that self insurance by big banks will help them get through difficult times (like the financial meltdown three years ago). Among other tests, U.S. banks will have to show they can withstand a 13% unemployment rate (far above the 9.1% unemployment rate). These banks want to reward investors with dividend increases and treasury stock purchases, but that will be put on hold until reserves are increased.
As I finished this article, S&P cut the credit ratings on several large banks including five of the largest banks: Bank of America (NYSE:BAC), Citigroup (NYSE:C), Goldman Sachs (NYSE:GS), Morgan Stanley (NYSE:MS) and Wells Fargo (NYSE:WFC) after reviewing ratings of 37 financial institutions.
Most major bank stocks are at two-year lows and within striking distance of reaching lows set during the financial meltdown. The companies have much stronger finances now, but fears of the unknown are rising fast. Europe is facing a recession in the coming months. The debt mess has been worsening even with the EU and IMF talking about throwing more money to solve the mess. Traditionally bank stocks are considered to be market leaders. Where bank stocks go, the overall stock market will follow.
During these times, reliable dividends, especially from companies with histories of raising dividends, have added value. Only a handful are Dividend Aristocrats with records of increasing dividends over a minimum of the last 25 years. Ones with high yields will help an investor in unsettled markets (such as the second half of 2011). My favorites with good yields include: Leggett & Platt (NYSE:LEG), Kimberley-Clark (NYSE:KMB), Abbott (NYSE:ABT), RPM (NYSE:RPM), McDonald's (NYSE:MCD) and Emerson Electric (NYSE:EMR). More importantly, they have been raising annual dividends for more than 35 years.
Disclosure: I am long WFC.