CNBC contributor Jim Cramer has consistently been pushing a specific strategy to play the market. Cramer says that ALL banks must be sold, but high yielding stocks should be bought. This includes all the big players, JP Morgan (NYSE:JPM), Bank Of America (NYSE:BAC), Goldman Sachs (NYSE:GS), PNC Bank (NYSE:PNC), and all other banking stocks. Essentially, Cramer believes that Europe is in big trouble and banks will be hurt. However, by still recommending high yielding stocks, Cramer also believes that Europe will not lead to the complete crash many are expecting. Cramer says that investors should own defensive high yielding stocks such at AT&T (NYSE:T), Verizon (NYSE:VZ), Kinder Morgan (NYSE:KMP), B&G Foods (NYSE:BGS), and other defensive high yielders. Has the strategy worked? So far, the answer is yes. The chart below shows the financial ETF (NYSEARCA:XLF) vs. the MLP ETF (NYSEARCA:AMLP) over the last 6 months.
(Click chart to expand)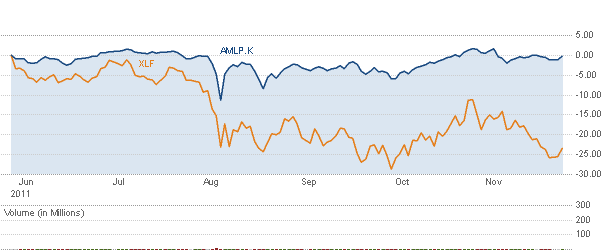 (Source: CNBC)
The high-yielding MLPs have clearly done better than the banks of late. This divergence supports Cramer's strategy that high yield is somewhat immune to problems in Europe.
The question becomes, is it possible for select groups of stocks to stay elevated while banks continue to plunge. For example, in 2008 bank stocks went down hard early while defensive stocks originally held up well. Eventually, even the best stocks went significantly lower because of problems in the banking system. In the long run, the economy needs a healthy banking system to thrive. Cramer's strategy should continue to work so long as we do not see a full-blown banking melt down (similar to 2008). Judging from his stance on bank stocks, it appears that Cramer thinks a full-blown melt down is a real possibility. If we get a banking crisis, then even the most defensive stocks will go down hard.
So far, Cramer's strategy has been successful, but whether the strategy will continue to thrive depends largely on how events unfold in Europe.
Disclosure: I have no positions in any stocks mentioned, and no plans to initiate any positions within the next 72 hours.