In this article, we will provide you with financial fundamental analysis of chemical companies on U.S. stock exchanges. For each company, we have provided price targets, buy/sell/hold ratings, buy/sell ranges and theses. Additionally, using a multitude of financial analytical ratios and comparisons, we have given each company a score on growth, profitability, financial health, value and management indices to compare each company and see where companies excel and where they have weaknesses. We have featured eight of the 12 companies in the full report, which can be seen at here.
Click to enlarge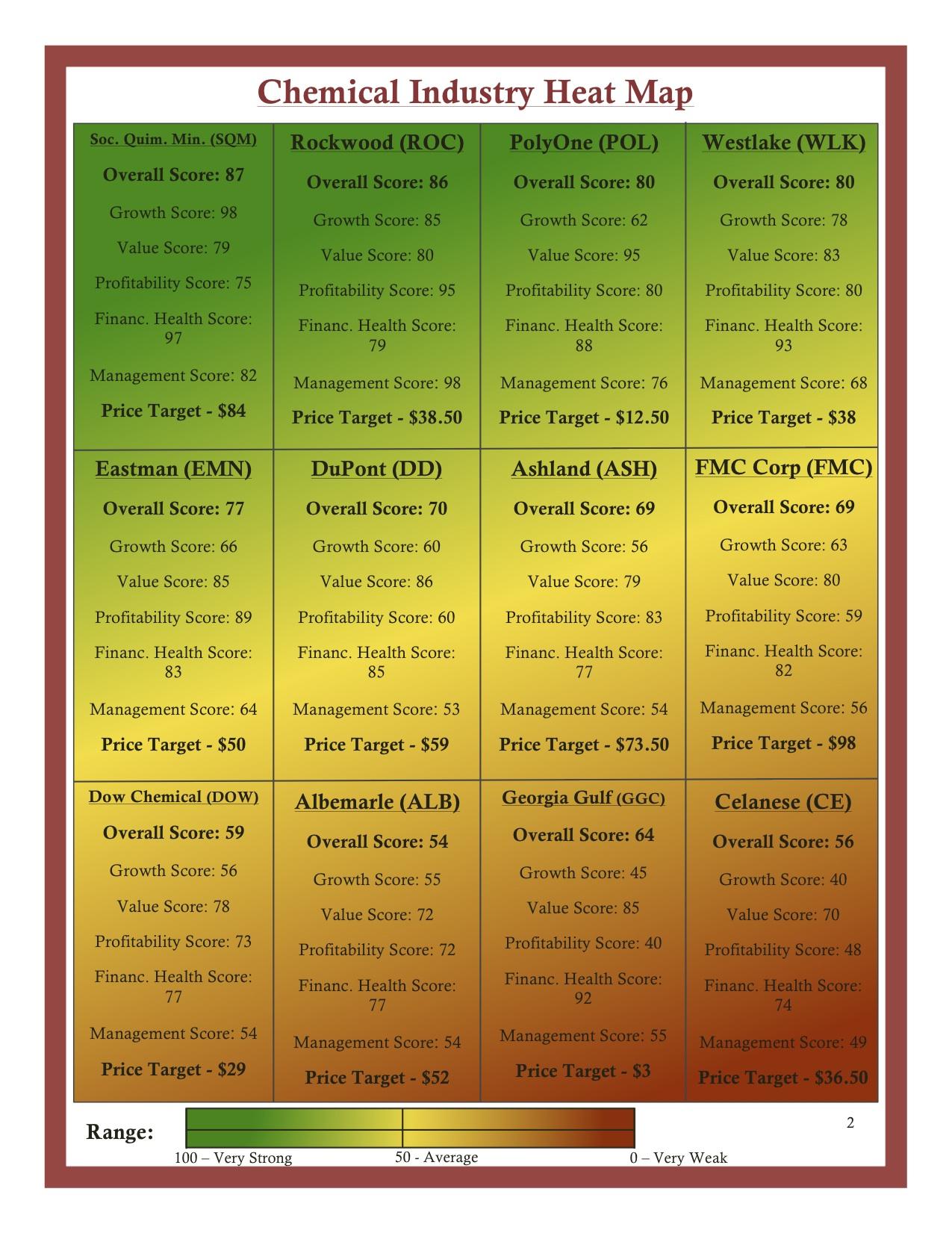 Companies
Albemarle (NYSE:ALB) -
Albemarle ranked rather low on our company's overall scoring compared to its competitors and is a hold currently. The company operates in polymers, catalysts and other chemicals, which span a wide array of different uses at the front end of the production cycle from oil drilling to beef and poultry to automotive.
The company for us offers a decent holding with a small dividend for a relatively safe company. They operate with decent growth levels and fairly strong operating margins. The company has done very well in the past year ,improving margins and its profitability measures.
Management, however, gets a low rating as net income per employee has dropped over 46% in the past five years. The five-year growth of ROIC and ROE has also been dropping. These rates are dropping while others are gaining.
One area where ALB is doing well is in financial health, which goes along with the safe nature of ALB and its diversified nature. The company has a 200% times interest earned ratio, which shows that they can pay debts well. The company has a decent current ratio, and they are improving free cash flow.
We see them as a continuous hold and should only be bought on a move below $40 with current information, as that would represent a strong value play.
Ashland (NYSE:ASH) -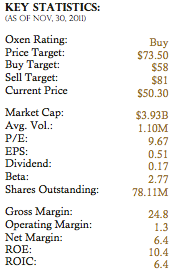 Ashland looks like a strong buy right now. The company has solely focused itself on specialty chemicals over the past several years. The stock gets high marks in profitability and financial health. The company also works in several different areas, such as papermaking, motor oil and other automotive areas.
Margins dropped with new acquisitions that the company made this year, but this company looks poised for very strong profitability growth through 2014. The company expects to improve EPS to 10 by that year, which would be a nearly 100% growth in the next three years. That is growth in profitability that many other chemical companies are not offering at this time.
The company does not have a significant P/E, which also gives ASH the ability for value as well. The company has strong financial health as well.
One of the issues for ASH is that the company does not have significant economic moats in their lines of business. Valvoline, for example, while a quality business does have heavy competition and can be seen as a commodity.
This is a company that is looking very strong right now in the chemical industry and is well positioned for margin growth. We think the market will like its continued profitability improvement.
Celanese (NYSE:CE) -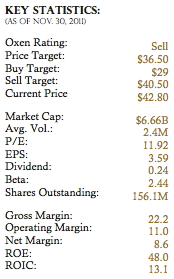 We currently have CE sell-rated. The company had its lowest rating of all chemical companies due to poor showings, comparatively, in growth, profitability and management. The company does enjoy higher margins due to low-cost technology. The company's profitability, however, has been slipping. All margins have dipped over the past five years and all margins except operating margin dipped in the past year.
The company faces a lot of competition in its acetyl chemical industry. We see them as low growth moving forward, and they are currently overvalued. The company's 12 P/E is not overly expensive, but they do have significant debt levels at over $3B as well as a low FCF margin that while improved is still off where it once was. The company has a low dividend, and we just do not get the same excitement for Celanese as we do other chemical companies.
Further, the company has just lost its CEO, which is definitely a red flag for us as well. We will have to see how this new management does with weak statistics from the past regime.
Overall, CE looks like a weak company that does not have the same diversification and promise of others. It has no moats and weakening profitability.
Dow Chemical (DOW) -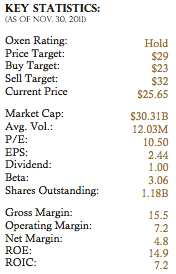 Dow Chemical is one of the top names in the chemical industry. We feel the company has some upside with a slight undervaluation in its current multiples, but it is not a strong buy at this time, as upside seems limited to around the 29-30 levels.
The strengths of the company are obviously in its strong approach to building up specialty chemicals as well as higher margin products. The company can only build a moat in something with much specialty so this is the right place for DOW to be headed.
Yet, the company does still operate a fairly low amount of profitability at this time, and they rank low on our management score. The company sees pressure from the Middle East and China as they move into low-cost chemicals that can hurt Dow Chemicals. The company will see margins pressed by those developments.
We estimate the company can improve operating income 10-15% through 2015. The growth is not going to be huge as the company is cyclical, and we seem to be moving off the front end of a growth cycle. They will be able to really improve price targets through profitability and moving those margins in the right direction. Until we see that, we can only place DOW as a hold.
DuPont (DD) -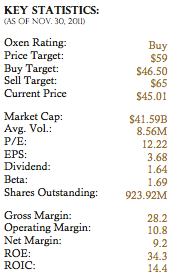 There is a lot to like about DuPont. For one, in this industry, they are much more profitable than others. This has a lot to do with DD's approach to specialty chemicals that allow them to dig as much of a moat as possible in a very competitive and commoditized industry.
The company has a well diversified portfolio of products that allow them to battle some of the cyclicality of chemicals, and they have a genetically modified seed business that we think gives them growth potential moving forward that outpaces many of their competitors.
The company ranked very well in our value and financial health. The company operates at only 1.2x sales and has a future P/E of 10 on our model. We also are a fan of the company's 3.7% yield, which is one of the top in the industry.
The company scored very well on its financial health score due to a number of positives there. The company is growing its current ratio and quick ratio at healthy rates. The company can cover interest expenses by more than 3x with net income, which is a great sign of a healthy company. They have good margins, and they show some good value.
Overall, we think a holding in DD is one of the top in the industry. Good dividend, growth potential and great balance sheet in order. What else does an investor need?
Eastman Chemical (NYSE:EMN) -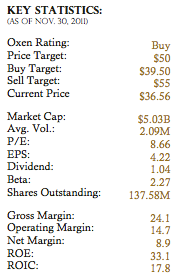 Eastman is another company we like in the chemical sector. They got rid of their plastics line and are focused on chemicals as well as materials. The company has a cheaper production capability than most of their competitors, which allows them to be highly profitable.
We are a fan of the company for their strong profitability as well as their good financial health and value. The company only operates at an 8.66 P/E, but they have around 25%-plus growth in sales in the next two years.
The company gets high marks for financial health as they have drastically improved their cash conversion cycle, increased free cash flow well, and they have lower debt issues than some companies in the industry.
The company is very solid in all of our scores besides perhaps growth, which is marked by lower five-year growth but very strong YoY growth. The company is a bit less diversified than some others that may lead to cyclical growth.
Overall, however, this company is on the right direction with a focus on specialty chemicals and materials that seem to have propelled them recently in growth and profitability. That trend should continue.
Rockwood Holdings (NYSE:ROC) -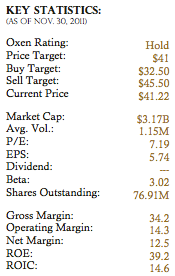 Rockwood is one of our top rankers on the different criteria we look at for a company, but we do not see a ton of price upside as we worry about the company's future growth from these levels somewhat. The company has heavy levels of debt, they have hit a very high level of profitability hat may be hard to maintain, and many of the business lines do not have stiff economic moats.
We tip our hat to the company as they have done wonderfully over the past few years, but they have almost $2B in total debt at this time with only around $240M of free cash flow. The company has never seen the likes of 14% operating income, and it's sustainability in a cyclical market is hard to imagine.
The company has a very strong moat in the lithium and ceramic chemical market, but they also have some lines that are less specialty and do not have as strong of economic moats, and those are the areas where we are worried about the margins dropping.
Management is in tip-top shape. Five-year net income per employee has improved by over 130%. ROIC and ROE have improved by over 300% in the past year as well. Management is doing a great job, but they do need to improve free cash flow and reduce debt.
If these problems were fixed, ROC would definitely see our targets improve.
Sociedad Quimica y Minera (NYSE:SQM) -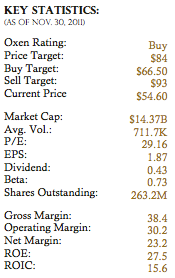 Sociedad Quimica y Minera (SQM) is a great way to play the growth story in Chile and basic materials. The company has a reserve of materials in Chile that are unique and give the company a great economic moat in the South American market.
This reserve gives the company a moat that will allow them to continue to operate with top-notch margins and good growth levels for the coming years. We think the stock has a lot of growth potential, and it could take off in price with a bit more growth.
The company is overvalued in comparison to other companies in its sector, but it is also growing at a much more significant rate than other companies in its industry. The company grew at over 27% in sales YoY, which is well above all other companies in the sector.
With high growth and international sales, the company does have risks right now. They have the ability to drop in margins and not grow at the levels that can sustain a higher P/E ratio.
For the growth play in the sector, SQM is the pick.
More information on each of these as well as FMC (NYSE:FMC), Georgia Gulf (GGC), PolyOne (NYSE:POL) and Westlake (NYSE:WLK) can be seen on our website.
Disclosure: I have no positions in any stocks mentioned, and no plans to initiate any positions within the next 72 hours.