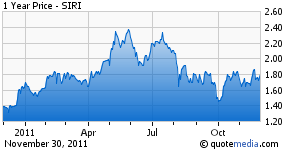 Despite my bearishiness on the long-term outlook for Sirius XM (NASDAQ:SIRI) in the broad audio entertainment space, I cannot help but be impressed by the company's CEO Mel Karmazin.
Shares of SIRI spiked last week on rumors that Liberty Media (LMCA) might increase its stake or orchestrate a complete takeover of Sirius XM sometime after March of 2012. This week, however, Karmazin did something most of us can only dream of doing - he issued his company's would-be suitors something resembling a warning.
While Karmazin does not think Liberty intends to proceed with a buy-out, he more than insinuated that if it does, he likely will not stick around in any second fiddle or co-CEO role. Karmazin admitted that working under Sumner Redstone while at CBS (NYSE:CBS) simply did not work out.
By making it known that he refuses to be the number two guy, Karmizan put Liberty on notice. With his contract up at the end of 2012, he's likely only to stick around if he's the only man at the top.
While many SIRI shareholders have long considered what an increase in Liberty's stake might mean for their long position and for Sirius XM as a company, few have speculated how life might look without Karmazin. Whether or not Liberty encroaches, I think Karmazin's not-so-implicit ultimatum makes it quite clear that he could care less if he works for Sirius XM after 2012 or not. Clearly, Karmazin has the type of money in the bank that allows him to take what amounts to a non-negotiable stance.
I think a future without Karmazin becomes a more important issue for Sirius XM as well as the broader space than anything else. Granted, Karmazin is rich, but he's probably not the type of personality looking to retire anytime soon.
Picture this - Karmazin bails after 2012 and fights to take Stern to a prime terrestrial or Internet radio job that, undoubtedly, key players would leave open for him. While that might trigger a legal battle, Liberty or whoever else happens to run Sirius XM at the time could see it as an opportunity to shed a major expense by letting Stern out of his contract. And, there's no question in my mind that Stern would salivate at the pomp and circumstance, plus increased exposure of getting back into terrestrial or another medium that generates the level of daily publicity he was used to before coming to satellite.
Of course, this is speculation with lots of questions unanswered. That said, I think Sirius XM shareholders should look past the Liberty issue and consider the Karmazin issue, which could very easily become a Stern issue. The latter certainly will have at least as much of an impact on the stock price as the former, if not more of an impact.
Disclosure: I have no positions in any stocks mentioned, and no plans to initiate any positions within the next 72 hours.