The stock market has opened a fresh window of opportunity with the recent sharp rally that began on Monday. The time is now to begin seizing this opportunity, for it may not last for very long.
On Sunday, I posted an article on Seeking Alpha entitled Time To Move To Cash?. In the article, I discussed how the primary problem associated with moving from stocks to cash is policy risk. Put simply, just when it definitively appears like it's time to exit stocks before they tumble over a cliff, policy makers can descend with aggressive monetary support that can send stocks skyrocketing. Thus, the portfolio question in the current environment should not be stocks OR cash. Instead, it should be stocks AND cash along with a variety of other asset class categories blended together in a way that a portfolio can benefit regardless of whether stocks are going up or down at any given point in time.
Wednesday's events were a perfect example of this policy risk phenomenon. In the very early morning hours, stock futures were decisively lower following a wide sweeping credit downgrade of numerous global banks and mounting signals that bank liquidity was completely freezing up in Europe. But only a few hours later, a major coordinated policy action by global central bankers to inject liquidity into the system provided an overwhelming sigh of relief and sparked a massive +4.3% rally in stocks by the end of the day. And in only three days' time, stocks have rallied by an incredibly sharp +7.6%. But here's the problem. None of this means that the structural problems plaguing the markets are any better today than they were on Sunday.
A few important points should be taken from the events on Wednesday.
First, global central banks didn't just decide to take coordinated and aggressive policy action for kicks and giggles. They did so almost certainly because something extremely serious was about to break. Perhaps it was the potential sudden failure of a systemically important financial institution in Europe. These were emergency actions and should be taken as a signal of the severity of the current situation. So while Wednesday's rally was nice, it is important to keep it in context.
Second, global central banks managed to resolve an immediate liquidity problem on Wednesday, but it did nothing to fix the underlying solvency problem at the heart of the crisis. Far from it. All that Wednesday's actions did was to buy some more time for policy makers to try and figure their way out of a mess that includes the potential bankruptcy of numerous sovereigns and the banking institutions that hold their debt. Hopefully it bought several weeks, but it's very possible it may not last that long.
Third, policy makers are quickly running out of time to solve this problem. To highlight this point, I return to the FINS – France, Italy, the Netherlands and Spain – and the yields on their respective 10-year government debt. With each successive market rally driven by the hope that the European crisis will finally be resolved, the yields are increasingly higher. And for both Italy and Spain, they have risen to levels that are unsustainable for very long. The following shows the 10-year government bond yields for each country at the two recent stock rally peaks as well as today.
France
France 10-Year Government Bond Yield
August 31: 2.92%
November 8: 3.10%
November 30: 3.39%
Italy
Italian 10-Year Government Bond Yield
August 31: 5.14%
November 8: 6.77%
November 30: 7.02%
Netherlands
Netherlands 10-Year Government Bond Yield
August 31: 2.62%
November 8: 2.22%
November 30: 2.66%
Spain
Spain 10-Year Government Bond Yield
August 31: 5.04%
November 8: 5.63%
November 30: 6.23%
Fourth, the notion that Germany will eventually relent and support a massive rescue plan must come under increasing scrutiny as each day passes. The crisis in Europe has been brewing for several years now, and numerous opportunities have presented themselves along the way for it to be definitively stomped out. Yet, these actions have not been taken and we are now quickly spiraling toward a breaking point in the crisis. If Germany and eurozone policy makers have allowed the situation to crumble this far, what's to say that they won't let things go even further to the point that any aggressive policy action may be simply too late? It is possible that we may have passed this threshold already in certain respects.
Lastly, many other signals across investment markets continue to suggest that major stresses are persisting in the system. For example, while Bank of America (NYSE:BAC) rallied by +7.3% on Wednesday, this only returned it to the price levels from last Tuesday and it still remains perilously close to falling below $5 per share. In addition, the performance of Preferred Stocks (NYSEARCA:PFF), which are an important reading on the perceived solvency of financial institutions, has been notably soft during the rally this week. Overall, preferreds are only up +0.5% since last Friday and have surrendered most of their sizable trading day gains by the close on both Monday and Wednesday. Both BAC and PFF, along with other systemically important financial institutions should be watched closely in the coming days for signs of meaningful improvement.
So now is certainly not the time for complacency. Instead, it is the time to evaluate opportunity and to consider overall portfolio risk. Thus, the first question to consider is where do we stand today in the stock market following Wednesday's massive rally?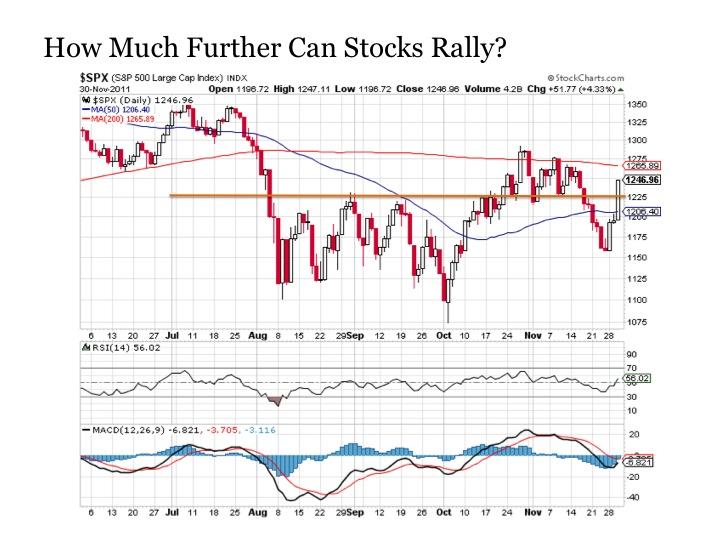 Stocks may actually have a bit further to run in the short-term. Stocks as measured by the S&P 500 Index broke out decisively above two critical resistance levels by closing at 1246 on Wednesday. These are the 50-day moving average (blue line on chart above) at 1206 and the high end of its previous trading range at 1225. Both of these levels now represent support for stocks and provide a target against which to manage any short-term market positions.
Looking ahead, stocks still have a good deal of room to move from a relative strength perspective and momentum readings are now moving back upward. However, stocks only have another +1.5% of space to the upside before running into the 200-day moving average (red line on chart) at 1265. This level has proven stiff resistance for stocks on three separate occasions since early October. This will be a critical level to watch in the days ahead.
Stocks may also enjoy support in the coming weeks from seasonal factors. Most significantly, December has historically been a very strong month for stocks. Since 1928, stocks have gained 76% of the time during the month of December. And this includes a near 50/50 split during periods like today when markets are immersed in crisis. So it would not be surprising to see the upside momentum in stocks that began this week to continue through the end of the year. But even if stocks were to sustain a rally in the coming weeks, all bets are off once we enter into January and begin to approach what are some major sovereign debt refinancings on the calendar.
The good news for investors is that the recent stock rally is already presenting opportunities to capitalize. For those investors that felt caught long the stock market during the recent market decline, the current rally is providing the opportunity to lock in gains and reallocate to the variety of asset classes outside of stocks that are likely to perform well in the event of another financial crisis. These include U.S. treasuries (IEF, TLT) and gold (GLD, IAU, PHYS). As discussed in my article from Sunday, these two categories in particular have historically shown a low correlation with the stock market and the ability to post strong gains in the midst of crisis. This is due to the fact that these categories are widely regarded as either a safe haven or a store of value during periods of extreme uncertainty.
This does not mean that investors should evacuate from their stock positions altogether, as maintaining an exposure to stocks will remain important to protect against the possibility that either the crisis in Europe might actually get resolved or global monetary policy makers continue to engage in aggressive actions that end up juicing the stock market to the upside. Focusing stock allocations specifically to higher quality names such as PepsiCo (NYSE:PEP), HJ Heinz (HNZ) and Clorox (NYSE:CLX) can provide such exposure while still maintaining a level of risk control. Furthermore, many other asset classes beyond stocks would also benefit under this scenario and also merit inclusion in a portfolio for diversification and risk control purposes. These include gold, silver (NYSEARCA:SLV), treasury inflation protected securities (NYSEARCA:TIP) and Agency MBS (NYSEARCA:MBB). Thus, allocations to stocks should be considered just one part of an overall portfolio that is in proportion with other complementary asset classes.
Finally, maintaining an allocation to cash also has merit in the current volatile environment. Given the extreme volatility, it is inevitable that particularly attractive opportunities are likely to present themselves along the way. So holding cash not only provides a level of portfolio stability, but also provides the flexibility to pounce when unusual circumstances arise.
Bottom Line
The current stock market rally may not be sustainable, as a variety of major risks remain unresolved. But it is presenting a tremendous opportunity both today and potentially over the next few weeks to lock in stock gains and reallocate portfolios to a more broadly diversified asset mix that when blended together are set to perform well and with stability regardless of the final outcome for the stock market. So look to seize the rally while it lasts, as doing so may prove rewarding as we move out into a potentially uncertain 2012.
Disclosure: I am long PEP, HNZ, CLX, GLD, SLV, TIP, MBB.
Disclaimer: This post is for information purposes only. There are risks involved with investing including loss of principal. Gerring Wealth Management (GWM) makes no explicit or implicit guarantee with respect to performance or the outcome of any investment or projections made by GWM. There is no guarantee that the goals of the strategies discussed by GWM will be met.