The Fed is kicking off its next FOMC meeting today, and Janet Yellen is scheduled to meet with the press to discuss policy on Wednesday. Every time the FOMC meeting rolls around, investors watch closely and markets have a tendency to react dramatically to every announcement.
This time around will be no different, and come Wednesday all eyes will be on the Fed. So what can we expect from Ms. Yellen? A few people are speculating that the Fed will raise interest rates this month, though it's highly unlikely. First things first, the Fed has been quite cautious so far this year, fully recognizing that it is the elephant in the room.
Low interest rates have been kind to investors, with historically low bond interest rates and high liquidity pumping cash into stock markets. As interest rates rise, there is a serious risk that markets could deflate, and if the Fed moves too quickly to raise interest rates, markets could suffer steep losses.
And that's exactly why we shouldn't expect any big announcements from the Fed. Janet Yellen and friends are well aware that if they move too quickly markets will be roiled, and that's bad for business. Regardless, announcements in recent months past have caused quite a bit of turbulence, even as the Fed itself has remained committed to staying patient and cautious in its approach.
Interest rate hikes should still be on track for the Fed, however. Most of the recent job data and other economic indicators have remained positive. The unemployment rate has continued to steadily decline, and Ms. Yellen has already stated that a strong labor market is a top priority. With unemployment down to 5.5% , the labor market is looking stronger than it has at any point since before the Great Recession.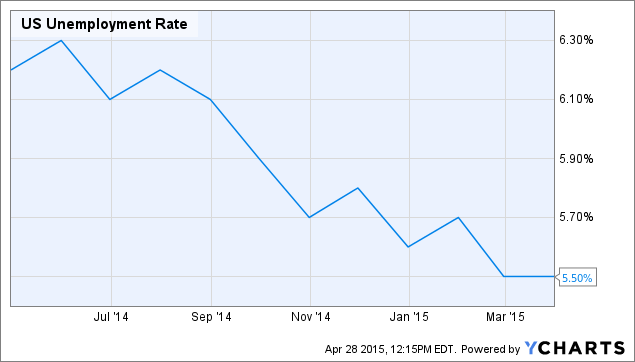 US Unemployment Rate data by YCharts
Further, with stimulus efforts appearing to pay off in Europe, and China looking set to launch aggressive stimulus measures of its own, the global economy is looking stronger than it has in quite some time. Yellen has cited weakness in the global economy as a reason for caution. Moving too quickly in a fragile environment could lead to disaster.
Still, hawks in the Fed have been increasing pressure on Yellen to raise interest rates. Some are worrying about inflation (which doesn't seem to be a problem at the moment), while others worry about bubbles forming. With stock markets having reached record highs even in spite of global headwinds, there are some reasons to worry.
Owing to internal pressure, the Fed will likely stay on course to raise interest rates, possibly as soon as the next FOMC meeting this June. If not June, the rate hike will most likely come September (unless there's a major change in economic conditions).
With June fast approaching, the Fed will likely release some more details of its plans to raise interest rates, and by how much. Firm details probably won't be provided, but Yellen will likely provide enough for investors to speculate on, and most importantly, to be reassured that the Fed won't be making any dramatic moves.
Either way, I expect the first interest rate hike to be largely symbolic. Rates will be increased, but by a minor amount. Yellen will look to test markets and the economy for a reaction before pushing ahead with aggressive rate hikes. So even if the Fed does announce a rate hike, there's no reason to panic.
Conclusion: Don't Panic, Look For Opportunities
Investors shouldn't worry too much about the up-coming announcement from Ms. Yellen. Big moves are unlikely, so even if markets do stumble, it should prove to be temporary, and could create a buying opportunity for anyone who has been looking to pick up stocks, but choosing to stay on the sideline.
If markets do start to drop, it'll be best not to panic. The same is true of any dramatic bump in market prices, it'll prove temporary and if you have any stocks you want to unload, it'd be a good time.
If anything, I expect Ms. Yellen to soothe markets by providing details about the up-coming rate increase, and suggesting that when the rate increase does come, it will be small. This should provide reassurance for investors, and markets should tick upwards. This is pure speculation, however, but I'd say it's 60/40 favoring a bump rather than drop.
Disclosure: The author has no positions in any stocks mentioned, and no plans to initiate any positions within the next 72 hours.
The author wrote this article themselves, and it expresses their own opinions. The author is not receiving compensation for it (other than from Seeking Alpha). The author has no business relationship with any company whose stock is mentioned in this article.