Utility stocks have had an impressive run the past few years (see chart below). But many investors fear that the rally may be getting a little long in the tooth.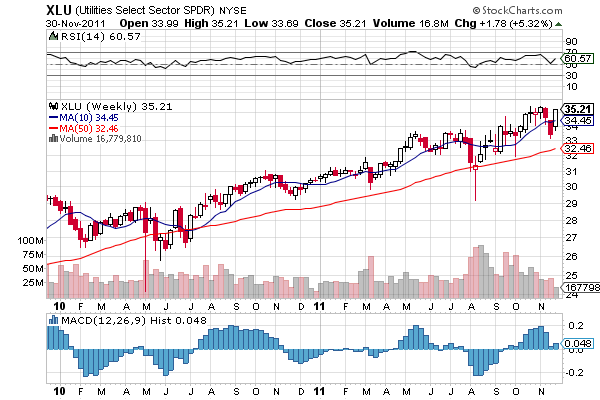 We think that the strength in Utility stocks will continue and we recommend that investors hold on and enjoy the ride.
Sector Relative Strength
Sector rotation is one analysis tool we like to use in our equity allocation strategies. Simply put, we like to be long the strongest sectors and try to rotate out when the relative strength fades.
The table below compares the relative strength (price percentage change) of each sector vs. the S&P 500 Index (NYSEARCA:SPY) over the preceding 4-week, 13-week, 26-week, and 52-week periods. It's pretty easy to identify which sectors are currently the strongest (Utilities, Staples, and Health Care) and which sectors are currently the weakest (Industrials, Materials, and Financials).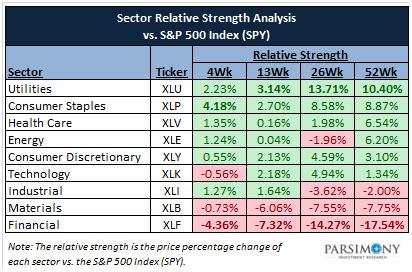 The Utility sector has been by far the strongest sector over the past 13-week, 26-week, and 52-week periods and the second strongest sector over the past 4-weeks. This is very positive for the sector.
Many Utility Stocks are Hitting 52-Week Highs
Some investors get weary when stocks are at 52-week highs as they fear that a pullback is imminent. However, we think that it is a very positive sign and recommend that investors continue to follow the trend.
As shown in the table below, there are currently 10 Utility stocks in the S&P 500 that are trading within 1% of their 52-week high.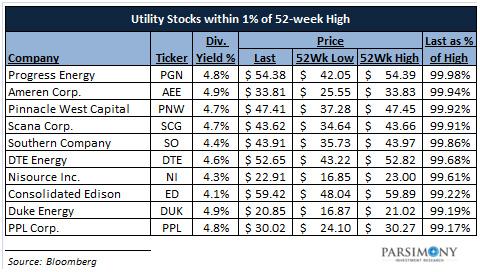 Despite being close to a 52-week high, these stocks still have very attractive dividend yields averaging 4.6%.
Bernanke, The Accommodative Fed, and Low Interest Rate Policy
We believe the U.S. is facing long-term structural issues that will lead to a prolonged period of uneven, subpar growth. The unemployment and housing issues that we face will take years, not quarters, to resolve. Politicians and economists will debate whether we are in or going into recession, but 1%-2% real growth will feel like recession for most Americans, and will not improve unemployment levels.
An unintended consequence of the slow recovery has been a Federal Reserve policy that has remained stuck in the mud. Chairman Bernanke has indicated that he will keep rates at exceptionally low levels until mid-2013. With 10-year Treasury yields hovering around 2.0%, this low interest rate policy is hurting savers that are looking for safe and reasonable nominal yields.
Conclusion
Given this backdrop, we advocate that investors remain defensive and we think that the Utility sector is a great place to allocate capital. Even if we see a pull back from current levels, low-beta Utility stocks should hold up very well in a downturn and will continue to provide investors with stable, attractive yields.
For investors that are tempted to fade the rally in Utilities, we suggest employing a covered call strategy instead (see our recent article: Fading the Rally with Covered Calls).
Bottom line: We are letting our Utility stocks ride and we won't be taking profits anytime soon.