It has been a long year for investors in commodities. While it had a promising start-- where most of the complex went higher under the influence of QE2, and some products (like cotton, silver and coffee) actually went parabolic-- things started to change between April and May 2011.
The start of April saw cotton futures crash, followed by the first crash in silver in early May. It would seem the nearing end of QE2, set for the end of June, was clearly anticipated in the commodity futures pits.
With the general upward trend being broken in April / May, the market went into mostly chaotic sideways trading up until the start of August, where a truly coordinated crash took place-- this one involving stocks as well. Here, speculation regarding the economic fallout from Europe's troubles was the main culprit. It is also notable how the prices got a lot more correlated from this point onwards, a lot less dispersion in returns.
Much of this can be seen in the following chart, depicting the performance of 26 different commodities over the last 52 weeks:
Click to enlarge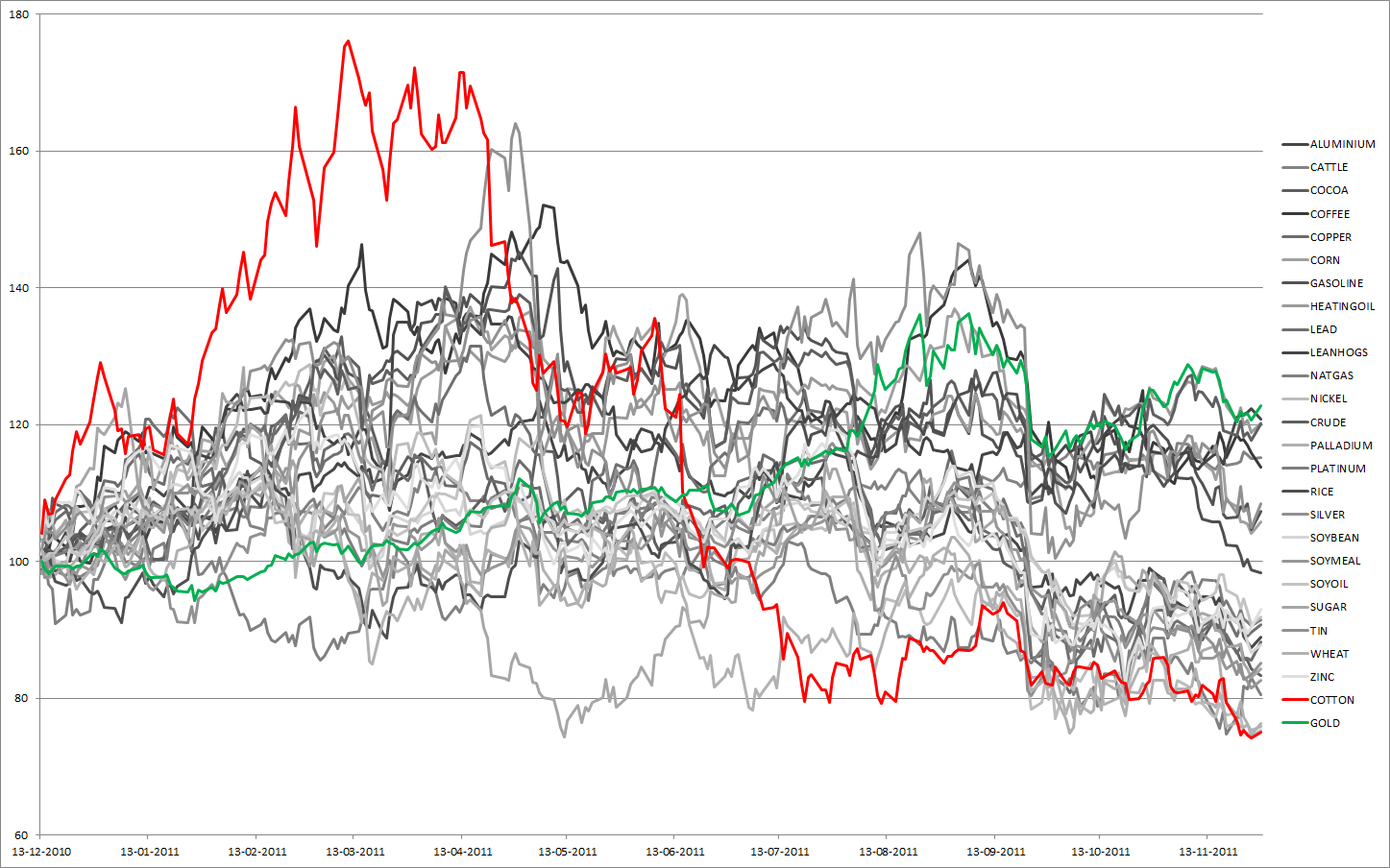 It's interesting how gold, not having been as euphoric as many other products, is right now showing the best performance over the 52 week time frame. A general downward bias can also be observed when we take into account the April/May peaks.
While cotton has performed the best by far in the first third of this period, it ends up being the commodity with the worst performance over 52 weeks. This proves that volatility is not to be messed with, and a trend can quickly turn ugly on you.
What happens going forward?
In the last 52 weeks, the market has shown that when under a crisis, the returns get a lot more correlated between wildly different commodities. This indicates there's a good deal of financialization going on in the trading of these products. This cannot be ignored, as a carefully thought out strategy in any given commodity can easily be destroyed by macro events.
Also obvious was the deeply positive impact that quantitative easing had while active – almost every commodity was showing positive returns then, and many were euphoric at that. So, although fundamentals might vary between products, it is obvious that any move by the FED-- or even the ECB - to monetize, has to be considered game-changing, implying a rally in most products no matter what the fundamentals are.
Conclusion
A careful ongoing monitor of both the FED and ECB actions needs to occur. Particular attention should be paid to the regular meetings, as if a new quantitative easing program is approved in -- or before -- any such meeting, as happened in 2010's Jackson Hole meeting, investors have a green light to buy any commodities ETF, like DBC (commodities in general), DBA (agriculture), GLD (gold), SLV (silver) or USO (crude).
Without such a move from the central banks, the trend in commodities as shown above is still down. As it stands, when lacking such a catalyst, perhaps the sector is better to avoid.
Disclosure: I have no positions in any stocks mentioned, and no plans to initiate any positions within the next 72 hours.