Wednesday morning, J.C. Penney (NYSE:JCP) reported November sales, which were even worse than feared. While most other retailers reported relatively strong numbers, J.C. Penney reported same store sales down 2% (more than analyst estimates of 1.6%) and total sales down 5.9%. It's true that Kohl's (NYSE:KSS) turned in an even worse performance: same store sales were down by 6.2%. But for Kohl's, at least that number comes in the context of sales growth for the full year, whereas total sales for J.C. Penney are down 2.4% year to date.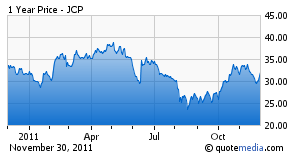 Unfortunately, the weak sales numbers weren't the worst problems J.C. Penney reported Wednesday. In its press release, the company also claimed that it had been doing better than last year until last weekend. It appears that the company's decision not to open at midnight on Black Friday substantially impacted foot traffic. Worse still, "Sales remained soft in-store throughout the holiday weekend." In other words, customers are not finding Penney's holiday selection appealing. Since next month is dominated by holiday shopping, this is a bad omen for future sales. While the company can try to market its way out of this situation, the only likely solution will be massive margin-killing promotions to bring customers into the stores.
Last month, I explained in detail why J.C. Penney is in trouble. Sales have been falling, and this trend shows no sign of abating. While the company has been diligent about cutting costs, these cuts simply cannot keep pace with declining revenue. J.C. Penney's position is made even more difficult because it is reporting lower gross margins and higher inventories, which will lead to still further gross margin erosion. With inventory up 2.6% year over year but sales down 5.9%, one can only imagine what the company will do with the excess. I don't see how the company will be able to meet its sales and earnings targets for the quarter.
In short, J.C. Penney continues to underperform, but this has not yet been reflected in the stock price. While the stock market has performed well this week, amid some stabilization in Europe and rising consumer confidence numbers, the overall consumer spending outlook remains uncertain. It is possible that the relative strength seen on Black Friday will carry through into December.
However, it seems more likely that cautious consumers flocked to stores on Black Friday in search of the best deals and are already winding down their holiday shopping. We will have to wait until the retailers report December sales to know for sure. However, given J.C. Penney's inability to sell goods last weekend, it sure looks like a loser for this holiday season. I would take advantage of yesterday's bounce above $32 to open new short positions; I think the company's underperformance will send the stock to $25 over the next few months.
Disclosure: I am short JCP.