Is hedge fund manager David Einhorn correct when he says a "substantial disconnect has developed between the price of gold and the mining companies" that makes gold miner exchange traded funds a screaming buy?
Valuations on gold mining stocks have fallen to their cheapest level in at last nine years even though sector profits are projected to nearly double this year and gold remains within striking distance of its record nominal high, Bloomberg reported Wednesday.
"When you look back in history, you will say this was a buying opportunity," said John Wong, a portfolio manager invested in gold and silver stocks, in the article. "It's like a coiled spring."
Gold miners' earnings per share and per-share cash flow rose to their highest levels in at least nine years during the third quarter, Bloomberg reported. "When earnings are reported, the market will be all goggle-eyed about how much cash is flowing in to these companies and what their balance sheets look like," said Citigroup analyst Jon Bergtheil. "You tend to get a response at that time.''
Market Vectors Gold Miners (NYSEARCA:GDX) was up more than 4% on Wednesday, rallying with gold prices after the Federal Reserve coordinated with other central banks to pump more dollars into the global financial system. [ETF Chart of the Day: Gold]
Market Vectors Junior Gold Miners (NYSEARCA:GDXJ) invests in small-cap stocks.
"With gold at today's price, the mining companies have the potential to generate double-digit free cash flow returns and offer attractive risk-adjusted returns even if gold does not advance further," said Einhorn, who has reportedly purchased Market Vectors Gold Miners. "Since we believe gold will continue to rise, we expect gold stocks to do even better."
The gold miner ETF is about even for November thanks to the recent bounce.
Market Vectors Gold Miners ETF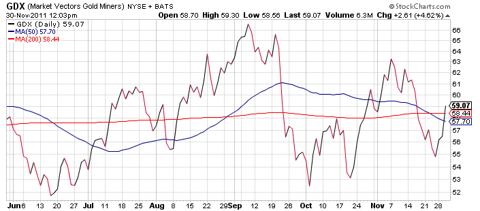 Disclosure: None