On March 31st, Knightsbridge Shipping Limited formally merged with the "old" Golden Ocean Group Limited, with the surviving entity becoming the "new" Golden Ocean Group Limited (NASDAQ:GOGL). Only a few months ago, Knightsbridge had agreed to merge with Frontline 2012 Ltd. (OTC:FLINZ). The two transactions bring under the same roof the investment holdings of John Fredriksen in dry bulk carriers. Following the merger, Hemen Holdings Limited, a trust controlled by John Fredriksen, will retain the majority of shares (approximately 53%) of the combined entity.
John Fredriksen is of course no stranger to the shipping industry, arguably being one of the most successful shipowners during the last cycle. What I like the most about him is that he never stands still, always trying to be a step ahead of the competition in one of the most volatile segments of the broader energy complex.
Case in point, it took less than a month to strike another blockbuster deal. Or three deals if we want to be precise. In a press release last Monday, Golden Ocean announced the sale and leaseback of eight modern cape size bulk carriers to Ship Finance International Limited (SFL), another company where Hemen Holdings has an investment holding, albeit a minority one. The company also announced the sale of four cape size vessels currently under construction to a third party, and agreements with yards to delay the delivery for several of its new-building vessels.
In this article, I will analyze the merits of the sale and leaseback deal. The eight vessels have an average age of approximately five years and are scheduled for delivery to Ship Finance in July. The vessels were sold for $34 million apiece, and will be chartered back to Golden Ocean for ten years at a base rate of $17,600 for the first seven years and $14,900 for the remaining three years. Golden Ocean will have the option (but not the obligation) to buy the vessels back from Ship Finance at the end of the 10-year term for an average $14 million per vessel.
The deal comes with a twist that makes it a delight for us humble analysts. Ship Finance will also receive a 33% profit sharing if prevailing spot rates during the 10-year period are in excess of the base rate. A profit-sharing agreement is identical to a call option on the spot market for cape size vessels. What makes it particularly attractive is that spot cape size rates are the most volatile in the dry cargo industry.
But let's do first things first. Ship Finance will disburse $34 million per vessel in exchange for a base rate over the next 10 years. I assume that Golden Ocean will exercise its option and purchase the vessels at the end of the term for $14 million per vessel. I believe this is a fair assumption, because at the end of the term, either Golden Ocean will buy the vessels (if they are worth more), or Ship Finance will extend the charter for an additional three years at $14,900.
Assuming an operating cost of $8,000 per day (inclusive of G&A and dry-dock repairs) and 95% capacity utilization, the base rate yields an internal rate of return (IRR) of 4.25%. So far this is nothing to write home about.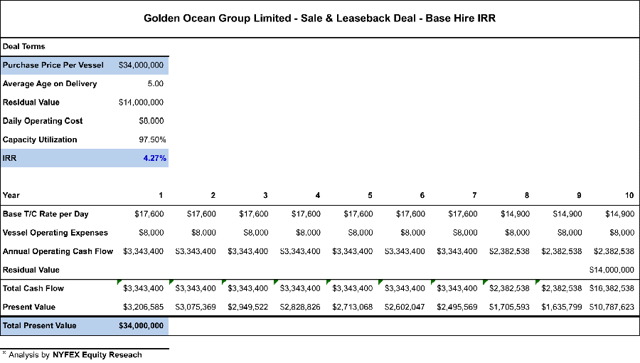 But wait, there is more. As discussed above, Ship Finance will also hold a series of options on the spot cape size market. Each option will be settled on a quarterly basis, at the strike price of $17,600, or $14,900 as the case may be, and it will be for 30 calendar days per quarter (To adjust for the 33% profit-sharing arrangement).
In the following table, I have calculated the value of the option series using the Black-Scholes pricing formula. For the interest of simplicity, I have priced a series of yearly options instead of quarterly ones. I have assumed a spot rate of $5,000 and an annualized volatility of 100%, which is in line with figures currently used in pricing of long-dated FFA options.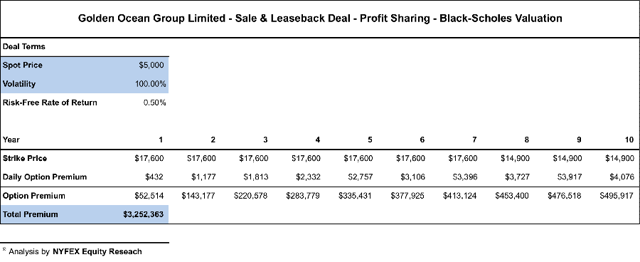 Based on the above assumptions, the profit-sharing component of the deal has a value of approximately $3.25 million per vessel. When I combine the two components together (base hire and profit sharing), the base case scenario yields an internal rate of revenue of 6%.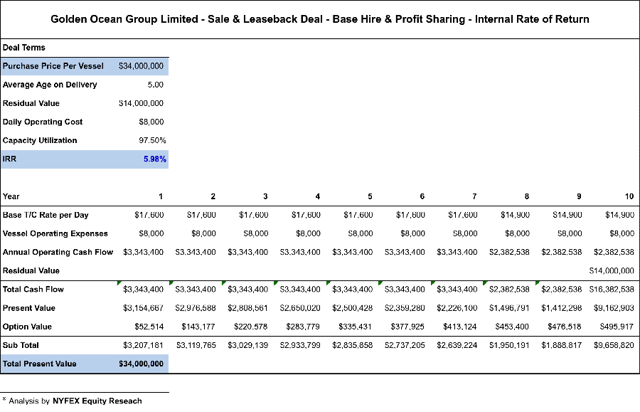 Options enthusiasts could run scenarios ad nauseam, assuming different rates for volatility, spot price, etc. The important thing to remember is that long-term profit-sharing agreements can be extremely valuable.
Original shareholders of Knightsbridge should remember a thing or two about the value of an option. Knightsbridge was originally formed as a special vehicle for a lease deal with Shell International. Shell had agreed to bareboat charter five VLCCs for seven years (hence the old stock symbol VLCCF for Knightsbridge Tankers). Under the terms of the deal, Knightsbridge would receive a "hell and high water" base rate, plus 100% profit sharing above the base rate. Note that this 100% figure is not a typo. The bareboat charter, from February 1997 until April 2004, proved to be a home run for shareholders.
A similar deal had been struck between British Petroleum and Nordic American Tankers (NAT). Shareholders of Nordic American Tankers made out like bandits too.
I would like now to switch hats and analyze the deal from the point of view of Golden Ocean. The company will be able to effectively borrow at a relatively low rate of 4.25% and at the same time improve its leverage ratio. I presume that the charters will be classified as operating leases and be taken off the company's books. Golden Ocean will give away a 33% profit sharing above the base hire, but in effect, it is writing a covered option, since it will retain commercial control of the vessels.
In summary, I believe the deal is a win-win for both companies. Ship Finance will get cash flow visibility and profit-sharing potential. Golden Ocean will get off-balance-sheet financing at a reasonable rate and will keep commercial control of the eight cape size vessels.