For months now, there have been innumerous whispers and reports of bidding wars for Yahoo! Inc. (YHOO) to go along with article after article speculating about who the potential acquirer(s) will be and how the deal may be structured.
Since Yahoo's stock traded at its two year low of $11.09 on August 6, the share price has seen a buyout-speculation fueled 42% increase to its Wednesday closing price of $15.71. The largest high-volume upward move during this time period came on October 5th when the stock surged 10.1% from $14.46 to $15.96 with 97.73M shares changing hands.
YHOO Chart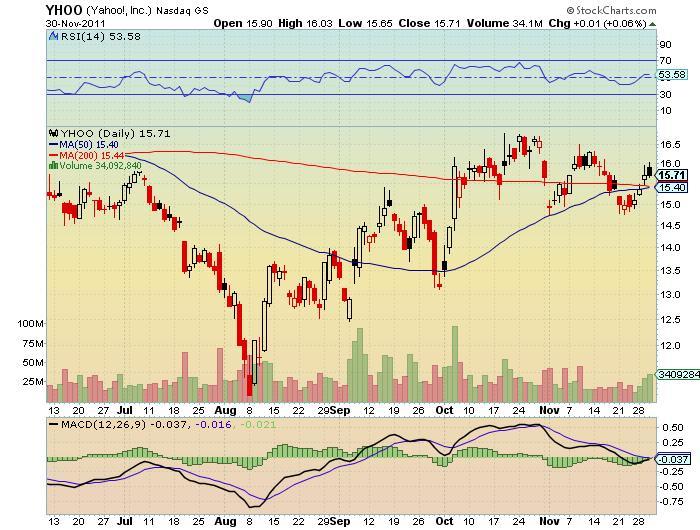 The time may finally be drawing near when we no longer have to read about disgruntled factions of rival activist investors, unscrupulous insider activity, if/when the company will be bought, who will buy it, why they will buy it, and how a potential deal will be structured. Quite frankly, I am pleased that this all may be coming to an end, as I am of the belief that Yahoo, regardless of who controls it, will never become 1/10 as profitable a company as its larger peers, Google (NASDAQ:GOOG) and Microsoft (NASDAQ:MSFT) are.
It has just been reported that Alibaba Group (OTC:ALBCF) and Softbank Corp. (OTCPK:SFTBY) are in the final stages of negotiations with Blackstone and Bain Capital to make a formal bid for Yahoo in its entirety, putting an end to speculation that the company may be pieced out.
According to a Bloomberg report, the bid may come in soon and could be more than $20, citing one of the reasons for such a hefty price tag as being the potential tax savings for the acquirer(s). A $20 takeover would represents a more that 27% premium to yesterday's close. For long-term Yahoo share holders, $20 a share (unfortunately) is only 88 cents above the stock's two year high.
The situation remains fluid and there are several unnamed parties involved in last minute negotiations and putting some finishing touches on the final details of this complicated transaction, but my feeling is that the actual news could come at any time now.
Let's look at some key data.
Valuation Measures:
| | |
| --- | --- |
| Market Cap (intraday): | 19.49B |
| Enterprise Value (Dec 1, 2011): | 17.41B |
| Trailing P/E (ttm, intraday): | 19.23 |
| Forward P/E (fye Dec 31, 2012): | 17.65 |
| PEG Ratio (5 yr expected)1: | 1.53 |
| Price/Sales (ttm): | 3.76 |
| Price/Book (mrq): | 1.56 |
| Enterprise Value/Revenue (ttm): | 3.36 |
| Enterprise Value/EBITDA (ttm): | 12.39 |
Balance Sheet:
| | |
| --- | --- |
| Total Cash (mrq): | 2.11B |
| Total Cash Per Share (mrq): | 1.71 |
| Total Debt (mrq): | 39.00M |
| Total Debt/Equity (mrq): | 0.31 |
| Current Ratio (mrq): | 2.83 |
| Book Value Per Share (mrq): | 10.05 |
An acquisition at more than 2x the company's book value would be impressive and only time will tell whether the potential acquirer(s) will ever see the returns on their investments they are currently hoping for. Regardless, you can count me in for a small speculative play here and let's hope this mess comes to an end relatively soon.
Disclosure: I am long YHOO.