You probably never heard of the Rational Group but may be familiar with Pokerstars and Full Tilt Poker. Leading brands in the online poker market. Rational Group was the private company that owned both Pokerstars and Full Tilt Poker after buying Full Tilt Poker subsequently to its controversial shutdown. The Rational Group was bought by Amaya (OTCPK:AMYGF), which also trades in Toronto where it is more liquid, employing a lot of leverage. The monster acquisition was cooked up by 34 year old founder CEO David Baazov who has been profiled on Forbes. Amaya still owns several other assets in the gaming business but is looking to divest those and just did so with its Ongame asset. The company is focused on building out the Pokerstars and Full Tilt Poker brands. Initially Amaya ran up incredibly fast but over the past six months it has given back some of those gains.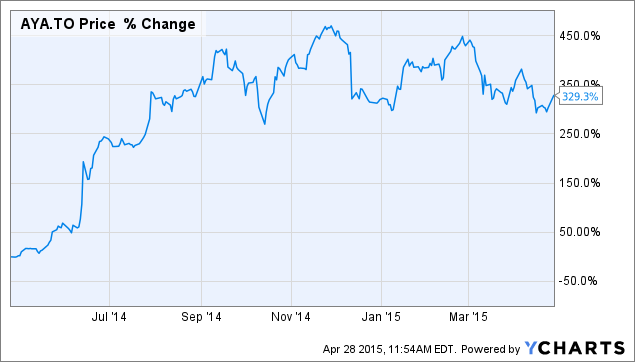 Why is this company so interesting
Pokerstars is the premier brand in online poker. It has the most players which is a large competitive advantage. With the largest player pool there are always games ongoing that interest others and the prize pools are the most attractive (largest) in the industry. There is tremendous operating leverage as each dollar of additional revenue add virtually nothing in fixed costs. However, revenue usually does come at the expense of promotional activity. With the competitive advantage Pokerstars has each promotional dollar spent goes a long way towards generating additional revenue.
The company was sold by its previous owners who got on the wrong side of the U.S. government by offering online gaming to U.S. citizens long after most other operators no longer did so. The company did so on the basis of poker being a game of skill. Because the company took this position it did not offer casino games/sportsbetting or horseracing through its software client. That would have severely hurt its argument. This type of cross selling is standard industry practice and every competitor does it from Betfair (OTC:BTFRF) to Bwin-Partypoker to every obscure site I have ever seen. They do this because it works. Gamers get bored after a while and want to try something new, if that is not available they will go somewhere else.
Because of the unusual position the previous owner maneuvered itself in, Baazov got a great deal acquiring the website and the market recognized this, explaining the 300% surge of Amaya's stock. With Pokerstars on the wrong side of the U.S. government and artificially depressed revenue because of a lack of industry standard cross selling, the price was not that high.
Whether Baazov can return Pokerstars into the good grace of the U.S. government is something that remains to be seen. An upcoming NASDAQ listing is a good start. The lack of cross selling is something Baazov is quickly fixing with gaming and to a lesser extent sportsbetting having been rolled out in selected jurisdictions. What creates value here is primarily the fact that the company will be exploiting the untapped demand from its existing customers. In theory the increased gaming options could also draw new players within the poker network but that is not the primary intent.
Valuation
After the tremendous surge of the stock price, at 26x Enterprise Value/Ebitda the company does not appear to be cheap. However as per the European Commission online gambling is the fastest growing service activity in this sector in the EU (Pokerstars derives most of its revenue from Europe), annual growth rates are close to 15%. Remember, Pokerstars is a best in class operation so it is likely to do better. Annual revenues for the sector in 2015 are expected to equal €13 billion, compared to just €9.3 billion in 2011. Today there are 6.8 million consumers gambling online in the EU. With 500 million inhabitants there is sufficient room for growth in the EU alone. Meanwhile, there is a desire at the European level to bring some order to the highly fragmented regulatory framework the sector faces and which, in my opinion, is highly damaging for the consumer.
With both a 15% growth rate for the industry and a industry standard cross selling strategy being implemented earnings growth will go parabolic.
It is also important to keep in mind that Ebitda converts very well to Free Cash Flow with an online poker company. There is little CapEx. In Amaya's case it is pretty much its interest payments that pressure its Free Cash Flow.
Why is the market still not reflecting full value
Well first of all not everyone is interested in "sin" type stocks. Pokerstars in particular has a bad rep because it continued to provide online gambling to U.S. residents after the government had made it clear it did not like that. Online poker is also just a small segment of online gaming. In most gaming endeavors operators have no or no important competitive advantage. For example blackjack, slot, roulette and sportsbetting providers have few or no competitive advantage over other operators of similar games.
However, a site like Pokerstars has a solid competitive advantage due to its large installed user base. It is a textbook example of a network effect where every additional user makes the product better for all other users but Pokerstars costs do not increase.
The market is likely underestimating the effect on EBITDA of a full rollout of gaming and sportsbetting on the Pokerstars and Full Tilt Poker platforms because this is an uncommon event. Finally, the market may still have some trouble, the 300% run up taken into consideration, grasping that an obscure Canadian company is now suddenly an important global player with prized virtual properties. Properties which value are not widely recognized in the financial community as Pokerstars has been kicked out of the U.S. and derives its value from its European operations on top of being a former private company that was highly secretive.
Catalysts
There are a healthy number of catalysts that can help unlock value here:
Complete roll-out of Sportsbetting and Gaming across the Pokerstars and Full Tilt Poker clients.
Divestment of legacy Amaya businesses
Pokerstars getting back in the good grace of the U.S. government
The NASDAQ listing which is coming up
Financial history as a public company becomes established
Finally, time is our friend with the tailwinds of the solid industry growth and regulators slowly moving to a less fragmented regulatory landscape.
Disclosure: The author is long AMYGF, BTFRF.
The author wrote this article themselves, and it expresses their own opinions. The author is not receiving compensation for it (other than from Seeking Alpha). The author has no business relationship with any company whose stock is mentioned in this article.
Editor's Note: This article discusses one or more securities that do not trade on a major U.S. exchange. Please be aware of the risks associated with these stocks.