Finding good growth stocks in the market is at times a daunting task, akin to finding a needle in a haystack because of not only the market's rapid shift between trends but also due to its rapid change in its definition of "growth." That is not to say that this exercise always results in futility. Clearly the current standing of companies such as Sirius XM (NASDAQ:SIRI) proves that finding growth is indeed possible since just a short three years ago it touched 5 cents.
Another example is a company such as Crocs (NASDAQ:CROX) which designs, manufactures and distributes footwear globally and claims to have sold over 100 million pairs of its popular footwear to date. In January 2009 the stock traded just above $1.00 and since then it has reached a high of $32. Fifth Third Bank (NASDAQ:FITB) is another one of those growth stories that many have taken for granted. In February of 2009 it struggled to stay above $1 before bottoming out at $1.01. Though it now trades at $12, and it recently reached a high of $15.
Three years ago, the same investors who passed up on the stocks mentioned are now wondering if they should now get in - in other words, is there a second chance? It is not often that these "second chances" present themselves. It often requires a huge mistake by management or massive market declines which then results in a lower valuation – (if lucky) to the degree where the "first chance" was missed. We don't need to look farther than the Netflix (NASDAQ:NFLX) public relations nightmare and Research in Motion's (RIMM) horrific display of ineptitude to appreciate these examples.
Considering Atmel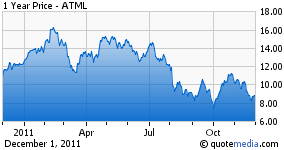 As 2012 approaches I will be vigorously looking for these "second chances." One company that I have my eyes on is Atmel (NASDAQ:ATML). As in the examples above, Atmel has seen its shares erode (in part) due to the declines in the market, but also due to some failures in execution by its management. But at its current valuation, it looks like a steal considering it is trading below its book value.
The company disappointed investors when it reported Q3 earnings results. Though it announced a 15% increase in revenue from the previous year, that number however was flat on a quarter to quarter basis. Management attributed the less than stellar numbers (in part) to the fact that its major customers – namely Dell (NASDAQ:DELL) and Samsumg - could not compete in tablets sales with Apple's iPad (NASDAQ:AAPL). But that is not a huge surprise. What is disappointing is that it did not see this coming and make the necessary adjustments. To make matters worse, not only did it miss its projected revenue goals but it also guided much lower for Q4.
This was that 1-2 punch that has caused it to hover near its 52-week low for the past several sessions. But it is hard to think it can go much lower. As a value investor I tend to see this share weakness as an opportunity or as the theme of this article suggests – "a second chance."
The reality is Atmel has been and will continue to be a great name in its space. To further consider the company as a turnaround story, you should read an article by Seeking Alpha contributor Bert Wilkison where he made the following points:
In the last two weeks alone, the company has launched a complete digital audio platform for consumer applications, cost effective LF-RFID IC for animal identification applications, an industry first single-package microcontroller with LF-RFID reader and most importantly produced a capacitive touch controller with an industry best proximity sensing range.
The highest sell-side analyst's 12-month price target sits at $18.00, representing a 116% to current levels. With 462.6M shares out, Atmel's institutional ownership stands at 79% (a quarter over quarter decrease) and the most recent reported short interest is about 10.7M shares (a bi-weekly increase).
There is some speculation that the company will be releasing details of new leading-edge products and potential new business partnerships to go along with contract extensions and reports of existing technology improvements the first half of next year.
Summary
As the market continues to rebound Atmel may easily double in value during the course of the next 12 months. While second chances don't always present themselves, passing on these growth stories more than once is reason enough to make me question my own investment abilities. It is not a mistake that I'm going to make – not again.
Disclosure: I am long SIRI, AAPL, ATML.