I previously wrote that Vodafone (NASDAQ:VOD) is a solid defensive name to own, and that the special distributions from Verizon Wireless likely will continue at its current $10BB annual rate, despite what management at Verizon (NYSE:VZ) seems to by implying. The market clearly is discounting future cash distributions to Vodafone from Verizon Wireless, but if they do continue, then the stock could really take off.
In this part, I wanted to look at a sum of the parts for Vodafone, and compare VOD with its peers in the U.S. and in Europe.
Sum of the Parts
Vodafone operates globally, with equity interests in 30 markets around the world. It's pretty difficult to add up each stake, so I took a broader regional approach.
Within Europe, Turkey and Germany are doing quite well, but margins are suffering in the PIIGS countries (Portugal, Italy, Ireland, Greece and Spain). Vodafone's businesses in the PIIGS countries are seeing ARPU (average revenue per user) and margin erosion as austerity will likely continue to impact consumers there. It is worth noting that Vodafone's SFR stake out of France was sold at a nice 6.2x multiple of EBITDA last year, however, and Deutche Telekom still trades at 5.5x EBITDA despite declining revenue.
A big problem for European carriers has been cut backs in fees for terminating mobile calls, called MTRs. Reports seem to indicate today that MTR fees are stabilizing after tougher cuts in the past, but it's still a risk.
Finally, Europe is the most mature wireless market in the world, with 130% penetration today. That is, there are 1.3 cell phones for every single person alive in Europe. The U.S. is still behind at 103% penetration as of March 2010 (the chart below is a little dated), and I think still has 2-4 years of growth left. Given all of this, I would suggest a 5.0x EBITDA multiple on Vodafone's European business, and higher multiples for other regions.
Mobile Penetration at december 2009 (%)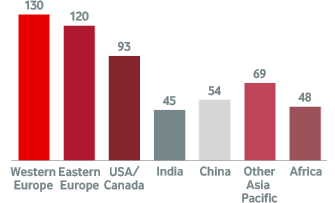 As for Asia and other emerging markets, Vodafone has exited a couple markets there at reasonable levels. VOD's 3.2% stake in China Mobile (CHMO.PK) was actually sold last year, and Vodafone exited Japan previously too.
Vodafone seems committed to its Indian business however, which is estimated to grow by 18% per year through 2014. But that is a market with many competitors (usually there are only 2 or 3 major ones in a market), margins are slimmer, and its business there is losing a little money. I would suggest that higher growth markets like India and VOD's Vodacom markets in Africa are worth more than Europe, and put a 6.25x EBITDA multiple on them for purposes here.
As for the US, Vodafone's stake in Verizon Wireless trades at an implied multiple of 6.8x EBITDA. To get this I assumed the VZ's Wireline business was worth 5x, which seems reasonable given that it is not growing, and suffers from essentially being a zero ROE business. I use a conservative 6.0x multiple to value Vodafone's VZW stake, noting that I think Verizon would easily pay 6.5x to buy it out.
Arguably VZ would pay more than 6.5x for VOD's Verizon Wireless stake, given that Deutsche Telekom's T-Mobile stake was just sold for 7.1x adjusted EBITDA. While it is unclear to me whether or not the regulators will allow the deal to close, the size of the deal and the multiple level are encouraging.
The growth in the VZW business and margins are actually better than T-Mobile. Verizon Wireless is growing around 6%, and generates some of the highest EBITDA margins around the globe. VZW has 48% EBITDA margins compared with 33% at T-Mobile USA. Also, Verizon needs the cash flow from Wireless to support its own dividend, and in fact there may be a merger of Vodafone and Verizon one day. Such a giant merger would enable Verizon to hide its worsening problems within its Wireline businesses and enable it to consolidate its Wireless business too.
So adding up the pieces, here is what I came up with:
| | |
| --- | --- |
| VZ Wireless Stake Value (6x) | $77,641 |
| Vodafone European EBITDA | £10,823 |
| Vodafone European EBITDA USD | 17,317 |
| Multiple of EBITDA | 5.00 |
| VALUE EUROPE | $86,584 |
| Africa, ME and Asia Pac EBITDA | £4,000 |
| EBITDA USD | $6,400 |
| Multiple of EBITDA | 6.25 |
| VALUE of AMEAP | $40,000 |
| Total Enterprise Value | $204,225 |
| Value of Equity | $157,611 |
| VOD Value per ADS | $31.11 |
Comps
First, here is the simple math on where VOD stock trades on a multiple of EBITDA basis, as well as a FCF basis. I have adjusted it for its 45% stake in Verizon Wireless.
| | |
| --- | --- |
| Total Vodafone EBITDA 2012e (excl VZW) | £15,000 |
| VZW EBITDA (45% of VZW total) | £8,088 |
| Total Vodafone EBITDA 2012e | £23,088 |
| Total Vodafone EBITDA 2012e USD | $36,940 |
| VOD TEV | $ 180,855 |
| Multiple of EBITDA | 4.90x |
Here is the FCF yield analysis, again incorporating the 45% share in FCF from Verizon Wireless:
| | | |
| --- | --- | --- |
| FCF Guidance | £6,000 | £6,500 |
| FCF USDs | $9,600 | $10,400 |
| VZ FCF | $5,925 | $5,925 |
| FCF in USD | $15,525 | $16,325 |
| FCF yield | 11.56% | 12.16% |
| VZ FCF div only | $4,500 | $4,500 |
| FCF Total | $14,100 | $14,900 |
| FCF yield | 10.50% | 11.10% |
Verizon, perhaps the most relevant comp given the dual ownership in VZW, trades at a much richer multiple as alluded to above. Here is a quick list of some comps below.
| | | | |
| --- | --- | --- | --- |
| Comps: | Div | Yield | 2012 P/E |
| AT&T | $ 1.72 | 6.09% | 11.3 |
| VZ | $ 2.00 | 5.46% | 14.3 |
| VOD | $ 2.17 | 8.18% | 9.3 |
| CHL | $ 2.04 | 4.25% | 11.2 |
| | | | |
Some notes on these comps: I have purposefully left out TEF, as it is highly levered, operates in different markets (mostly Spain and Latin America), and has a much larger wireline presence. I also excluded Sprint (NYSE:S), as its Total Enterprise Value of around $25BB is much smaller than the big-cap wireless carriers. Sprint right now is struggling with lower margins, negative EPS, and doesn't pay a dividend. For the record however, it is trading over 6x EBITDA using 2012 numbers.
Also Deutsche Telekom is perhaps skewed by the pending sale of its T-Mobile business, but it's worth noting that DT trades at 5.5x EBITDA overall, despite the fact that its top line is declining by 4.1%. Its 7.3% dividend yield is enticing, but 1) Vodafone's yield is better with VZW payments, and 2) I much prefer Vodafone's positive organic growth rate of 2%-3% over DT's declining top line.
Valuing Vodafone
Assuming a more reasonable earnings multiple of 11-12x for Vodafone implies a $31 to $34 valuation range. That, plus an 8% dividend yield, for 2012 (or rather FY 2013 ending March) would imply upside of 24%-27% over the next year to 18 months. Alternatively, an 8% FCF yield would imply as high as a $39 stock price, assuming that the markets could give full credit to Vodafone's cash flow from Verizon Wireless.
Disclosure: I am long VOD.