Stephen Mandel's Lone Pine Capital is one of the most famous (and successful) "Tiger Cubs" started in 1997 after leaving Julian Robertson's famed Tiger Global Management. Lone Pine reported $12.2 billion in long U.S. equity positions for Q3 2011, which included some notable increases & new positions. Lone Pine's "Lone Cascade" hedge fund (which accounts for almost $9BN of total AUM) is down 14% in Q3 and down 9.2% YTD. Mandel is still a fan of stocks saying "Stocks globally are currently cheaper, based on consensus earnings estimates, than at any time in our 14-year history." This also explains some of the big increases in his portfolio (and new positions) over the last few quarters.
We show the top 20 positions (ranked by market value) below:
(Click charts to expand)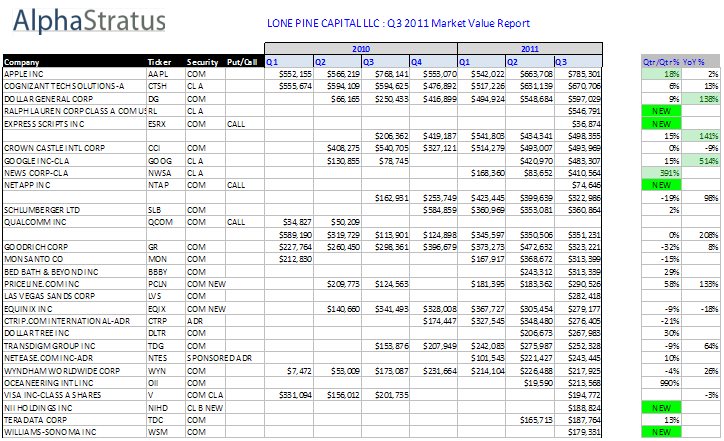 The changes in shares for the top 10 positions are shown below:

While Apple (NASDAQ:AAPL) increased 18% from last quarter in terms of market value, Lone Pine actually only added 4% to the number of shares. Lone Pine appeared to take advantage of the Q3 dip in number 2 position Cognizant (NASDAQ:CTSH) to increase shares by 24% (although the market value of the new position is only 6% higher than last quarter):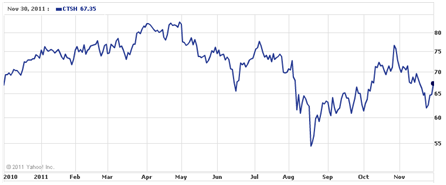 Ralph Lauren (NYSE:RL) is a new position in the top 10 and represents 4% of total reported longs (see conviction report below):

Lone Pine added some call options to their Express Scripts (NASDAQ:ESRX) equity position (which has doubled since 2010) that have likely paid off already: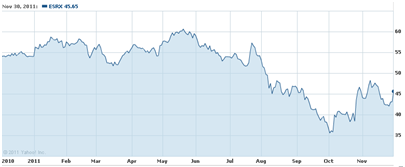 Google (NASDAQ:GOOG) is now a 4% position for Lone Pine after a brief (and small) investment in 2010.
Lone Pine also took advantage of a Q3 sell-off in NetApp (NASDAQ:NTAP) to sell some of its shares and buy call options: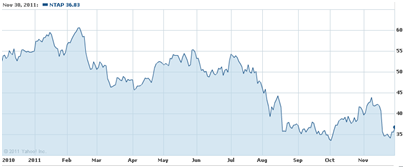 Several smaller conviction (but notable) new positions were added last quarter including:
Las Vegas Sands (NYSE:LVS), NII Holdings (NASDAQ:NIHD), Williams-Sonoma (NYSE:WSM) and United Technologies (NYSE:UTX):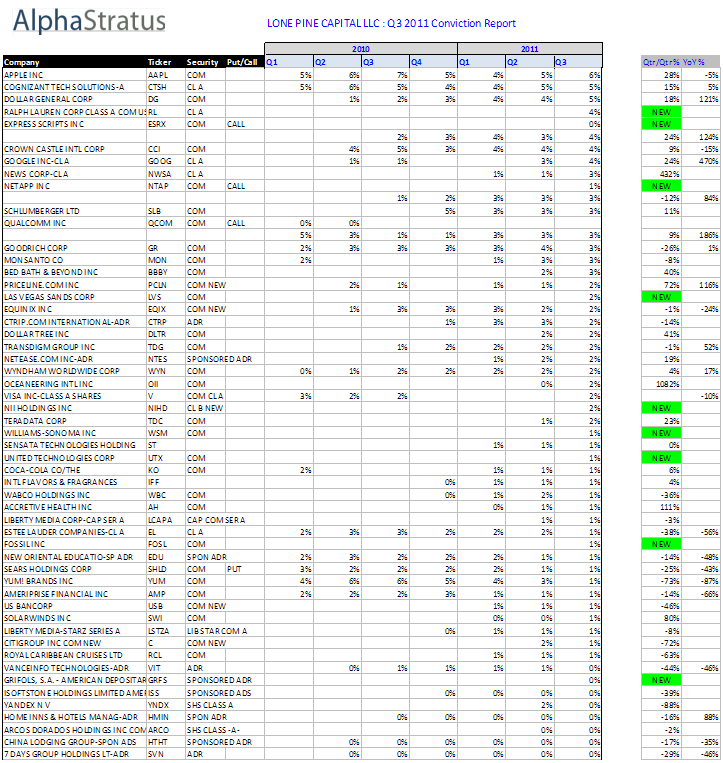 All said, Mandel is ramping up his bets on Apple, Cognizant and Dollar General (NYSE:DG) and started a big new bet in Ralph Lauren as well an opportunistic options positions on some weakness in Net App. Q3 was a rough quarter for L/S Equity hedge funds, in general, and Lone Pine got hit especially hard but that didn't stop Mandel from increasing his bet on U.S. equities. We'll find out if it pays off.
Disclosure: I have no positions in any stocks mentioned, and no plans to initiate any positions within the next 72 hours.