Even with a blowout Black Friday weekend, overall November retail sales results were underwhelming and many chains are now counting on December strength to save the Holiday season.
Total preliminary sales for the 22 chains that reported this morning [Walgreen (WAG) doesn't report until Monday and Zumiez (NASDAQ:ZUMZ) reports after the close today] increased 3.7% from a year ago to $29.98 billion in November, while same-store sales rose 3.3% on top of a 6.0% gain last year – this was the 27th straight monthly gain after 12 consecutive months of declines, but the smallest increase since March.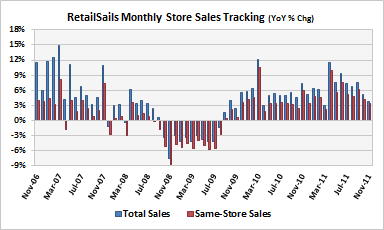 Only 14 of 22 chains reported comp gains for the month compared with 18 last November, and this suggests that while shoppers splurged for one weekend that doesn't mean the overall season is going to out-perform. Retailers have conditioned consumers to hold out for door-buster deals.
Richard Yamarone, a senior economist at Bloomberg LP in New York, commenting on this morning's consumer confidence reading, which continues to sit at levels typically reached during past recessions, said "In this environment, the only spending that seems to take place is during deep discounts, heavy couponing, or widespread sales."
By all accounts Black Friday weekend was a bonanza for both brick-and-mortar and e-commerce on early store openings, deep discounts and heavy promotional activity. However, it appears consumers saved all their shopping for the Thursday to Monday period and we are likely to see a similar spending lull until the week before Christmas when about a third of all Holiday shopping is typically done.
Warmer weather led to weakness across the board in winter apparel business (it was the 2nd-warmest Thanksgiving Day weekend in more than 19 years according to Weather Trends International) and those chains who delayed opening stores past midnight paid the price.
Standouts included pretty much the same names we have seen out-perform all year: Costco (NASDAQ:COST) [+9% / +7% ex gas & f/x], The Buckle (NYSE:BKE) [+6.9%] and Limited Brands (LTD) [+7%]; Off-price stores TJX (NYSE:TJX) [+4%] and Ross Stores (NASDAQ:ROST) [+5%] which continues to offer the best value proposition and take market share; high-end chains Nordstrom (NYSE:JWN) [+5.6%] and Saks (NYSE:SKS) [+9.3%], which are able to push full-price selling and have yet to see a much of a slowdown in affluents' spending; and Macy's (NYSE:M) [+4.8 comp and nearly 50% surge in online spending], which absolutely destroyed rivals in November and continues to be the best name in the department store space.
Laggards in November included all the usual suspects:
The Gap (NYSE:GPS) [-5%], who's chairman and CEO Glenn Murphy offered this lame excuse as though this was just a one-month hiccup: "This is just the start of the holiday selling season and we expect December to remain fiercely competitive and highly promotional,"
JC Penney (NYSE:JCP) [-2.0%] which blamed late Black Friday openings, although they also said sales "remained soft in-store throughout the holiday weekend" and Kohl's (NYSE:KSS) [-6.2%], which absolutely had its lunch eaten by Macy's and offered similar commentary: "A majority of our planned incremental marketing investment is in December and we expect to be able to benefit as customers look for value as they complete their holiday shopping;"
And finally Target (NYSE:TGT) [+1.8%], which is obviously losing its everyday low-price leader war with Wal-Mart (NYSE:WMT) and parroted basically the same line: "Our view of December remains the same – we expect a competitive and promotional environment as consumers continue to focus on value."
Pretty much all the stores in every mall we visited over the weekend into this week were heavily promotional and we expect continued margin compression to be a major theme for Q4, yet there were no earnings warnings in today's reports. On the other hand, not one chain raised guidance and it seems they are all counting on December to save the holiday season.
One note worth mentioning is that most chains didn't reflect Cyber Monday online sales in their figures as their fiscal months ended on Saturday or Sunday, so the biggest online selling weekend ever should provide a boost to December results. However, overall we haven't seen any convincing evidence to suggest that this Holiday season is going to be anything better than just okay.
(Click chart to expand)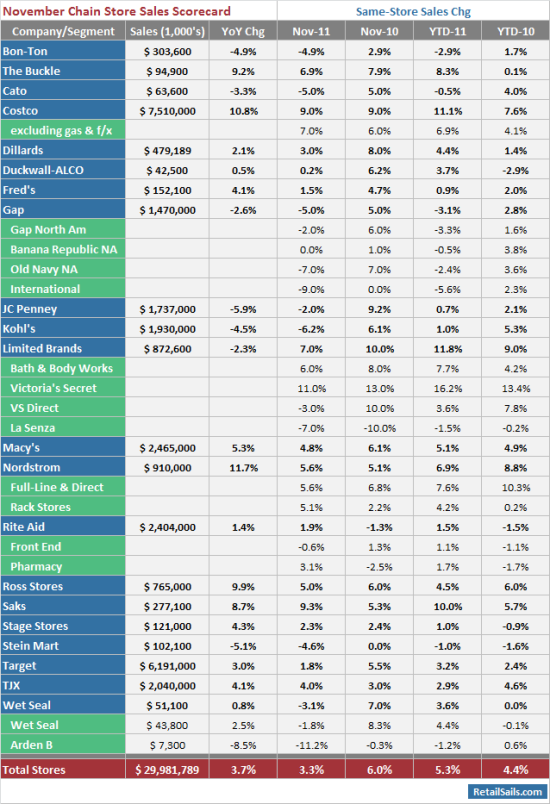 Disclosure: I have no positions in any stocks mentioned, and no plans to initiate any positions within the next 72 hours.