Even though the sector is down approximately -4% year-to-date, Industrials may hold some of the best stocks to buy moving forward. Standard & Poor's puts this sector as #2 in projected earnings growth for 2012, right behind Tech, which gives it one of the lowest PEG ratios for 2012: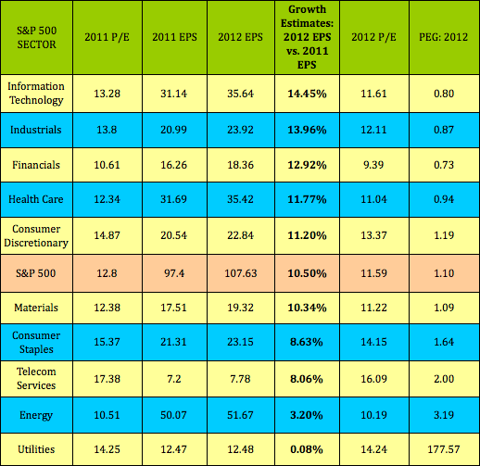 (Data source: Standard & Poor's)
86% of S&P 500 Industrials stocks have also beaten or met their Q3 2011 earnings estimates, second only to the Tech sector.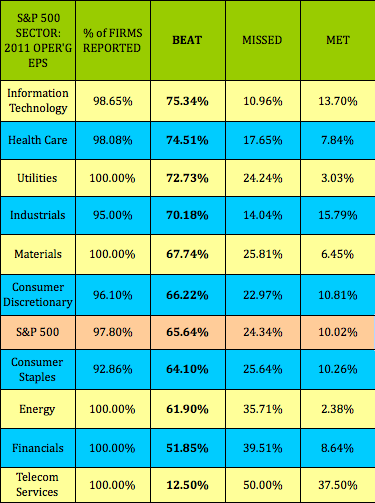 (Data source: Standard & Poor's)
On the whole, this all sounds pretty good, but finding undervalued high dividend stocks with solid metrics in this sector is still challenging. One alternative is to trade off on a high dividend yield for better growth and financial strength, and use options to pump up the dividend yields on attractive dividend stocks. Both Caterpillar (NYSE:CAT) and Cummins (NYSE:CMI) have below-average dividend yields, but you can vastly improve upon their dividends via selling options.

Covered Calls: Take a look at the disparity between these high option yields and the dividend yields during these 6-7 month trades.
CAT's call options pay over 9 times their dividends, while CMI's pay over 15 times.
(The call and put options listed below for CAT expire in May, and those for CMI expire in June.)
(You can see more details on this and over 30 other high yield covered call trades in our Covered Calls Table.)

Cash Secured Puts: Another strategy is to sell cash secured puts below the stock's current share price, in order to get an even lower break-even price. In CMI's case, this put trade has a break-even only 3% above CMI's 52-week low. As with the call options, these put options far outstrip the dividends during this period, by 9 to 16 times in this example.
Your broker will hold a cash reserve amount equal to however many put contracts you sell, times the strike price of the put you sell. This amount is released once the puts expire or the trade is closed.
Unlike covered calls, the best time to sell cash secured puts is usually when the stock is at the lower part of its range, which will give you an even lower break-even. Both CAT and CMI bounce up and down with the market, so check out their put prices during the next pullback. If you want to be more conservative, you could also sell at a strike price further below the current share price.
(You can find more details on this and over 30 other high yield options trades in our Cash Secured Puts Table.)

EPS/Sales Growth: Both stocks had strong EPS growth in their most recent fiscal years, and strong sales and EPS growth in their most recent quarter:

Valuations: CAT's PEG for its next fiscal year is very low, while CMI's is consistent with the sector's .87 PEG.

Financials: Although CAT carries a heavier debt load, its interest coverage ratio is 5.9x.

Disclosure: I am long CAT, CMI.
Additional disclosure: I'm long CAT and CMI via being short put options on both stocks.