Research firm Muddy Waters (notable for their successful track record of uncovering publicly traded Chinese frauds) has released their latest report outing Focus Media Holding, Ltd. (NASDAQ: FMCN) as having "fraudulently overstated" their business lines. The stock sold off initially (after the 11/21 report was released) but has since stabilized around $17 which is still trading at nearly 15x earnings. Given the severity of the fraud claims against FMCN, this stock has a long way to go: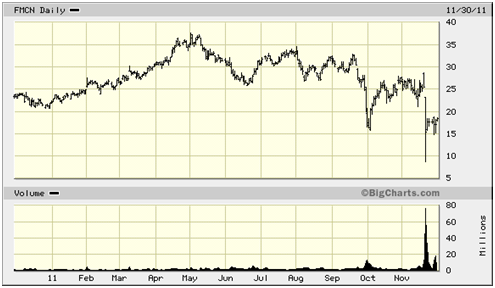 We show below, the AlphaStratus report for all filers who reported a long position in FMCN in the most recent quarter and what their position in this stock has been over time (full report available upon request). There are a number of notable names on this list (only top 50 filers are shown):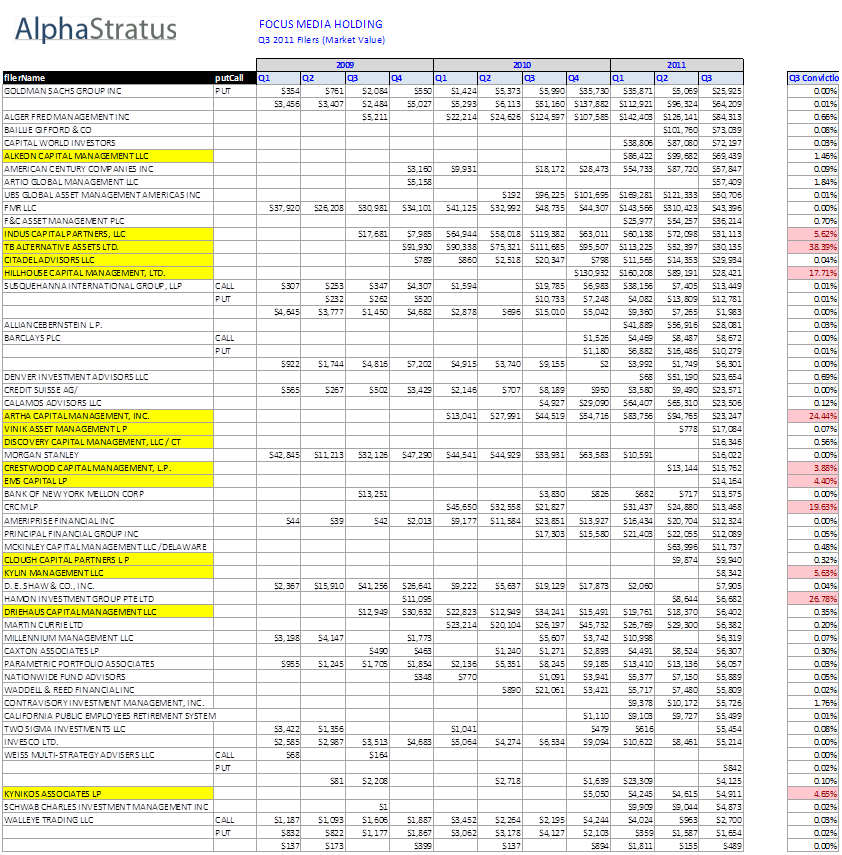 Goldman Sachs (NYSE:GS) tops the list with a $64M long position offset by $25M in put options. Alger Fred Management (small-cap growth mutual fund) had an $84M position. Capital World Investors (an early investor in Yahoo!) had the 3rd largest position at $73M (Los Angeles-based Capital World Investors primarily invests in growth and value stocks of small-cap companies).
Other notable investors in this stock include:
· TMT focused fund, Alkeon Capital (spun off from CIBC Oppenheimer in 2002)
· Asia-Pacific-focused hedge fund, Indus Capital
· Ken Griffin's Citadel Advisors
· China-based Hillhouse Capital which describes itself as "one of the leading institutional alternative asset managers in Asia" and has 17% of its reported Q3 assets in this name
· TB Alternative Assets, which has 38% of its total reported long positions in FMCN and, interestingly, also has another Chinese fraud (NYSE:QIHU) in their portfolio (as do Kylin Capital, Clough Capital & Goldman Sachs)
· Artha Captial Management which "employs a fundamental analysis with a combination of a top-down and bottom-up stock picking approach to make its investments" only has 5 positions on its most recent 13F filing of which FMCN represents 24%
· Jeff Vinik's hedge fund
· Robert Citrone's hedge fund Discovery Capital Management
Even for those filers for which the position in FMCN represets a small percentage, it does beg to question how a name like this could show up in the portfolio. It will be interesting to see where this stock goes and, if it tanks, who's left holding the bag?
Disclosure: I have no positions in any stocks mentioned, and no plans to initiate any positions within the next 72 hours.