Cummins Inc. (NYSE:CMI) announced strong financial results for the first quarter of fiscal 2015. Due to currency headwinds, falling oil prices and slow growth in international markets, it was expected that diversified industrial companies could experience significant headwinds in this year. The IMF has lowered its global economic outlook twice in the past six months to 3.5%, compared with an earlier forecast of 3.8% due to slow growth in emerging and European markets. In addition, strengthening of dollar is creating pressure on sales of multinational companies. Despite all these headwinds, Cummins generated high-single-digit growth in sales and double-digit growth in earnings.
| | | |
| --- | --- | --- |
| Segments | Sales | Up/Down |
| Engine Segment | $2.6 billion | up 1 percent |
| Distribution Segment | $1.5 billion | up 55 percent |
| Components Segment | $1.3 billion | up 6 percent |
| Power Generation Segment | $680 million | up 6 percent |
Source: Earnings release
The company posted sales growth of 7% to $4.7B relative to the past year quarter. Currency fluctuations declined its sales by 3% and international markets fell 6% compared to the past year quarter. However, its strategy of penetrating in Chinese market allowed it to offset lower revenues in Brazil and Europe. Importantly, the company generated growth from all business segments including power generation segment, which was under pressure due to depression in energy sector. In addition, Cummins posted record sales from distribution and components segments. Its strategy of acquiring North American distributors and new launches in China improved its results from power generation business.
On the other hand, its management is actively working on cutting costs with the aim of growing its EBIT faster than sales. In the first quarter, its EBIT increased to $562 million or 11.9 percent of sales. And, net income increased 14% to $387 million compared to $338 million in the first quarter of 2014. With increase in sales and earnings, its cash generating potential is also increasing. Its operating cash flows are covering capital requirements and dividend payments. In addition, the company repurchased 1M outstanding shares, which I believe will enhance its earnings per share, dividends and share price in the coming days.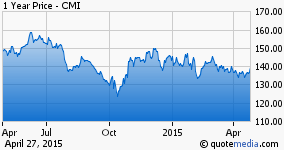 In my recent article after fiscal 2014, I recommended investors to buy this stock on dips, when many other analysts including Susquehanna and First Global, downgraded their price targets due to currency headwinds, slow economic growth and falling commodity prices. However, I recommended investors to overlook these short-term issues because the company is still poised to generate mid-single-digit growth in sales and double digit growth in earnings. In addition, I anticipated that excluding the power generation segment, which was expected to remain under pressure, Cummins' other three business segments are going strong and account for 85% of total revenue. Its latest financial results affirmed my opinion. Its stock gained almost 2% on earnings announcement. Moving on, Cummins is likely to sustain its momentum with its expansion strategy and penetration in new markets.
Before moving to any conclusion, it is wise to look at risk factors associated with its business model. Due to extensive global footprints, Cummins could again experience currency fluctuations in the second quarter of this year. Nevertheless, after the Fed's recent announcement of an expected increase in interest rates, we can expect stability in the second half of this year. Slow economic growth in international markets is one more risk, which can hinder its financial performance in the coming days.
In Conclusion
The company's management is playing smartly in the depressed economic environment. It is expanding its energy generation segment with penetration in emerging markets and new product launches. Its distribution segment is growing on acquisition, as it completed seven acquisitions in 2014 and looking to make three more this year. These acquisitions increased its distribution segment growth by 31% in the final quarter of 2014, and by 53% in the first quarter of this year. Increased demand in on-highway markets in North America continues to offset weaker demand in marine, construction and mining markets. Overall, I am not seeing any risk that can materially impact its financial performance.