Investing can be a difficult decision that many individuals are willing to abdicate to an analyst. I remember my first stock pick, which had a 'strong buy' rating and a ridiculously large price target. It dropped by 25% within weeks.
Much material has been written on the over-exuberance of ratings associated with sell-side analysts. What we want to know is this: do analyst ratings still matter? Should it be a part of your investment decision?
Comparing Analyst Recommendations and Performance
We will look at major exchanges (U.S.) where analysts more frequently recommend investments to their clients. We will further impose a $1 per share and a 10,000 daily share movement minimum. This drops the stock universe to four or five thousand companies. To make our 'recommendation test' relevant, we want at least 3 analysts covering the current years earnings
*(All our tests will be using weekly re-balancing so as to change our holdings as close to a change in an analyst recommendation. A more practical longer holding term will be discussed at the end of the article)
Next, we will compare the performance of companies using the 1 to 5 analyst rating system (1 is strong buy and 5 is strong sell). The following stats will be compound annual growth rates since April 2001.
Rating of 1 = 14.34% CAGR
Rating between 1 and 2 = 7.82% CAGR
Rating between 2 and 3 = 7.1% CAGR
Rating between 3 and 4 = -0.58% CAGR
Rating between 4 and 5 = Too few stocks to come up with statistical significance
I removed the requirement of three analysts covering the current year's earnings. This resulted in a compound annual loss of 6% in the bottom category.
It would appear that there is still value in using analyst recommendations. Of course, if you ever purchased a 'strong buy' company just to watch it tank as I have, you'll know the value of doing due diligence unless you are basket trading – which removes some of the company-specific risk.
Adding in More 'Strong Buy' Stocks
Only 33 stocks appear on average when limiting our selection to companies with an analyst rating of 1 (strong buy), in addition to our other requirements. To expand our trading universe I lowered the required number of analysts from 3 to 2, which brings our average list of stocks up to 85. It also drops our CAGR to 12.29%. Can we enhance our gains beyond a simple 'strong buy rating' of exactly 1.0?
Taking Away Your Options
It has been my belief for some time now that stocks with options perform worse, on average, than their non-derivative counterparts. This could be due to a lack of manipulation from institutions, hedge funds, and traders that may utilize leverage. Will using non-optionable stocks enhance our strategy? An 18.39% CAGR says it does. Below is a sampling of these stocks in descending order according to market cap (Screening and chart compliments of Portfolio123):
| | | |
| --- | --- | --- |
| Ticker | Name | Industry |
| (NYSEMKT:OPK) | Opko Health Inc. | Biotechnology & Drugs |
| (NASDAQ:ESGR) | Enstar Group Ltd. | Insurance (Prop. & Casualty) |
| (NASDAQ:TTMI) | TTM Technologies, Inc. | Semiconductors |
| (NASDAQ:SWSH) | Swisher Hygiene Inc | Misc. Financial Services |
| (NASDAQ:IOSP) | Innospec Inc. | Chemical Manufacturing |
| (NASDAQ:DVAX) | Dynavax Technologies Corporation | Biotechnology & Drugs |
| (NASDAQ:DXPE) | DXP Enterprises, Inc. | Constr. & Agric. Machinery |
| (NASDAQ:ASGN) | On Assignment, Inc. | Business Services |
| (NASDAQ:CHEF) | The Chefs Warehouse, Inc | Retail (Grocery) |
| (NYSE:ACW) | Accuride Corporation | Auto & Truck Parts |
| (NASDAQ:RNET) | RigNet Inc | Communications Services |
| (NYSEMKT:PKT) | Procera Networks, Inc. | Software & Programming |
(Click charts to expand)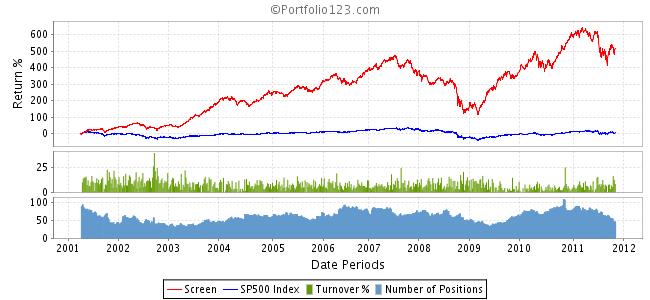 Adding in Dividends
As an Aggressive Dividend Investor I am always interested in the effect that dividends will have on price performance. One would assume that it would eliminate high-flying stocks as earnings are paid back to shareholders instead of being reinvested for accelerated growth. But the opposite effect happens by requiring a dividend yield on these non-optionable stocks as our CAGR jumps to 20.71%. Below is the full list of current stocks making the list (Screening and chart compliments of Portfolio123):
| | | |
| --- | --- | --- |
| Ticker | Name | Industry |
| (NASDAQ:ACET) | Aceto Corporation | Chemical Manufacturing |
| (NASDAQ:CECE) | CECO Environmental Corp. | Misc. Capital Goods |
| (NYSE:DCM) | NTT DoCoMo, Inc. (ADR) | Communications Services |
| (NASDAQ:ESSA) | ESSA Bancorp, Inc. | Regional Banks |
| (HCII) | Homeowners Choice, Inc. | Insurance (Prop. & Casualty) |
| (NASDAQ:HOFT) | Hooker Furniture Corporation | Furniture & Fixtures |
| (NYSE:MLR) | Miller Industries, Inc. | Auto & Truck Manufacturers |
| (NYSE:SCS) | Steelcase Inc. | Furniture & Fixtures |
| (NASDAQ:TWIN) | Twin Disc, Incorporated | Misc. Capital Goods |
| (NYSE:TYN) | Tortoise North American Energy Corp | Misc. Financial Services |
| (NASDAQ:USHS) | US Home Systems Inc | Constr. - Supplies & Fixtures |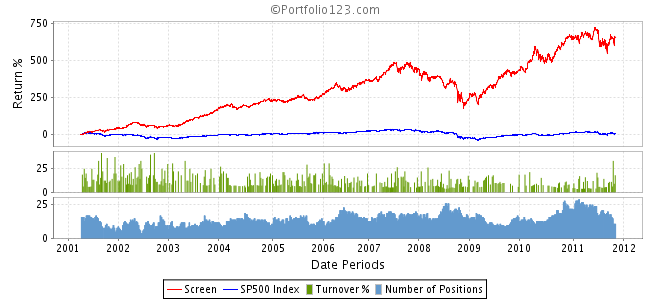 Putting it All Together
It goes without saying that you will need to perform due diligence on the stocks you will actually buy. Not all of these stocks are suitable for all investors. You can lower your risk by picking from a variety of industries, market caps, countries, and by trading a basket of these so as to water down any bad surprises that pop up from one or two lackluster stocks.
Please note that you should not trade this strategy with weekly re-balancing. Your gains will be consumed by transaction fees and slippage. While a 3-month re-balancing strategy may lower your gains ( with the non-optionable dividend strategy), it is still a respectable 15.48% capital gain plus a yield of more than 3%.
As well, finding these stocks by combing through thousands of reports by hand is tedious, time wasting, and impractical. Many excellent screening tools are available on the Internet so you can quickly sift through the investable stock universe to judiciously select the highest probability climbers. Yes, despite the bad rap analysts get, their recommendations are still valuable and can be incorporated into a decent trading strategy.
Disclosure: I have no positions in any stocks mentioned, and no plans to initiate any positions within the next 72 hours.