In its first press release that addressed Muddy Waters Research' allegations, Focus Media's (NASDAQ:FMCN) clarified the LCD screens, which include Basic LCD, LCD 2.0 digital screen, and LCD 1.0 picture frames. See table from the press release:
| | | | | | |
| --- | --- | --- | --- | --- | --- |
| | Basic LCD screen | LCD 2.0 digital screens | LCD 1.0 picture frames | Total | % of total |
| Tier 1 cities | 29,707 | 16,118 | | 45,825 | 25.7% |
| Tier 2 cities | 56,301 | 16,101 | 29,878 | 102,280 | 57.3% |
| Tier 3 cities | 30,018 | 259 | | 30,277 | 17.0% |
| Total | 116,026 | 32,478 | 29,878 | 178,382 | 100% |
Muddy Waters then published a second report, featuring a transcript of the conversation between Muddy Waters and a Focus Media sales manager in which the sales manager "confirmed" Muddy Waters' assertion that Focus Media overstated its LCD screens.
On the same day, Focus Media published its second press release, further clarifying the different LCD devices to inform the investors that they are not double counting the number of digital poster frames into the LCD network.
From my observation, the confusion behind the "double counting" of LCD screens can be attributed to the company's acquisition of Framedia in 2005. Framedia was once Focus Media's competitor and dominated the in-elevator poster frame advertising market with its digital and traditional poster frames. After the acquisition, Focus Media consolidated its own LCD, digital frame, and traditional picture frame under the "LCD network" to distinguish the "Focus Media" branded screens from those of Framedia.
Intuitively, the newly acquired Framedia network was designated Focus Media's "Poster Frame Network" since Framedia's digital and non-digital poster frames outnumbers those of Focus Media by almost 7 times, according to its Q3 result and the company's first press release.
According to Focus Media's second press release:
As of September 30, 2011, the 178,382 display devices in the LCD display network included: 116,026 LCD screens, 32,478 LCD 2.0 digital picture screens and 29,878 LCD 1.0 picture frame devices. Both the LCD screens and LCD 2.0 digital picture screens have the technical capacity to show video images as well as dynamic and static images, whereas the 1.0 picture frame devices that are part of the LCD display network only display traditional fixed images.
Focus Media's LCD screen, contains both HD Basic LCD screen and Basic LCD screen. See below: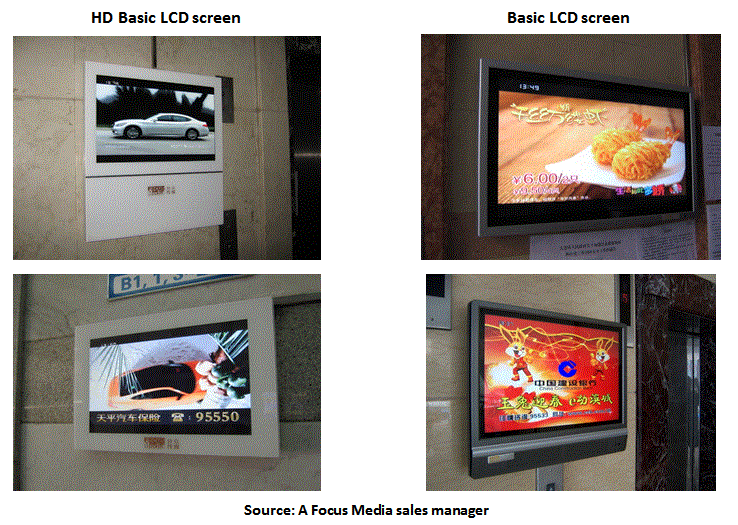 LCD 2.0 digital frame is the digital poster frame under the "Focus Media" brand. Like the LCD screen, it is capable of playing video, flash, and static ads. (Note the circled "Focus Media" brand.)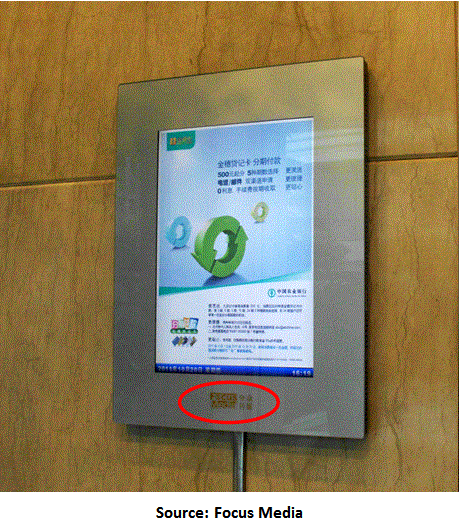 Finally, LCD 1.0 picture frame is the legacy picture frame that only display static image. (Note the circled "Focus Media" brand.)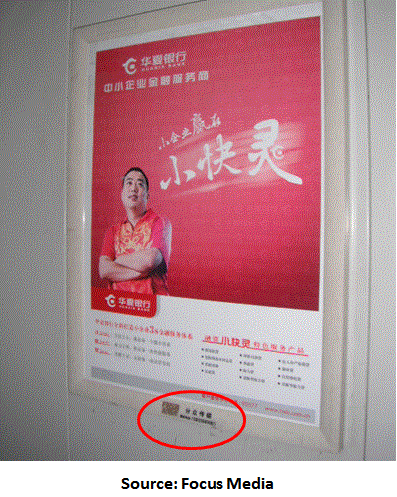 In the same press release, poster frame network is defined as:
The Company's poster frame network, which is distinct from its LCD display network, consists of traditional and digital advertising poster frames placed mainly in the elevators and public areas of residential complexes which it markets under the brand name Framedia.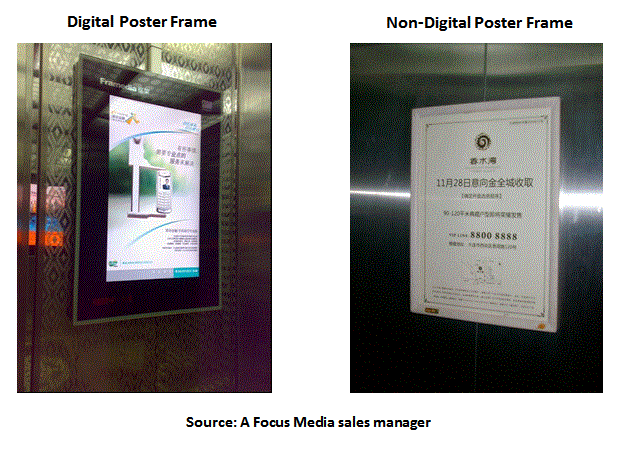 Note the "Framedia" logo on the top left corner of the digital poster frame. The most recent definition of LCD and Poster Frame Network is different from those in the previous 20-F filings. From Focus Media's 2010 20-F filing, page 38:
Our LCD display network, which refers to our network of flat-panel television displays placed in high-traffic areas of commercial and public buildings marketed to advertisers as a network or as seven separate channels targeting different types of consumers—our premier A and B office building channels, travel, fashion, elite and IT mall channels.
And on page 39, regarding poster frames:
We own and operate a network of traditional and digital advertising poster frames deployed primarily in the elevators and public areas of residential complexes under the brand name 'Framedia.' ... As of December 31, 2010, we had installed 300,012 poster frames including 35,810 digital poster frames in cities throughout China. Our digital frames use high-resolution LCD displays with integrated sound, all-angle viewing and remote control technologies. Our advertising posters include both traditional printed posters as well as digital LCD poster frames with integrated sound, all-angle and remote control technologies placed in elevators and public areas in residential complexes and commercial locations.
The flat-panel television description can be attributed to both Basic LCD and LCD 2.0 screens, but not the LCD 1.0 picture frames.
However, I would like to point out that Focus Media has improved its transparency as the company's audit committee is completing its engagement of two reputable independent survey firms to conduct a comprehensive survey of its LCD network.
I expect the company will have the result of the survey within the next three weeks. In addition, I am encouraged to see that Focus Media will begin to provide investors with the expanded screen count format that specifies the number of screens in each segment going forward for its press releases and earnings announcements.
On a final note, I believe that the company needs to better educate and communicate with its sales force in regards to the different types of LCD screens. While Focus Media breaks down the LCD network into Basic LCD, LCD 2.0 digital frame, and LCD 1.0 picture frame at the corporate level, my channel check indicates that the sales managers at the local level designate Basic LCD screens as "LCD network" and categorize both the LCD 2.0 digital frames and the LCD 1.0 picture frames as the Framedia screens, potentially inflating the screens in the Poster Frame Network while understating the screens in the LCD Network.
Through my conversation with the sale managers, some even classified the screens as "horizontal LCD screens," which are the Basic LCD screens, "vertical LCD displays," which contain both LCD 2.0 digital screens and Framedia's digital screens, and "vertical wooden display," which contain both LCD 1.0 picture frame and Framedia's non-digital screens.
This misconception is consistent among the sales managers I called during the past week. In the wake of this incident, I hope that Focus Media can better educate its sales force so this kind of misunderstanding can be prevented in the future.
Disclosure: I have no positions in any stocks mentioned, and no plans to initiate any positions within the next 72 hours.