i like to invest in small cap stocks that have the highest market share in a profitable but out of the limelight niche. Pure plays that are perhaps ripe for takeover but likely to keep producing solid results if a takeover does not occur.
The small caps I favor have a market strategy that is easy to understand and have demonstrated organic growth through economy of scale and/or new product introduction. A big plus factor is if company operates in a fragmented industry with opportunity for continued growth organically by acquisition in addition to organic growth.
Stocks of companies with leading market share tend to outperform when the market is on the upswing as has been the case. These stocks are small caps and in some cases such as LRAD Corporation (NASDAQ:LRAD), very small companies. Small cap stocks usually have smaller floats and tend to have higher beta or volatility than larger cap stocks.
ClearOne, Inc. (NASDAQ:CLRO) provides video conferencing solutions for most Fortune 500 companies as well as government agencies internationally. The company is leveraging its position as the market leader in installed audio (with a 50% market share) to gain market share in the growing video conferencing market. There is a high demand for video conferencing solutions that first of all offer clear audio, the area where CLRO excels. The company has made key acquisitions and expanded its product offerings in order to meet this demand. The company has demonstrated robust revenue growth, a solid financial position with no debt and about $3.53/share in cash and market securities. Shares are selling at low multiples. The forward PE is just 11 and the PEG is a very modest 1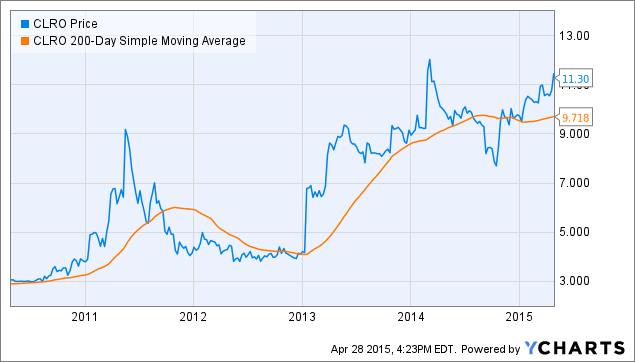 Cognex Corporation (NASDAQ:CGNX) provides machine vision products used in many industries. Its systems help automate the manufacture of cell phones, aspirin bottles, vehicle wheels and many more products. CGNX has a dominant position in an industry that may not have a ceiling and has applications across just about all industries. According to separate reports from Markets and Markets and Research and Markets, the market size of machine vision products will grow to $9.5 billion dollars by 2020 with an estimated CAGR of 13% from 2014 to 2020. The company's strategy has been to develop new solutions to solve customer's needs and then to offer that same solution to other customers with the same need.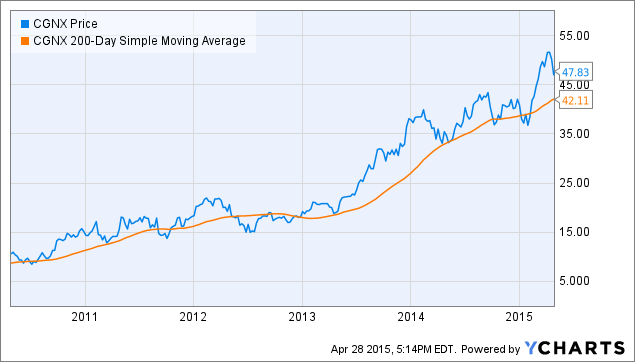 CGNX data by YCharts
Ruckus Wireless (NYSE:RKUS) is a global supplier of wireless systems for the mobile Internet infrastructure market. Increased usage of mobile devices translates to more business for RKUS and its competitors. RKUS provides connectivity to wireless networks. Due to industry support of Wi-Fi connectivity, more and more mobile devices automatically sign on to Wi-Fi first and only go to 3G or LTE if Wi-Fi is not available. Rollout of Hotspot 2.0, which is a huge catalyst for increased Wi-Fi usage, began last year. It is technology that automatically provides secure connection of a wireless device to a Wi-Fi network even for devices without a SIM card, which includes most tablets. RKUS alternates with Cisco (NASDAQ:CSCO) for the top spot in this industry. The stock price was a little ahead of its growth rate, but the price has consolidated and RKUS may get heated up again. There has been consolidation in the industry and RKUS is rumored to be an acquisition target.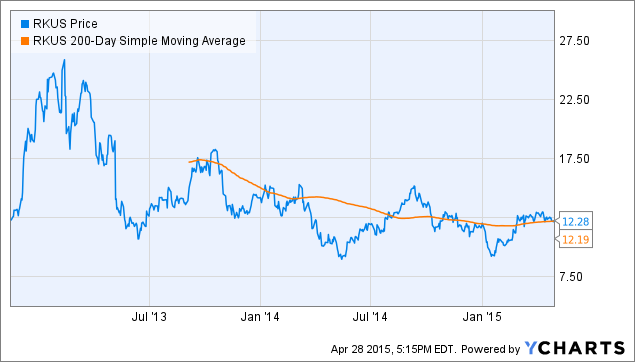 RKUS data by YCharts
LRAD Corporation engages in the design, development, and commercialization of directed sound technologies and products worldwide. LRAD is an acronym for Long Range Acoustic Devices. The company's products beam, focus, and control sound over short and long distances. LRAD has a 90% market share and virtually no competition in long range acoustic devices. They are the new kid in the block in the mass notification marketplace. The mass notification market is estimated to grow from $2.41 billion in 2013 to $6.41 billion in 2018. This represents a Compound Annual Growth Rate of 21.6% from 2013 to 2018. The company is currently waiting on several large scale potential contracts from the U.S. government as well as foreign governments and private enterprises.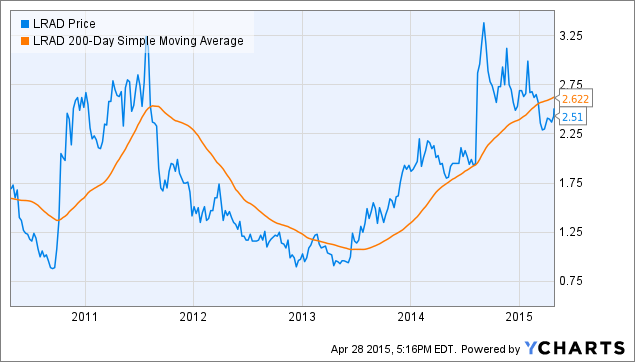 LRAD data by YCharts
Acuity Brands (NYSE:AYI) provides lighting solutions. The company is transitioning to higher dependence on sales of LED products and is the market leader in this field. LED's popularity continues to grow because it offers cost savings at a comparable quality to other lighting systems. LED is forecast to provide 36% of U.S. lighting demand by 2020 and almost 75% by 2030 according to the Department of Energy.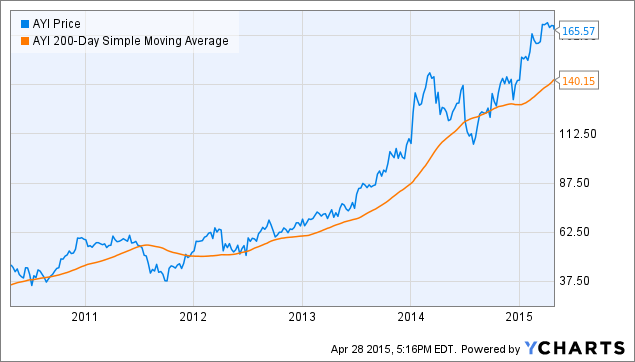 AYI data by YCharts
GrubHub Inc. (NYSE:GRUB) provides an online platform for restaurant delivery and pickup orders. Its platform allows diners to order directly from some 30,000 independent restaurants in more than 800 U.S. cities. The online delivery and takeout industry has barely penetrated its targeted audience and has huge growth potential. GRUB is the established leader and could end up with the lion's share of the overall market, become an acquisition for a larger player or on the negative side, become displaced by a new offering. In the meantime, it is growing organically as it swallows up smaller players.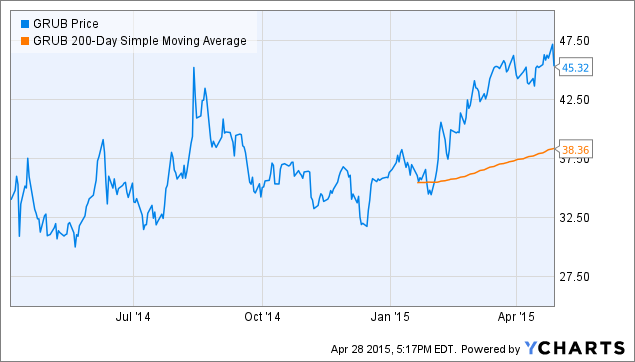 GRUB data by YCharts
Icon Public Limited Company (NASDAQ:ICLR) is a Contract Research Organization that provides clinical research and development services globally to the pharmaceutical and biotechnology industries. Drug and medical-device companies turn to CROs to perform testing and research that will help shorten product-development times, and control costs. The CRO market is estimated to be worth about $20 billion dollars but is fragmented, with about 800 CROs worldwide. The top five publicly traded CROs, of which ICLR is one, account for about 50% market share. The company's strategy is to expand business opportunities by broadening their customer base through targeted acquisitions. ICLR has grown by acquisition, completing a dozen transactions over the past several years.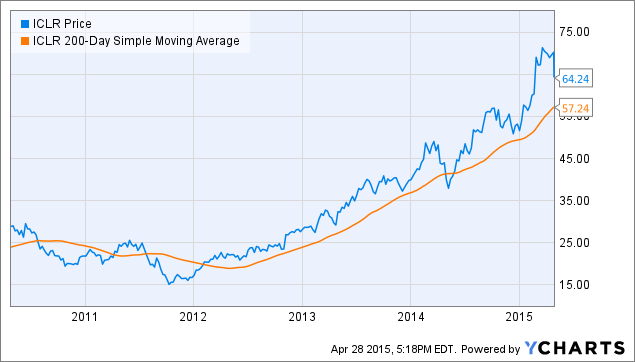 ICLR data by YCharts
ARI Network Services, Inc. (NASDAQ:ARIS) defines itself as a "provider of website, software, and data solutions to help dealers, distributors, and OEMs for the power sports, outdoor power, marine, appliance and RV markets. Management has successfully steered the company's growth via a 50% organic growth and 50% acquisition strategy. The majority of their earnings, consistently over 90%, has been from recurring revenue from webpage and catalog related services.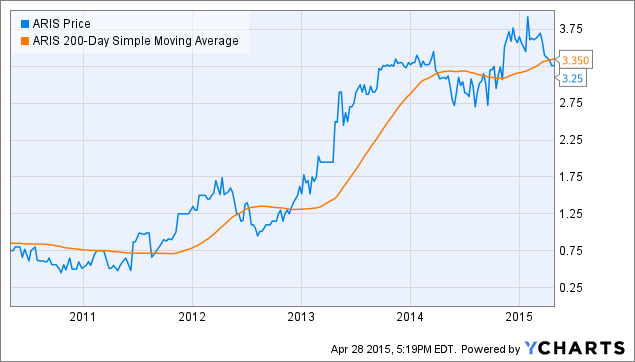 ARIS data by YCharts
Disclosure: The author has no positions in any stocks mentioned, and no plans to initiate any positions within the next 72 hours.
The author wrote this article themselves, and it expresses their own opinions. The author is not receiving compensation for it (other than from Seeking Alpha). The author has no business relationship with any company whose stock is mentioned in this article.
Editor's Note: This article covers one or more stocks trading at less than $1 per share and/or with less than a $100 million market cap. Please be aware of the risks associated with these stocks.