Today saw markets finish out their best week in nearly three years, though the day remained relatively flat. Friday started off on a strong note as U.S. unemployment came in surprisingly low, but markets ended up falling as profit-taking ensued. But it's hard to blame anyone for selling out after the massive week we have seen; there was certainly plenty to go around. All in all, the Dow finished out the day with a 61 point loss while the S&P dipped by just 30. Gold and oil both saw decent gains as crude finished out its week above $101/barrel, marking a massive gain over the past few months for the important fossil fuel.
After putting such a strong week in the books many investors are anxiously awaiting to see if this was just a fluke, or if we really are on the right track. By all accounts, the U.S. economy have been doing very well, though that has taken a backseat to international affairs. With the debt crisis in Europe looming over global markets, it is hard to focus on anything else. This coming week will feature a major ECB summit that some are calling the most important day in the euro's history. Only time will tell how the meeting will turn out. But for now, we outline two of the most notable ETF performances on the day.
One of the biggest ETF winners on the day came from the Financial Select Sector SPDR (NYSEARCA:XLF) which saw gains of 1.3% on the day. The fund was pushed higher by both hopes that European leaders are inching closer toward a debt solution as well as unemployment figures. Last month saw unemployment come in a 9% and it was predicted to hold firm for November, yet the number dropped to just 8.6%, the best result in nearly three years. Many have been quick to call these numbers somewhat manipulated given the influx in holiday hiring but it seems that every positive jobs report brings out critics that find a way to turn the report into a negative. For now, financials enjoyed today's news as they capped off a stellar week.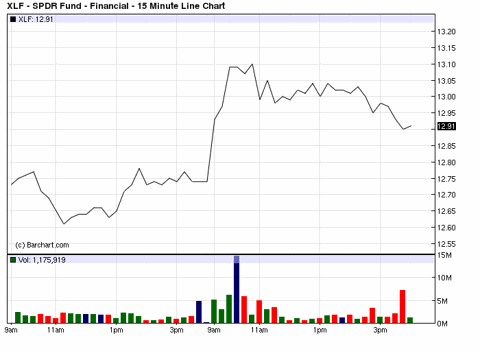 One of the worst ETF performers on the day came from the Market Vectors TR Gold Miners (NYSEARCA:GDX), which lost 3.4%. The result of GDX's performance is relatively surprising given the fact that gold was up on the day. But a closer look reveals the culprit behind the losses. The majority of GDX's underlying holdings either reside in Canada, or do most of their business there, giving the fund a 64% allocation to our neighbors to the north. "Statistics Canada reported Friday that the Canadian economy lost 18,600 jobs in November, weaker than the 20,000 gain analysts expected. The unemployment rate rose to 7.4% from 7.3% in October," wrote Nicole Hong. With Canadian markets under some pressure, GDX featured heavy losses due to the high betas of its underlying holdings.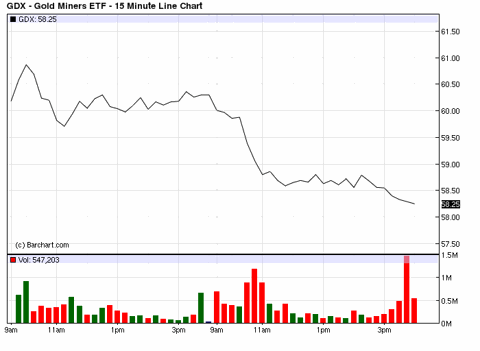 Disclosure: No positions at time of writing.

Disclaimer: ETF Database is not an investment advisor, and any content published by ETF Database does not constitute individual investment advice. The opinions offered herein are not personalized recommendations to buy, sell or hold securities. From time to time, issuers of exchange-traded products mentioned herein may place paid advertisements with ETF Database. All content on ETF Database is produced independently of any advertising relationships.