Actionable Items:
CEF Weekly Review: On average, the 13 closed-end fund (CEF) types registered a share price increase of 2.6% for the week ending 12/2/11. The high-low spread (percentage price change difference between the highest and lowest fund types) registered this week was an extremely wide +6.5% versus +6.0% the previous week, which was also abnormally wide for the opposite reasons. On an aggregate unweighted basis, the weekly average price change for the 500 plus CEFs in the GrowthIncome database was up 2.0%.
The PowerShares CEF Income Composite (NYSE:PCEF), an ETF that invests in taxable income CEFs, advanced 2.9% for the week. PCEF is down 7.2% YTD based on share price and up approximately 1.3% when its current annualized yield of 8.5% is considered. S&P 500 spurted ahead 7.4% this week and narrowed its YTD loss to 1.1%.
Trading Volume: The average daily volume for the S&P 500 (GSPC) surged 30.6% to 4.4 billion shares as a function of a surge in volume on Wednesday as the S&P advanced 4.3% versus a comparison to a previous holiday-shortened week.
(Click here for YTD CEF Performance. See "Research" Menu; "CEF Weekly Information" tab)
The Eqcome CEF Fear Index eased on the upside. The average CEF unweighted price increased 2.2% while the average related NAV increased 1.9%. The VIX plunged 19.6% dropping below the threshold fear factor number of 30 and ending the week at 27.49.
Uptick, Downtick: Weekly money flow was up 7.6% for the Dow Jones U.S. Total Stock Market Sectors for the week ending December 2nd as all 10 sectors experienced money inflows. The Up/Down Ratio (share volume on price upticks versus downticks) was 1.05 indicating volume on the uptick was greater than the downtick volume.
Basic Materials and Oil & Gas volume surged 10.5% and 10.4%, respectively. Utilities, a defensive sector, saw volume increases of 4.2% as the sector lagged the others.
CEF Weekly Fund Type Performance: After two weeks of CEF defensive sectors putting in better weekly relative price performance, CEF equity-oriented fund types surged in conjunction with a 7.4% advance in the S&P 500.
WrldEqFnds, GenEqFnds and SpecEqFnds advanced 6.7%, 5.8% and 5.0%, respectively. Despite the strong average price advances for these equity sectors, all three lagged their average change in NAVs—suggesting that some of the price advance was "left on the table".
As is the case, in strong equity markets, both national and single state muni fund types posted the least price advance with 0.5% and 0.2%, respectively.
images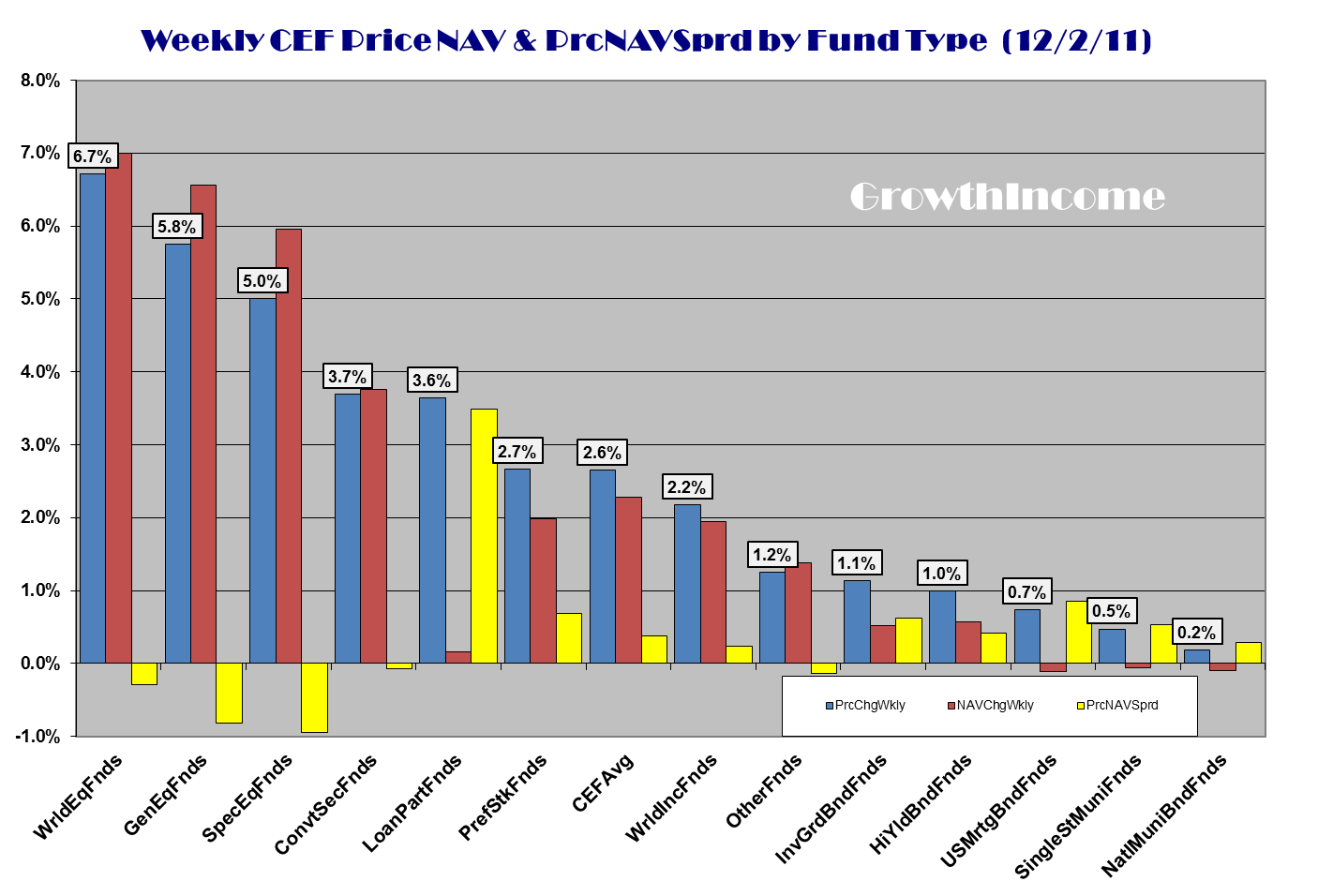 Weekly CEF Winners and Losers: One of the CEFs with the greatest positive PrcNAVSprd for the week was Nuveen Floating Rate Income Opportunity Fund (JRO). JRO's price increased 7.6% while its NAV increased 0.4% generating a positive PrcNAVSprd* of 7.2%.
JRO invests in floating rate corporate loans. Its total net assets are $462 million employing 27% leverage. It yields an annualized monthly distribution rate of 7.8% and trades at par. JRO recently announced an increase in its monthly distribution rate 6.6% to $.0725 per share along with a supplemental distribution of $0.1458 per share.
Other Nuveen floating rate loan CEFs that announced a monthly distribution increase and a supplemental distribution included Nuveen Senior Income Fund (NYSE:NSL) and Nuveen Floating Rate Income Fund (NYSE:JFR), $0.020 and $0.005 per share, respectively for monthly increases; $0.0238 and $0.1487 per share for special distributions, respectively.
A CEF with the greatest negative PrcNAVSprd for the week was Eaton Vance Tax Advantage Global Dividend Income Fund (ETG). ETG's price increased 3.8% while its NAV increased 8.3% generating a negative PrcNAVSprd of 4.6%.
Economic & Earnings Outlook: (Click here for next week's economic calendar; click here for earnings' announcements and estimates.)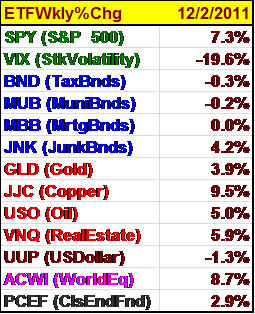 ETFs: For a more detailed EFT performance by sectors, click here —See "Research" Menu; "ETF Weekly Information" tab.)
Insider Trading: There are number of insider transactions to end the month of November.
DST Systems, Inc. (held by West Side Investment Management, Inc.) continued to add to its position both in Liberty All Start Growth Fund (NYSE:ASG) and Liberty All Star Equity Fund (NYSE:USA) of $242,732 at $4.32 per share ($1,049,039) and 34,569 shares at $5.07 per share ($180,214), respectively.
Both CEFs are advised by ASPS Advisors, Inc., a subsidiary of ALPS Holdings which in turn is a wholly owned subsidiary of DST Systems, Inc. DST Systems Inc. owns 6.4% of ASG—down from 9.5% ownership in September. Both Liberty CEFs had stakes by Karpus Management, Inc. which is an activist CEF investor.
Charles M. Royce, a director of TICC Capital Corp (TICC) purchased 11,400 shares at $8.43 per share in 3 separate filings for a capital expenditure of $96,386. Mr. Royce owns in the aggregate 349,932 shares.
There was broad base buying in Harris & Harris Group (TINY) by 9 of its officers and directors. In the aggregate those insiders purchased 12,914 at $3.77 per share in nine separate filings. TINY was featured in an article on the "Motley Fool" website as one of Wall Street's best hidden stocks. The article goes on to blush that since its inception in 1983, the BDC made 93 investments and has exited 64 of them and has realized proceeds of $155 million on its $90 million of related capital investments. Maybe the ship is about to come in again if one considers broad insider buying an indicator.
Rounding out insiders favoring BDC's is insider buying in RENN Global Entrepreneurs Fund (NYSEMKT:RCG), Philip J. McCormick, its director, added 3,000 shares at $1.76 per share increasing his holdings to 6,500 shares.
(Click here for a hyperlink to the Joe Eqcome's CEF Weekly Insider Report—See "Research" Menu; "CEF Weekly Information" tab.)
CEF Distribution Announcements This Week: The following is a link to a table of CEF distribution announcements this week as well as the previous week's with yet expired ex-dividend dates. The list is not intended to be inclusive. Additionally, mid-month is a time when many CEFs go ex-dividend. (Click here for Joe Eqcome's Weekly CEF Distribution Announcements—See "Research" Menu; "CEF Weekly Information" tab.)
CEF Focus Stock(s) for the Week: WrldEqFnds was a fund type leader advancing on average 6.7% for the week. Despite its advance, there were several notable metrics of a curious nature.
Emerging Markets: Of this group emerging markets were the CEFs with the highest share price advances. In looking at the PrcNAVSprds for WrldEqFnds, it was the China funds that generated the highest positive spreads, i.e. share prices exceeded changes in NAV (CAF and CHN). China offers investors a mixed bag with slowing manufacturing growth yet a willingness to lower interest rates to cushion its slowdown and mitigate events in the eurozone.
Latin America: Two Latin American CEFs had divergent paths the past week. Latin American Discovery Fund (LDF), managed by Morgan Stanley, posted a spectacular 11.5% advance with a 10.1% change in NAV generating a 1.3% positive PrcNAVSprd. Alternatively, Aberdeen Latin America Equity Fund (NYSEMKT:LAQ) also posted a plus 10% advance in NAV (10.7%) while its share price rose 7.2% and posted a negative 3.5% PrcNAVSprd.
LAQ is twice as large as LDF at $270 million in total net assets and trades at a discount of 10.5% and 6.4%, respectively. LAQ's annual distribution yield is 3.5% while LDF was 4.6%, both paid on a semi-annual basis.
Given LDF's spectacular performance last week, depending on the "risk on", "risk off" trade next week, it might give back some of its gain. LDF is a thinly traded stock with an average 3 month volume of 13,000 shares.
Last Week's Focus Stock(s): Nuveen Mortgage Opportunity Term Trust (JLS). JLS invests in high-yield mortgage backed securities. It is currently trading at an annualized monthly yield of 10.2% and discount of 7.3% which is now below its 52 week average of 4.0%.
The reason for JLS was selected as last week's focus stock was a result of its downside protection from the vagaries of the eurozone crisis. It was fixed income, a U.S. domiciled investment portfolio and the momentum of a stabilizing housing industry, i.e. better sales but lower prices.
While the stock is up 2.0% for the week, it pales in comparison to the 7.4% "risk on" investment returns of the S&P 500 this week given the backdrop of more "euro-hope" and a firmer footing for the U.S. economy.
---
[*] All things being equal, price and NAV should move in tandem. A price movement greater than the NAV generates a positive PrcNAVSprd and may be interpreted as negative on a near-term basis and indicate that the stock is overvalued relative to its NAV which in theory is the stock's intrinsic value. The opposite would be true for a negative PrcNAVSprd.
Disclosure: I am long PCEF, JLS, ASG. I own a diversified portfolio of CEFs and ETFs and am long stocks in the CEFBig10™ and CEFMuni10™.) The first is a balanced equity-income portfolio (CEFBig10™) and the second a tax-exempt income portfolio (CEFMuni10™).