Back in September, Baidu (NASDAQ:BIDU) gave the world a first glimpse of its mobile OS, Baidu Yi, in its 2011 Technology Conference.
This month, Baidu is expected to introduce its Yi-based device, which sells for ~Rmb 3,000, cheaper than its smart phone peers (see table below).
| | | | | | |
| --- | --- | --- | --- | --- | --- |
| | Baidu Yi/Dell | iPhone 4S | BB 9900 | Samsung Galaxy S2 | HTC Desire HD |
| Price (~Rmb): | 3,000 | 5,000 | 4,000 | 3,500 | 4,000 |
Baidu Yi is a Google Android (NASDAQ:GOOG) fork in that most of the core Android apps (search, map, messenger, etc) are replaced by Baidu apps (click to enlarge images).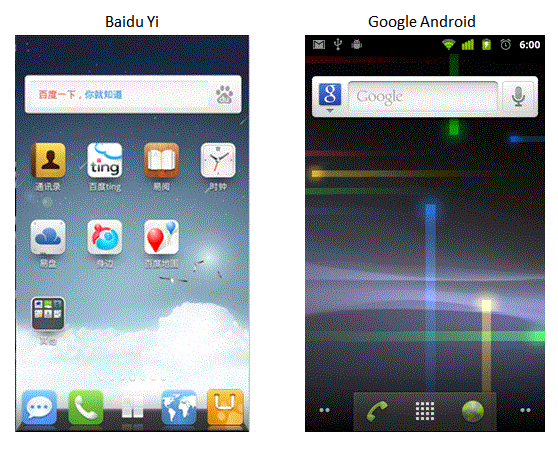 Based on my understanding, I believe that Yi could be a highly successful product because it delivers features and functionalities that are directly relevant to the Chinese mobile internet users and are not available in the competing mobile OS (eg. Android, iOS, BB7).
The Baidu Search Bar gives the users direct access to Baidu's mobile search platform. Currently Baidu dominates China's internet search with over 80% market share. While Google delivers superior English-based search results compared to Baidu, it is important for investors to understand that a majority of China's internet users are Chinese who use Baidu to find Chinese-based contents. Currently, both Android and iPhone users can only search through Baidu using the built-in internet browsers, which does not deliver the optimal user experience. With Baidu Yi, users can simply search via the search bar located on the home screen and skip the unnecessary step of opening the web browser first.
Baidu Yi's core functionalities are directly relevant to the Chinese mobile internet users and deliver better user experience compared to those of Google. For example, Baidu Yue, the one of most popular eBook reader platform replaced Google eBooks as the default eReader; Baidu Map, which features more precise and detailed geographical information, replaced Google Map; Baidu's popular "Ting" is the default music services; and Baidu Shen Bian, which features local recommendation, has more local information than Google Places. All these functionalities are directly relevant to the Chinese users and will be the key selling points to generate growing interest among the current iPhone and Android users in China.
Finally, the switching cost from iPhone and Android to Baidu Yi is likely to be low, because Baidu Yi features an interface that combines features from both Android and iOS, so current Android and iOS users would have little or no difficulty in adopting Baidu Yi. For example, the main user interface is very similar to that of Android, while core functions such as eBook reader, music player, calendar, and the clock applications share many similarities with the iPhone's built-in app.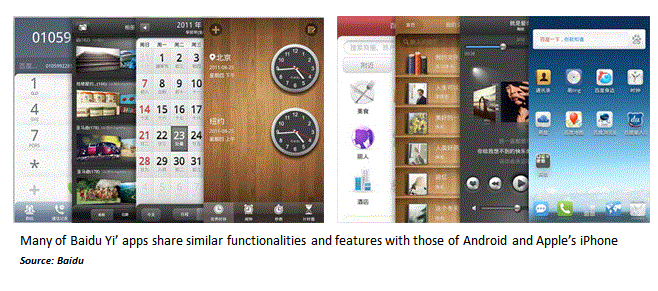 Mobile search is the other search market that Baidu has yet to dominate and is critical to its future growth because its EPS growth has been declining on a year-to-year basis (see image below).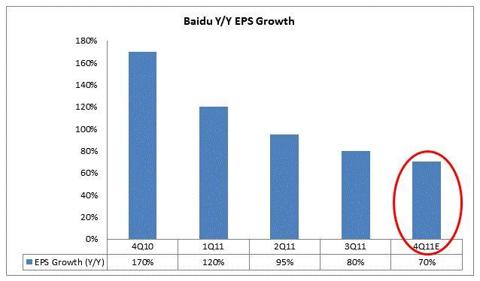 Since Baidu has already built an operating platform, its focus should shift toward expanding its ecosystem of relevant applications that are well accepted by the Chinese users. An OS delivers little value without a large library of supporting apps. Baidu can certainly take a lesson from RIM (RIMM) in that despite an improved OS in Blackberry 6 and Blackberry 7, the company still lags behind rival Apple (NASDAQ:AAPL) and Google partially due to its weak app library.
Disclosure: I have no positions in any stocks mentioned, and no plans to initiate any positions within the next 72 hours.