MasterCard (NYSE:MA) is a leading global payments company that provides a critical economic link among financial institutions, businesses, merchants, cardholders and governments worldwide, enabling them to use electronic forms of payment instead of cash and checks. The company provides a variety of services in support of the credit, debit, prepaid and related payment programs of approximately 22,000 financial institutions and other entities. The company offers, manages and processes:
A wide range of payment solutions, which enable customers to develop and implement credit, debit, prepaid and related payment programs for their customers (which include cardholders, businesses and government entities)
A family of well-known widely accepted payment card brands, including MasterCard®, Maestro® and Cirrus®, which are licensed to customers for use in their payment programs.
Payment transactions over the MasterCard Worldwide Network.
Support services to customers and, depending upon the service, merchants and other clients.
Establishes and enforces a common set of standards for adherence by customers for the efficient and secure use of our payment card network.
MasterCard generates revenue by charging fees to customers for providing transaction processing and other payment-related services and by assessing customers based primarily on the dollar volume of activity on the cards. In 2010 more than 23 billion transactions with gross dollar volume of $2.7 trillion were processed. There are currently more than 975 million MasterCard branded credit and debit cards. Graph 1 gives an overview of the increase in transactions in the last 5 years.
images
Graph 1: Transaction Overview (Million Transactions)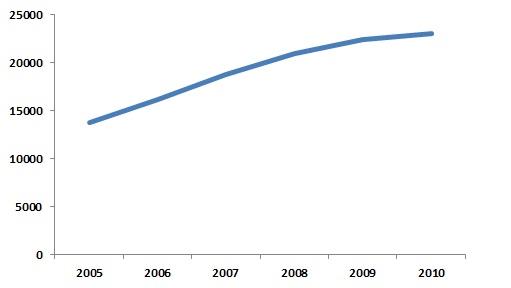 MasterCard has grown significantly in the last 5 years. The stock price increased from less than $50 in 2006 to around $370 today. In comparison, the S&P500 hasn't moved at all in the same period. Graph 2 gives a good indication of how extraordinary the stock has performed.
Graph 2: MasterCard Stock Price Vs. S&P500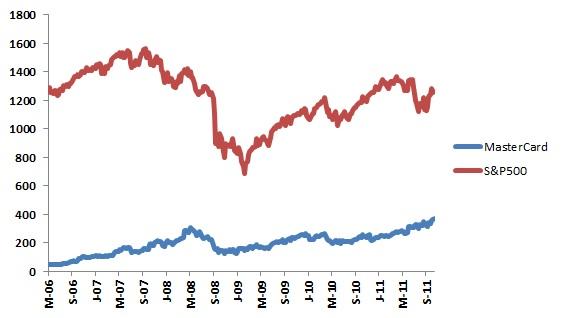 The opportunity for future growth remains enormous. Cash and checks account for around 85% of the world's $15.7 trillion of total global payment transactions. This is a huge number of payment transactions that can still be converted into electronical payments. Secondly, the company is aggressively moving into e-Commerce and mobile payment solutions. Cash is useless when buying online… This is a huge opportunity to take advantage of the e-Commerce trend.
MasterCard's margins and return on equity are impressive. EBIT margins are around 50% and ROE is more than 40%. Stockholder equity has doubled over the last 5 years and free cash flow has more than tripled (graph 3). The dip in 2008 is the settlement of litigation charges for $2.5 billion, impacting performance for that year. When a company can grow equity with more than 20% a year and get a return on that of more than 40%, then you're looking at real growth potential.
Graph 3: Equity And Free Cash Flow Trend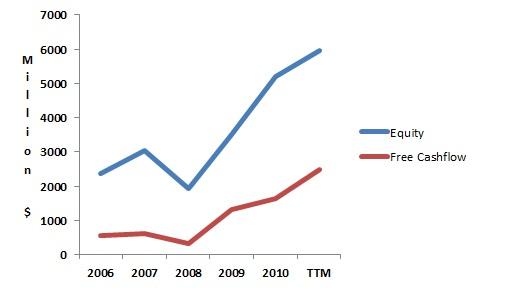 The company requires very little capital to grow. Free cash flow is almost equal to operating cash flow. In 2010 the operating cash flow was $1.697 billion, while free cash flow was $1.636 billion. A lot of cash is available to return to shareholders or can be used for growth opportunities. The company has a return on tangible capital of more than 50%. The balance sheet is strong with zero debt and $3.6 billion in cash. On top of that there is $1 billion approved by the board for stock repurchases.
MasterCard is not cheap. The current stock price is around $380 and has a forward P/E of around 17. Using the discounted cash flow method with a 10 year growth rate of 9%, terminal growth rate of 0% and a discount rate of 10% gives us an intrinsic value of around $328. MasterCard is a great holding to have in your portfolio. I expect the stock market to remain volatile in the coming months. Wait for the dips to buy into it.
Disclosure: I have no positions in any stocks mentioned, but may initiate a long position in MA over the next 72 hours.