Robust corporate profits and modest price to earnings ratios have been the primary investment thesis for stock market bulls. Corporate balance sheets are relatively strong when compared to sovereign and consumer balance sheets. Investors have been attracted to high quality U.S. equities due to their attractive yields compared to the paltry yields on government securities. The price to earnings ratio of the S&P 500 is approximately 13x.
Our view is that corporate profits (as measured by the S&P 500) were only able to rebound in dramatic fashion over the past few years due to heavy lifting on the part of governments around the world. Risk has been transferred from the banking sector to sovereign balance sheets.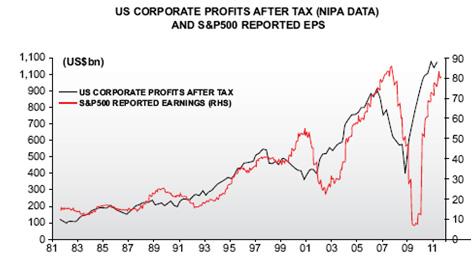 Given the market turmoil that was experienced in late Q3 and Q4 and the significant year-over-year growth experienced in many sectors in Q3 2011, we would be cautious this earnings season as investors might be disappointed with the trajectory of earnings.
images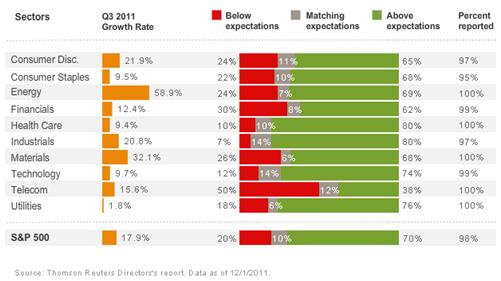 Preparing for a Recession
Our contention is the significant turmoil around the globe is effecting growth rates and thus corporate profits. We believe that investors should listen to the warnings from the slowing data. The Economic Cycle Research Institute has been calling for a recession since early November. As of last week, the ECRI's leading indicator index's annualized growth rate worsened to minus 7.8% from minus 7.4% a week earlier, which was revised from minus 7.3%.
Due to significant debt loads the U.S. and the world need robust growth in order to alleviate debt pressures and reduce unemployment. We believe that investors need to be mindful of these leading indicators and prepare for the possibility that equities could experience a sharp pullback early next year.
The charts below highlight a cooling of the global economy.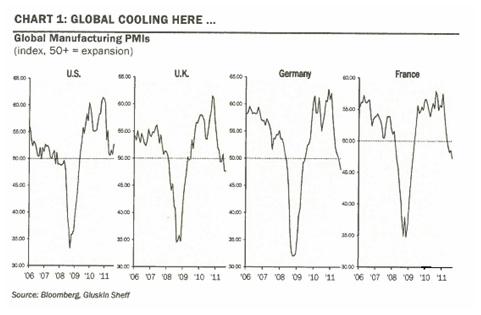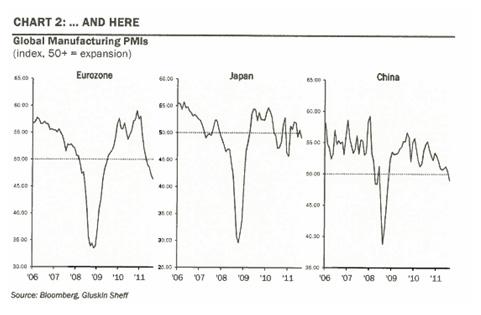 Tactical Strategy
Our view remains that equity investors should:
Raise some cash into the end of the year by trimming losers;
Generate additional income from writing covered calls on long-term high quality U.S. equities;
Seek defensive equities that will perform well in a slowdown next year including: healthcare, utilities and consumer staple names (which should hold up in a slow earnings environment); and
Seek shelter in high-yield agency mortgage REITs that are more dependent on low interest rates to generate profits. Agency mortgage REITs generate income from borrowing at low short-term rates and buying longer dated higher yielding assets (agency mortgage backed securities).
Below is a sample portfolio that investors can use as a guide for their domestic equity allocation, which we think should range from 20%-40% of your total portfolio (depending on an investor's individual risk tolerance).
Note: This is by no means an exhaustive list of stocks and it should be used as a starting point for your own analysis.
Abbott Laboratories (NYSE:ABT)
Sector: Healthcare
Market Capitalization: $84.4 billion
Price to Earnings Ratio: 18.7x
Debt to EBITDA: 1.5x
Dividend Yield: 3.5%
Hospira Inc (NYSE:HSP)
Sector: Healthcare
Market Capitalization: $4.5 billion
Price to Earnings Ratio: 17.6x
Debt to EBITDA: 2.2x
Dividend Yield: N/A
St. Jude Medical, Inc. (NYSE:STJ)
Sector: Healthcare
Market Capitalization: $11.4 billion
Price to Earnings Ratio: 13.0x
Debt to EBITDA: 1.8x
Dividend Yield: 2.3%
Consolidated Edison Inc. (NYSE:ED)
Sector: Utilities
Market Capitalization: 17.2 billion
Price to Earnings Ratio: 15.7x
Debt to EBITDA: 3.4x
Dividend Yield: 4.1%
Duke Energy Corporation (NYSE:DUK)
Sector: Utilities
Market Capitalization: $27.5 billion
Price to Earnings Ratio: 14.9x
Debt to EBITDA: 4.0x
Dividend Yield: 4.8%
Reynolds American (NYSE:RAI)
Sector: Consumer Staples
Market Capitalization: $24.1 billion
Price to Earnings Ratio: 18.2x
Debt to EBITDA: 1.4x
Dividend Yield: 5.4%
Annaly Capital Management, Inc. (NYSE:NLY)
Sector: REITs
Market Capitalization: $15.7 billion
Price to Book Value: 1.0x
Leverage: 5.5x
Dividend Yield: 14.8%
American Capital Agency Corp. (NASDAQ:AGNC)
Sector: REITs
Market Capitalization: $6.3 billion
Price to Book Value: 1.1x
Leverage: 7.9x
Dividend Yield: 19.7%