Outside of physical gold and gold ETFs such as the SPDR Gold Trust ETF (NYSEARCA:GLD), the commodity markets look quite strong. WTI Crude is up sharply and even the metals are rallying after disappointing economic data. So why are we higher? Simple, the US Dollar Index is finally under some pressure. We have talked about the importance of the US Dollar for some time now, tiring readers with the constant charts and analysis. After failing to break through key resistance levels, it finally seems as though the bulls are going to allow the US Dollar Index to take a breather and settle down.
This is not only good news for commodity stocks but also the entire market as multinational companies are given a break from the strong, constant headwind that the dollar has been for the last year or so. This could enable some of the hedges that the companies have on to work properly, which in some cases was not possible due to the major moves higher over the last year and last quarter.
Chart of the Day:
After failing to break above the 100 on numerous occasions, the US Dollar Index is finally seeing bulls take money off of the table which is causing a decent pullback. The five-day chart below shows the sharp pullback that has occurred over the past five sessions.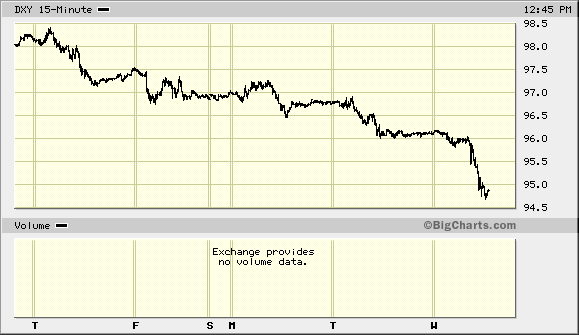 Source: BigCharts
Commodity prices are as follows (at time of submission):
Gold: $1,209.10/ounce, down by $4.80/ounce
Silver: $16.625/ounce, up by $0.034/ounce
Oil: $59.12/barrel, up by $2.06/barrel
RBOB Gas: $2.0355/gallon, up by $0.0337/gallon
Natural Gas: $2.603/MMbtu, up by $0.066/MMbtu
Copper: $2.7965/pound, up by $0.0165/pound
Platinum: $1,159.00/ounce, up by $3.00/ounce
Marathon Petroleum Announces Stock Split
Marathon Petroleum (NYSE:MPC), the refiner which was spun off from Marathon Oil Corporation (NYSE:MRO), announced that its board had approved a two-for-one stock split in order to increase the distribution of the company's shares. The board also approved maintaining the refiner's dividend at $0.50/share, which after the split will be $0.25/share.
Marathon Petroleum and peers such as Tesoro (TSO) and Valero (NYSE:VLO) have seen their stock prices rally as they purchase cheap WTI Crude, refine it and then ship it overseas as refined products such as gasoline which are priced in Brent Crude terms. The margins have been nice for the industry, especially as shale oil has created a glut of oil in the United States, but the one thing investors need to be on the lookout for is whether the US government will allow oil producers to ship crude to international markets themselves. That could present problems for investors' investment thesis surrounding the refiners.
US Steel Shares Trading Sharply Lower
Shares in US Steel (NYSE:X) are sharply lower on the session, falling by over 10% after the company reported quarterly results which missed. In fact, missed might not even describe it because the company's results were not even in the same zip code as analysts' consensus estimates. For the quarter, US Steel reported a $0.07/share loss when the analysts were calling for EPS of $0.27, according to Zacks Investment Research.
The $0.30/share miss was caused by higher imports, which forced US Steel to lower production in order to maintain pricing power. It is interesting to note that it seems everyone else in the world is looking to keep production stable while allowing realized prices, and thus pricing power, to fall. With US Steel's utilization rate so low, one has to question how long they can maintain this practice without shutting down some production capacity or abandoning their practice of maintaining pricing power.
Management cut EBITDA guidance for 2015 by over a third, so it looks like this might get worse before it gets better. Competitors are also trading lower on the news, with AK Steel (NYSE:AKS) also lower by about 5% on the news.
Venezuela Pawns Assets
It sure looks like Venezuela is close to running out of funds and possibly collapsing under its social policies. The cash-strapped country announced that it has struck a deal with Citigroup (NYSE:C) to use its gold as collateral for a four-year loan, which it will pay interest on, and then have the first right of refusal to repurchase at the end of the loan term. Venezuela will use 1.4 million ounces of its gold reserves to obtain the loan, a move which gold investors are cheering because the swap deal will remove this overhang from the market.
The deal keeps Venezuela from selling the gold on the open market and essentially locks up this gold for four years. Venezuela is a desperate seller, and we have seen articles over the last six months discussing a scenario where OPEC members were forced to sell gold holdings to pay their bills now that oil production was not providing sufficient revenue to cover government budgets. This deal keeps that scenario from playing out for now, but if low oil prices persist the market could see others forced to sell.
Disclosure: The author has no positions in any stocks mentioned, and no plans to initiate any positions within the next 72 hours.
The author wrote this article themselves, and it expresses their own opinions. The author is not receiving compensation for it (other than from Seeking Alpha). The author has no business relationship with any company whose stock is mentioned in this article.