Fixed income investors looking to put some cash to work may find interest in several of the closed-end funds we have been nibbling at of late.
Residents of California might consider either Nuveen Municipal Value Fund (NYSE:NCA) or BlackRock Calif. Municipal Fund (NYSE:BFZ). Both offer current income exempt from regular federal income taxes and California personal income tax.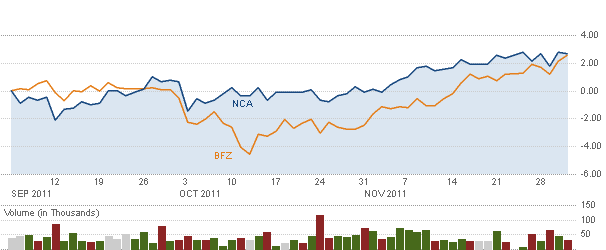 NCA currently trades at a -4.14% discount to net-asset-value, yields 5.05% with a taxable equivalent yield of 7.78%. BFZ trades at a narrow -0.42% discount to NAV, but current yield is 6.72% w/ 9.73% taxable equivalent. BFZ also has an effective leverage rate of 24.4%.
We have also been adding to Inflation-Linked securities primarily in US TIPS via Western/Claymore Infl-Lnkd Sec. (WIA and WIW). Distribution rates run about 3% on each, but discount to NAV is an average -10.5%, wider than we have seen since 2009.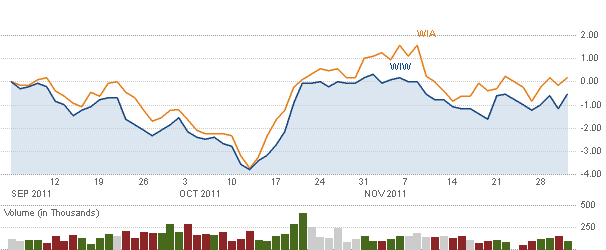 All of the funds listed pay monthly distributions and the discounts to NAV help offset expense ratios.
An equal dollar investment in each of these funds would yield (currently) an average 4.1%.
We encourage investors not to become complacent following the recent rally in equities as a sign that all is well. Just because global central banks coordinated to make cheap capital available to Europe, does not mean the problem(s) are fixed across the pond.
Market volatility has become accustomed to "less than bad" news as a means to celebrate. If the S&P can gain over 7% in a week on nothing more than financial band-aids & lipstick for Europe...and a middling improvement in the unemployment rate, then getting paid 4% to sleep well doesn't sound so bad.
We believe the risk reward scenario in the CEFs listed above is favorable to the risk of being smoked out of the comfort of low-yield Treasury Bills and Notes.