Last week I addressed the subject of what to make of an outsized brokerage house price target increase. In that article, I discussed the pros and cons of Wedbush Morgan upping the share price target for Oncothryeon (ONTY) from $15 to $31, at a time when ONTY stock was trading at $6 per share.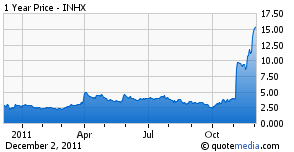 Once again, I feel compelled to discuss the brokerage house business of issuing increased price targets for the shares of companies that are development-stage biotechs, or any other development-stage company for that matter. Today's subject: a biotech company called Inhibitex (NASDAQ:INHX).
Founded in 1994, Inhibitex is focused on the development of anti-infective products that can prevent or treat serious infections. Its main goal has been to come up with treatments for shingles, a common and painful ailment caused by the varicella zoster virus, along with another compound to treat hepatitis C. It also has anti-bacterial Staph vaccines in the pipeline, currently undergoing Phase I and Phase II clinical trials, in collaboration with big pharma giant Pfizer (NYSE:PFE).
Unlike ONTY's shares, INHX's share price had already caught fire well before brokerage house Canaccord Genuity put a $22 per share price target on INHX. In fact, by the time the Canaccord analyst got around to upping the INHX target on November 30, from $15 to $22, INHX shares were already trading at $14 a pop. As I pointed out in the ONTY story, one reason analysts raise price targets is because the share price of an issue approaches an older target, and simply needs to be revised upwards given its current price.
On the surface, that would seem to make sense for INHX, trading at $14 with an existing target of $15. But wait. At the start of the month, just four weeks earlier, INHX shares were trading in the $3.75 range. So by the time the analyst "boldly" raised INHX's target, the stock price had already appreciated 300% in one of those parabolic moves reminiscent of the dot.com days.
Helping fuel the move in INHX's share price was Gilead Sciences' (NASDAQ:GILD) purchase of Pharmasset (VRUS) —a fellow hep C drug maker—for a whopping $11 billion. GILD paid a huge premium for Pharmasset, whose lead hep C drug is entering phase III clinical trials. Seemingly in response to Gilead's move, Bristol Myers Squibb (NYSE:BMY) and Johnson & Johnson (NYSE:JNJ) announced that they were joining forces to test a new hep C drug.
A few days earlier, Inhibitex had announced positive results from a phase 1b study of its lead hep C drug candidate, adding fuel to the already outsized price rally INHX shares had already experienced. Now that's all well and good, but keep in mind that barring fast-track status, it takes more than a decade for a drug to journey through clinical trials to FDA approval. Most likely, that puts INHX many years away from the coveted FDA green light. Meanwhile, the heaviest hitting big pharma outfits in the world are doing everything they can to bring competing products to market as quickly as possible.
In my view, INHX shares have simply become the fodder of momentum traders, with short-sellers learning a painful lesson in the power of trading momentum, well-timed press releases and analyst support. At this point, INHX's share price is in a Netflix (NASDAQ:NFLX) like ride north, and there's no telling when buyers will jump ship. When they do however (and inevitably they will), INHX's share price will drop like a medicine ball.
Let me conclude by saying that I have nothing but high hopes for both ONTY and INHX's drug candidates, and no vested interest in the share price movement of their stock prices, up or down. Instead, I think it's essential for traders and all other market participants to take pause and carefully question the assumptions behind a brokerage house stock price target increase before risking their hard-earned investment dollars on that basis alone.
Disclosure: I have no positions in any stocks mentioned, and no plans to initiate any positions within the next 72 hours.