Yahoo (YHOO) is once again in the news with suitors now starting to submit bids. In my article, What A Yahoo Buyout Means For Investors, I detailed how investors could profit from the eventual Yahoo buyout. This trade is now up about 14%.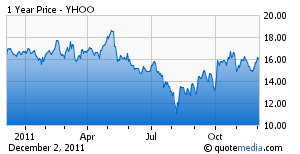 Speculating on stocks based off the assumption that the company may eventually be bought out is very difficult. Rumors and speculation are always rampant in the markets, but when you get one right, the payoff is pretty sizable.
I'm going to go over why I felt Yahoo was a good investment at the time of my last article as well as detail if there is still opportunity to profit from Yahoo. I believed Yahoo had a high chance of completing a buyout due to two main factors.
The first factor is that Yahoo has a well known brand in an industry with a tough barrier to entry. Yes, I'm familiar with all the issues surrounding Yahoo's business, but these are already known facts and factored into the price of the stock. If you are looking to play a potential buyout, you have to think like one of Yahoo's potential buyers. In this case, I felt a private equity group would be interested in buying Yahoo and would be the most likely buyer.
Private equity groups don't often care about the current situation of the company, but rather look at the future. Private equity groups look for an edge on how they could profit from the situation. Yahoo is the perfect target because the potential reward is huge if the investment group is successful in turning the company around. Internet companies often carry a higher multiple than other industries and Yahoo's brand would allow the company to easily realist after a turnaround.
The second factor I liked about Yahoo was the company's willingness to be sold. The company retained Allen & Company to find potential suitors. It is very important to have the cooperation of the company when investing in a potential buyout play. Many suitors would often like to know more about the business in order to make an appropriate offer. Many buyers also avoid hostile takeovers due to the time and cost involved in proxy fights.
I'm bullish on Yahoo and will look for opportunities to add to my position. I believe that there is still opportunity to profit from a Yahoo buyout and believe that Yahoo will be bought out at a higher price than many analysts expect. Yahoo is currently sitting at $16, this is right around Silver Lake and Microsoft's (NASDAQ:MSFT) proposal of $16.60. TPG is also rumored to have recently offered $17.50. I expect to see an offer in the $20 range for the whole company. This is about a 19% premium above Yahoo's current price.
I like my trade because I have a limited downside, with a nice potential upside return if I get the $20 buyout. The offers by Silver Lake and TPG put a bottom price on the stock until the bidding war is over. Stocks that may be bought out often trade around the bidding price until a final decision is reached by the board.
Disclosure: I am long YHOO.