Yellow Pages (OTC:YLWDF) is in the midst of a multi-year turnaround plan as it aims to return to overall revenue growth by 2018. The company's traditional business of selling advertisements in paper books is, quite predictably, in a permanent decline - evaporating at a pace of around 22 percent a year. The good news is that the company has a non-print (digital) business that's growing at a high-single-digit annual percentage and now makes up over 54 percent of total revenues.
YP is now a leading digital marketing company in Canada. It serves over 250,000 clients across the country as a provider of outsourced marketing services for small and medium-sized businesses. The company also owns and operates Canada's most visited online directories, including yp.ca, RedFlagDeals.com and Canada411.ca. In addition to web properties, YP has mobile apps for both Apple and Android phones and tablets that allow consumers to access YP's 1.5 million Canadian business listing directory.
In addition, the company recently announced the addition of apps for the Apple Watch. The company is focused on growing the audience for its customers, and the YP network of digital properties now sees over 1 million visitors each day. Digital visits across the company's online properties grew 14% year over year in the fourth quarter. The company also is expanding into new verticals where it has traditionally not had a large presence. Case in point, the acquisitions late last year of Bookenda and Candia Digital Group. These assets will allow the company to grow its market share in the restaurant category and better compete against the likes of Yelp (NYSE:YELP) and Google (NASDAQ:GOOG) (NASDAQ:GOOGL). Overall, the company is targeting the over 1.1M small and medium-sized businesses in Canada as it seeks to accelerate growth in the years to come.

Unlike many of its peers in the U.S. and Europe, Yellow Pages is not saddled with excess amounts of debt. Back in 2012, the company undertook a massive restructuring of its balance sheet in an effort to reduce debt. Doing so allowed for the company to invest heavily in the digital side of the business to ensure that it survives in the long term. The capital structure reset has been wildly successful, as the company has generated copious amounts of free-cash-flow since then, allowing it to both further reduce debt as well as invest in its return to growth.
The purpose of this article is to look at where things stand today, where this company is likely headed, and what options are available to investors in all parts of the capital structure.
Financial Statement Analysis
With a roughly 50-50 split of print and digital revenues, the company still experienced an unhealthy top-line burn of nearly 10 percent in 2014. EBITDA took a much bigger hit as the company invested heavily in anticipation of future growth. The EBITDA margin fell to the bottom of the company's range of 30-35% on a go-forward basis. Management does not believe the margin will dip below 30%.

Cash flows were extremely strong in 2013, but trailed off in 2014 as the company invested heavily in capital expenditures, paid much higher taxes, had higher cash restructuring costs and made $33.5M in acquisitions.
| | | |
| --- | --- | --- |
| (dollars in thousands) | 2013 | 2014 |
| Revenues | $971,761 | $877,528 |
| EBITDA | $416,112 | $315,976 |
| EBITDA Margin | 42.8% | 36.0% |
| Net earnings | $176,530 | $188,540 |
| Cash flows from operations | $340,680 | $156,507 |
| Free cash flow | $274,551 | $72,557 |
Source: Annual Report
All of the adjusted free cash flow has been used to reduce the principal balance on the 9.25% first-lien notes due November 2018. Of the original $800M balance, $507M remains. The company anticipates repaying at least another $100M in 2015. Also outstanding are $107.5M of convertible notes that pay an 8 percent current coupon.
2015 should be a better year for free cash flow generation than 2014. The company has already guided (pages 8-10) for a $35M tax refund after making cash outlays of $52M in 2014. Pension contributions are always a wild card and could go either way. Capital expenditures are expected to be in the range of $70-$75M.
When I put it all together, this is what I'm projecting for free cash flow generation for the next two years. My assumptions are consistent with management's guidance from the annual report and earnings calls.

Adjusted free cash flow in 2014 was even lower than I'm showing due to multiple acquisitions the company made during the year. Absent acquisitions or large restructuring charges during the year, I'm projecting free cash flow to rebound to around $146M in 2015 and the top-line burn to slow to around five percent by year-end. If the same trends continue into 2016, the revenue burn slows to 2.5 percent in 2016. With that level of decline and stable EBITDA margins, I feel the stock can trade up to a higher multiple. At the current market capitalization of CAD $522M (assume worst case dilution with convertibles), the enterprise value of Yellow Pages sits at $1.2B. If you assume $255M in stabilized EBITDA, the stock trades at 4.7x EV/EBITDA. The free cash flow yield on the equity is 27% based on my 2015 projections. That is way too cheap. All the free cash flow in 2015 will likely be used to retire more of the senior notes. Even if the EV/EBITDA multiple does not expand, the stock could trade higher by over 25 percent if the decline in net debt (assume $147M) gets transferred to the equity value and the overall enterprise value is static.
Overall, I think Yellow Pages will make great progress on its return to growth plans during 2015 and 2016. If it does what I'm projecting here, the multiple on the stock will have bottomed and the price should begin to trade higher again.
How to Play it
Fortunately for investors, Yellow Pages offers more than one way to profit from the company's improving fortunes. The options span the risk spectrum. On the conservative end of the spectrum are the first-lien notes with a 9.25% coupon. With $507M left outstanding on the notes, the annual interest expense is $47M. The company can cover that cost 5X out of its EBITDA. These notes represent a fantastic value in today's low interest rate environment. For the risk averse investor, I highly recommend them. They currently trade at the call price of 105; however, they are not callable at par into May 31, 2017. The yield to maturity (2018) is 7.8%, and the yield to the par call in May 2017 is 6.8%. This is a great yield for first-lien debt maturing in 3 ½ years that I view as good.
A step down from the first-lien notes in Yellow Pages capital structure are the convertible debentures. They pay an impressive 8 percent coupon and are convertible to common shares at $19.04/share. These instruments are currently trading around par, down considerably from six months ago.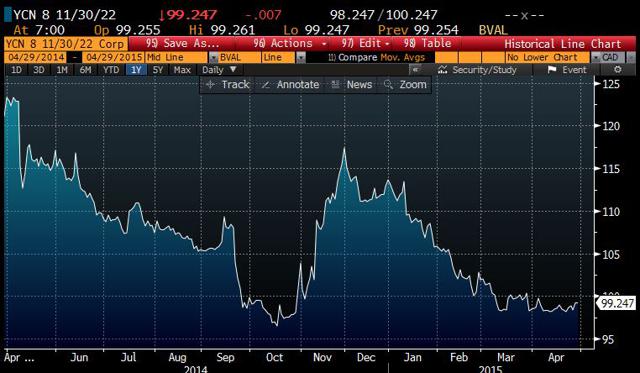 This security offers investors considerable upside potential along with an 8 percent current pay coupon as well as downside protection. The notes mature in November of 2022. The worst case scenario is you clip an 8 percent coupon every year and get your principal back in seven years. If the stock were to double in the next four years, the convertible debentures would be worth at least $1,575 for every $1,000 of par value. Plus, you get the 8 percent coupon every year. The debentures are currently callable at $110 and don't become callable at par until May 2021. The company cannot refinance this debt without first refinancing the first-lien notes. I do not see that happening for at least the next 2-3 years - until such time as the company at least stabilizes revenues and receives a credit rating upgrade. Again, a very attractive safe coupon with some equity upside participation.
Next is the common stock, which is pretty straightforward. If you believe in continued profitable, high-single-digit digital revenue growth, then the stock is cheap. The company will reduce debt by at least $100M this year and likely next year as well. If the company slows the top-line burn to low-single digits by the end of 2016, it should receive a credit rating upgrade. At that point, the company could absolutely refinance its remaining debt and term it out several years at a lower interest rate. If you assume EV/EBITDA multiple expansion (due to stable revenues) and lower debt, the stock looks very cheap and is a fantastic buy at these levels.
If you want a leveraged bet on the equity, you should consider the warrants. Currently priced at $4.07 per unit, they offer owners the right to buy shares at $28.16 at any point before December 2022. If the company's turnaround is successful, the stock should be worth a lot more than $28/share by the time it returns to growth (the company projects a return to growth in 2018). To break even on the warrants, the stock price must be above $32.23 by expiration. You definitely have to be a long-term believer in Yellow Pages to want to own the warrants, but any large move higher in the common stock (even if it is well below the strike price) will push the warrants higher as well, given the long time until expiration.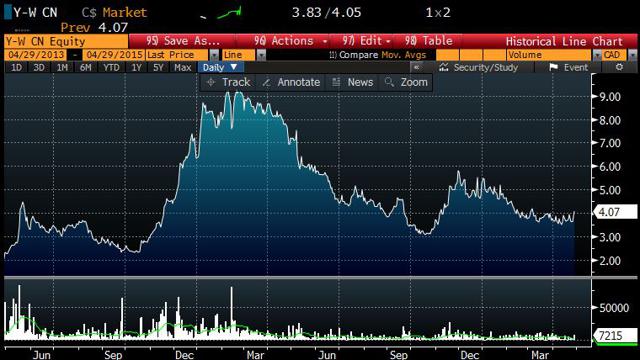 The warrants peaked at $9/unit when the common stock peaked at ~$25/share back in early 2014. I wouldn't recommend a majority of your position in the warrants, but long-term bulls could do well allocating at least a small portion of their position to the warrants.
Conclusion
My view on Yellow Pages is simple. I'm a believer in continued high-single-digit digital growth with a minimum overall EBITDA margin of 30 percent. I think revenues stabilize late in 2016 with a possible return to overall growth in 2017, ahead of the company's forecast of a return to growth in 2018. In the meantime, the company continues to delever its balance sheet. When taken altogether, the stock is very undervalued. I do not see why it cannot trade at similar multiples as its European peers, such as Solocal at ~6-7x EV/(stable)EBITDA. If Yellow Pages' EBITDA stabilizes around $250M, then the enterprise value should be $1.5-$1.75B, if not higher. Taking into consideration further debt reductions of at least $200M over the next two years, the stock should be worth double or triple the current price.
| | |
| --- | --- |
| Current EV: | Projected (6x EBITDA) EV: |
| Market Cap: $436M | Market Cap: $1.2B |
| Cash: $103M | Cash: $103M |
| Total Debt: $614M | Total Debt: $414M |
| Total EV: $947M | Total EV: $1.5B |
This management team has done a solid job executing to date. It has increased new customer acquisition and slowed the rate of overall customer decline. Customer acquisition, no matter how small, is an important first step to building larger, sustainable relationships. Over time, relationships expand and small customers can become larger, more profitable ones. I believe management will continue to execute on the return to growth plan, and so I'm a buyer at these levels for a long-term hold.
Risks
The biggest risk to an investment in Yellow Pages (besides the obvious execution risks) is the health of the Canadian economy. We all know the economy is heavily tied to the health of crude oil markets. Yellow Pages needs the economy to continue on its current path to hit the revenue targets. If the economy turns south, holders might need to revisit their thesis. For the unhedged U.S.-based investor, the currency is a risk as well. Further weakness in the CAD will suppress returns. The CAD has strengthened in recent days and now sits at $1.20 versus the U.S. dollar, up from the recent 52-week low of $1.28. I'd rather not make predictions on the movement of the CAD relative to the USD, but I do believe returns on the stock will be well in excess of any moves in the currency. It should be more of a concern for those in the fixed income part of the Yellow Pages capital structure. So, if you are considering either the first lien or convertible debentures, you also might want to consider hedging against further weakness in the CAD.
Disclosure: The author is long YLWDF.
The author wrote this article themselves, and it expresses their own opinions. The author is not receiving compensation for it (other than from Seeking Alpha). The author has no business relationship with any company whose stock is mentioned in this article.
Additional disclosure: Also long YLWWF, Y.CA as well as the convertible debentures.