The fundamental building block common to all modern electronic products is the ubiquitous "chip" or semiconductor. To be sure, they come in types and flavors, depending on the application. Some chips are analog and others are digital. Further, the industry can be segmented by chip makers, equipment manufacturers and foundries.
The semiconductor industry is cyclical and reflects the trends of the overall economy. This being the case, we are not surprised to see business condition worsen during the past year after benefiting from a global surge in chip sales in recent years. The year 2010 saw the beginning of the most recent slowdown as excess inventory in the supply chain was worked off. The subsequent global recession accounts for the continued weakness as industries as diverse at personal computers to the automotive market to medical devices to consumer electronics weakened.
According to the Semiconductor Industry Association, global sales of semiconductors totaled $298.3 billion, an increase of 31.8% from 2009. The SIA estimates that sales will increase only 5.4% in 2011. Other estimates range from 1% to 5%. The computing and consumer electronics segments account for about 60% of all semiconductor sales. Other markets include communications devices, medical, and the automotive industry and defense industries. There is no optimism that these sectors will recover anytime soon.
If this is a trough in the economic cycle, then we think it offers an opportunity to pick up quality companies at good valuations. The market research firms Gartner Dataquest and iSuppli identify Intel (NASDAQ:INTC) as the top semiconductor in 2010 and Texas Instruments (NYSE:TXN) in the fourth position. Among equipment makers, Applied Materials (NASDAQ:AMAT) led the pack and KLA-Tencor (NASDAQ:KLAC) ranked in the top ten. Analog Devices (NASDAQ:ADI) is a high quality company that is trading at an attractive valuation. Xilinx (NASDAQ:XLNX) recently provided investors with an earnings warning for this year.
click on all charts to enlarge

The consensus earnings estimates for each company are deceptive in that the range of estimates is actually very broad. CFY estimates for ADI range from $1.91 to $2.41; NFY $2.17 to $3.197; and the outlying year is $0.79 to $3.419. Estimates for AMAT are: CFY $0.35 to $0.95; NFY $0.27 to $1.96; three years out, $0.33 to $1.40. Intel has narrower estimates: CFY $2.35 to $2.59; NFY $1.40 to $3.07; and year 3, $2.25 to $3.10. Estimates for KLAC are: CFY $2.99 to $4.00; NFY $1.48 to $5.75 and year three, $2.01 to $5.00. Texas Instruments: CFY $1.95 to $2.31; NFY $1.75 to $2.69; year 3, $2.19 to $3.25. Xilinx has estimates of $1.78 to $2.06 for the CFY; $1.65 to $2.36 for NFY and $1.90 to $2.83 for year three. The analyst consensus appears to be that the current fiscal year will see a drop in earning from last fiscal year but they are far apart on how bad things will be. For next year, the analysts are either very pessimistic or very optimistic. A key point to bear in mind is that all of these companies are expected to remain profitable through these difficult times.

We can see from the data proved that sales growth rate for the most recent period is, generally, above long term average growth rates. This is a function of the cyclically of the industry. Likewise, with the exception of Texas Instruments, net income and EPS grew at rates much greater than the long term averages. Analysts estimate that over the next 3 – 5 years, EPS will grow in the high single digits or low double digit range. Each of these companies pays out a dividend that yields, at recent prices about 2% or more. These companies have a history of growing dividends. These dividends provide an underpinning for the stock price.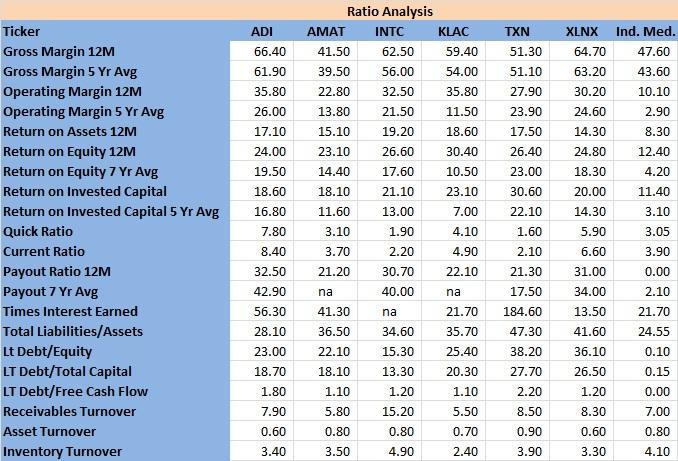 These companies are profitable and have strong balance sheets. Gross margins are high on an absolute basis, historically and on a relative basis to other semiconductor companies. Operating margins show how well managements are controlling costs in spite of the slowdown. Returns on assets and equity are strong and with relatively low payouts, reflect the company's ability to grow equity. Debt levels are low and well covered by free cash flow.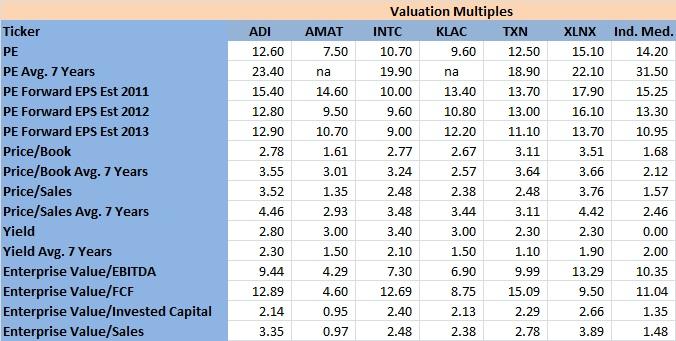 These companies are selling below their average price-earnings, price-book and price sales ratios. Our thesis for these companies is that the current economic turbulence is troublesome but short-term.
The global economy will improve; it may take another year or two until it does. The telecom industry will buy chips to build out their networks and for more smartphones; car makers will add chips to the cars they build, computer makers will sell more desktops, laptops, tablets and most importantly, servers.
Our fair value estimates are: ADI - $49.00; AMAT -$22.00; INTC - $34.00; KLAC - $74.00; TXN - $42.00; XLNX - $34.00.
Disclosure: I have no positions in any stocks mentioned, and no plans to initiate any positions within the next 72 hours.