Background
Canada's unique geology had led to a development differently from the development of the United States, its southern neighbor. Although there had been many drilling attempts in Canada in the 19th and early 20th century, the country depended on US oil imports until 1947, when the Leduc oil field was discovered. In the subsequent years, many Devonian reef formations were discovered in the province of Alberta and soon the biggest problem of the Canadian upstream company was to figure out a way to move its goods to the United States which soon became the most important customer. This issue of building pipelines has not lost relevance in the last decades, as the debate about the Keystone XL pipeline clearly shows.
The single most important development in the last years in the Canadian upstream industry is the rise of oil sand production. With an increasing price level and more advanced technology, it became profitable to mine bitumen and upgrade them to synthesized crude oil on a big scale. In some of my articles I have already calculated production costs of the biggest oil sand producers in Canada (part I, part II).
Nevertheless, Canadian oil production is not only tied to oil sand. Conventional oil production is still important and in the last decades a number of companies have expanded their activities to places all over the world. Additionally, some Canadian companies are also active in tight oil production in the United States.
In one of my last articles I have investigated 8 Canadian oil producers. In this article I add 8 further companies. Some of them might also be able in the oil sands or shale business. The companies investigated in this article are Crescent Point Energy (NYSE:CPG), DeeThree Exploration (DTHRF), Enerplus (NYSE:ERF), Epsilon Energy (OTCPK:EPSEF), Kelt Exploration (OTC:KELTF), Legacy Oil Plus Gas (OTCPK:LEGPF), Nuvista Energy (OTCPK:NUVSF) and Pengrowth Energy (PGH).
Cost model
The key point for me is to catch the real production costs of hydrocarbons as accurate as possible. For that reason I only consider costs that are directly related to oil and gas production. As the upstream business is a pure commodity business, many companies have bought derivatives to hedge their sales. As gains or losses from that instruments are not directly related to production, I do not consider them directly in my method. Nevertheless, as they might have impact on the future of the company, I mention them if they are significantly high. The same is true for impairments.
Oil is hardly ever produced as pure liquid. Normally it comes as a mixture with natural gas and gas condensate. Although I only consider companies here, that mainly lift oil, they also produce significant amounts of gas. Hence, it does not make much sense to apply costs to the production of oil alone. To deal with this issue the concept of barrel oil equivalent - boe - has been perceived. 6000 cubic feet of gas at standard conditions are about one boe. All costs mentioned below refer to one boe, meaning that are the costs related to the production of 1 bbl of oil, 6000 scf of natural gas or a combination of both. Let's say the price for 1 barrel of oil is around $60 and the price for 1000 scf of gas is about $3. This means, revenue from 1 boe of oil is higher than revenue for 1 boe of gas ($60 versus $18). As there are also fields that only produce gas, this article tends to underestimate the costs of oil production.
Commonly, costs are divided in costs that can directly be related to production (cost of sales) and costs that cannot directly be related to output (overhead). However, many oil companies are also active in downstream and midstream or other economic sectors (e.g. ExxonMobil (NYSE:XOM) in chemical engineering). Hence, I have divided sales, general and administration expenses (SG&A) by total revenues and multiplied it with the revenue of the E&P division to get SG&A for E&P. I did the same for any similar type of cost (marketing expenses, R&D) and for financial expenses. Depreciation, Depletion and amortization, on the other hand, can be directly linked to oil production.
Costs of sales are divided into 3 sub-categories:
Exploration costs
Lifting costs
Non-income related taxes
Exploration costs are costs related to all attempts to find hydrocarbons. This category includes cost for geological surveys and scientific studies as well as drilling costs.
Lifting costs are the costs associated with the operation of oil and gas wells to bring hydrocarbons to the surface after wells (facilities necessary for the production of oil) have been drilled. This figure includes labor costs, electricity costs and maintenance costs.
Non-income related taxes: as production of hydrocarbons is such a lucrative business, governments also want to have their shares. There exists an abundance of different model how the state can profit from hydrocarbon production (profit sharing, royalties, etc.).
It might be, that different companies use different categories for the same type of expenses, but eventually the sum of all costs should be their total cost for producing 1 boe.
The following figure shows the pattern of the cost model: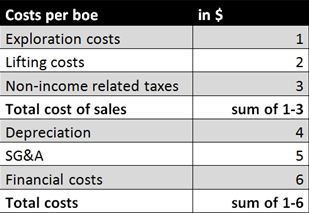 As I have noticed in one of my articles, that cash flow situation does not look well for the majors. In the long term, a profitable company must be able to generate enough cash flow to cover its capex and to buy money back to its shareholders (either via dividends or share buybacks). Therefore I included operating cash flow and total capex in my data. Operating cash flow and capital expenditure both refer to the whole company. Capital expenditure is investment in assets as well as in subsidiaries if they are not consolidated. This number does not include any subtractions because of the selling of assets. I also add the cash flow companies generated through sale of assets.
Application on 8 Canadian companies
I did not include many Canadian companies in my investigations about 2013's oil production costs. I have only considered Crescent Point, Legacy and Pengrowth last year. DeeThree Exploration is active in two region in Alberta: the Fergusen Upper Bakken, where the company operates in the Upper Bakken siltstone and the Brazeau-Belly River, where the company is drilling horizontally in the medium-depth, light oil and liquids rich Brazeau play in west-central Alberta. Enerplus is active in two provinces in Canada and three states in the US. The company has assets in the Williston basin and the Marcellus, while low-decline oil production is coming from a variety of crude oil water flooding areas in Canada. Epsilon is also active in both Canada and the United States. Midstream assets and property in the Marcellus shale are located in Pennsylvania, while the company produces additionally from the Basal Belly River in Alberta. As most of its peers, Calgary-based Kelt Exploration focuses on development of oil and natural gas in Alberta and British Columbia. NuVista's most important asset is located in the Wapiti Montney condensate-rich natural gas play. Other assets are located in eastern and northwest Alberta and northeast British Columbia. All of the companies in this article with the exception of Epsilon publish their results in Canadian Dollar. As a conversion rate USD1 = CAD1.105 was used.
The results can be found in the table below:

(source: own calculations based on the ARs for 2014)
Liquids do not only mean classical oil, but also natural gas liquids - NGL.
I have also applied my method on a couple of other companies:
Discussion
Crescent Point increased its total production by roughly 17%, while its percentage of liquids produced remained roughly the same. Total realized revenue dropped slightly, which shows the effect of the fall of the oil price on the company. Depreciation per boe rose by nearly $5, which led to an increase in total costs to $70.87 per boe. The combination of these two effects led to a drop in pre-income tax margin from 14% in 2013 to merely 4% one year later. However, Crescent Point made $706 million on derivatives, while it had to impair $129 million.
DeeThree is a small company that only produced 4.13 million boe in 2014, nearly 80% of them liquids. Average realizations were $66.4 per boe with total production costs of $47.88 per boe. Remarkable are the very low costs related to SG&A and interest, which together only slightly exceeded $3 per boe. Eventually, the company made a sound margin of 28%. Additionally, DeeThree made $23 million on derivatives.
Enerplus produced more than 42% liquids, but could realize only a meager revenues per boe of $36.69 per boe. The company got $76.92 per bbl of oil, $45.4 per bbl of NGL and $3.47 per 1,000 scf of gas. However, total production costs only amounted to $30.46 per boe, as costs of sales contributed $12.77 per boe and depreciation $13.62 per boe. SG&A and financial expenses are low from an absolute point of view, but mediocre in relation to realized price. Enerplus lost $52 million on the foreign exchange market, while the company made $234 million on derivatives. The company was also able to fund nearly its total capex with cash flow from operations.
Epsilon focuses totally on the production of gas. Therefore realized price per boe is very small with just $21.36. Epsilon is very good at managing its total costs, and therefore, despite its very small size (only 2.48 million boe production in 2014) the company had a high pre-income tax margin of 24%. Very positive is also the cash flow from operating activities that amounted to $31 million, and was easily able to fund the company's total capex.
As the previous two companies, Kelt Exploration is mainly active in the production of gas. Although it produced only 34% liquids, it could realize an average price per boe of $41.73, much more than Enerplus that produced nearly 42% liquids - a hint that the relationship between realized price and percentage of liquids produced is far from being linear. Kelt Exploration had total costs of $37.88 per boe, with relatively high interest expenses, which might be an indicator for a significant amount of debt in the balance sheet. Kelt Exploration paid $126 million to acquire Capio Exploration, which is the reason why the company's capital expenditure exceed its cash flow in such a massive way (more than 3 times).
Legacy increased its production by more than 23% from 2013 to 2014 with nearly constant percentage of liquids produced. Average realized revenue dropped by $3 per boe, as the falling oil price affected Legacy's income statement. On the other hand, the company managed to decrease its costs. They amounted to $64.66 per boe in 2014, which resulted in a pre-income tax margin of 10%. Additionally, Legacy had to impair $168 million.
NuVista is another Canadian gas producers. Its realized revenue per boe amounted to $34.93. However, costs exceeded this value by $6.4 per boe. Especially, depreciation costs are remarkable high. Below the line, the company had a negative pre-income tax margin of 18%. The company was also operationally negative in 2013. At least, NuVista made $41 million on derivatives.
Pengrowth is one of the few companies that decreased their production from 2013 to 2014. Overall, total output went down by 13.3%. Once again, the company's production is evenly split between liquids and non-liquids. Total realized revenue went only down slightly from 2013 to 2014. Pengrowth managed to bring down its costs across all categories and, hence, to increase its profitability margin from 1% to 6%, still not a very convincing value. Pengrowth gained $368 million on derivatives, but had to impair $905 million on assets in 2014.
Remarkable about the companies in this article are the low expenses for both SG&A and interest, especially compared to many of the US shale producers. It seems, that Canadian companies have very streamlined overhead costs. They also have either a low debt-to-equity ratio or profit from low interest rates. Additionally, realized revenue per 1,000 scf rose significantly in 2014. These factors might be the reason that they the Canadian E&P industry did well in 2014.
However, the fall in the oil price can easily be seen in the income statements of most of the companies. While they generally managed to increase or maintain their percentage of liquids produced, realized revenue per boe fell slightly. The effect in 2014 (which saw an oil price of well above $100) was not very strong, but this will change once the Q1 for 2015 are published. It is remarkable, that even in the present year the Canadian upstream industry as a whole was not able to fund its investments with cash flow from operating activities.
Disclosure: The author has no positions in any stocks mentioned, and no plans to initiate any positions within the next 72 hours.
The author wrote this article themselves, and it expresses their own opinions. The author is not receiving compensation for it (other than from Seeking Alpha). The author has no business relationship with any company whose stock is mentioned in this article.
Editor's Note: This article discusses one or more securities that do not trade on a major U.S. exchange. Please be aware of the risks associated with these stocks.