Cocoa bean is typical cash crop and export in West African and South American countries. Major exporters of cocoa beans include Ivory Coast, Ghana, Nigeria and Cameroon in Africa; Brazil, Ecuador and Colombia in America; Indonesia, Malaysia, Papua New Guinea in Asia and Oceania. Farmers of cocoa (roughly 5 to 6 million people worldwide in total) contribute to 80 to 90 percent of cocoa bean production. Typically, a cocoa farm covers two to four hectares (five to ten acres) and each hectare yield 300 to 400 kilograms of cocoa bean in African farms. Farms in America has higher yield per hectare, as they are slightly larger in size and each hectare produces 500 to 600 kilograms of bean.
Cocoa is a delicate crop because it grows in tropical climate and it has to be kept out of sunlight, wind, insects, and disease. Farmers in some African countries receive subsidies from the government for pesticides and fertilizers to boost yielding. The harvesting and processing of cocoa bean are labor-intensive. Cocoa tree begins to bear fruit by the fourth or fifth year and each tree yields 20 to 30 pods per year. Ripe pods are gathered every few weeks during harvest season. Farmers use machete to cut the fruit open and they expect 20 to 50 beans per pod. One pound of chocolate needs approximately 400 beans. After cultivation, the harvested beans are taken to somewhere dry for fermentation. Three to seven days later, farmers would pack the beans into boxes for trade. Local agents or buying station would buy the beans from the farmers and transport them to the closest warehouse, where it stores the beans until they are ordered by the processor or manufacturer. The processing of cocoa beans, from cultivation to processing, is time consuming since majority of cocoa farm are family-run and they lack financial capital to purchase machinery for cultivation, and they locate at remote corners of the country.
Grinding of the beans is the last phrase prior to chocolate production hence it is often used as key metric by market analysts to predict future demand of the product. With the data of estimated demand being compared to supply, cocoa beans' price fluctuates and it is sold across different industries at different price. Besides of confections, cocoa beans are also used for soap and cosmetic items. Europe has been the largest processor of cocoa beans and consumer of chocolate, together with America. Asia is a rising market that manufactures do not want to miss because the middle class population is growing. People with dispensable income are more likely to spend their money on luxury products, including chocolate.
Cocoa beans are popular commodity in the world exchanges of London (NYSE Liffe Futures and Options) and New York (ICE Futures U.S.). Each cocoa beans future contract is 10 metric tons, and it is traded for delivery in March, May, July, September, and December. The contracts serve as benchmark global price quote for cocoa. Global consumption of cocoa is crucial in determining the price of the commodity. Historically, cocoa beans are less prone to violent price fluctuation than other commodities like rubber because of its steady consumption level in the consumer market. However, persisting drought in several African countries recently has severely affected the cultivation of cocoa and disrupted the historic trend of the beans in the exchange market.
What do statistics tell us about the prospects of cocoa beans market?
The price of cocoa beans in the exchange markets has been rising since 2013. According to International Cocoa Organization (ICCO), the monthly averages of cocoa beans' daily prices in US dollar per tonne rose steadily.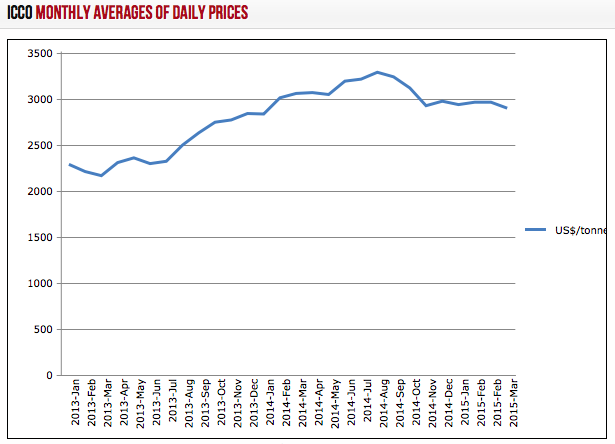 Figure one - The monthly average of cocoa beans' daily prices from January 2013 to March 2015. (Source)
Over the span of two years, the monthly averages of cocoa beans' daily prices had been raised by 32.05 percent. The lowest cocoa monthly average of daily price was recorded in March 2013, and the highest September 2014. Cocoa price had been climbing steadily since June 2013 and reached its peak in September 2014. The decline of prices followed and had gone below U.S. $3,000 November 2014. The fluctuation of the cocoa prices in the late quarter of 2014 was severe, and it raised the market's concern on the possible price growth of chocolate as various news media outlets reported the market's observation.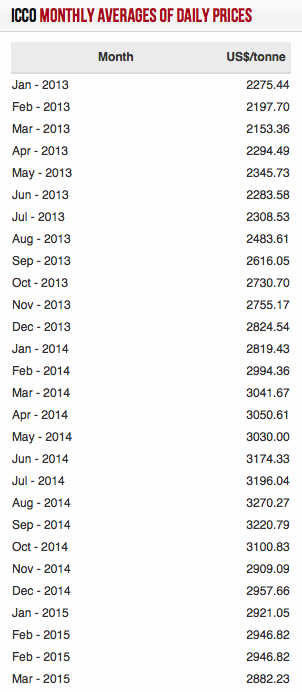 Figure two - A chart that shows the exact number of the monthly average of cocoa beans' daily prices from January 2013 to March 2015. (Source)
The significant jump of cocoa beans' prices can be explained by the danger of cocoa shortage in African farms and growing demand in emerging markets like China and India. What resulted in the shortage of the crop was unstable weather condition in most of the West African countries the past two years.
Ghana, the world's second largest cocoa producer which accounts for 22 percent of global cocoa production, is currently suffering from drought and cocoa production is disturbed by fungus. Dry winds from Sahara Desert damages pods on cocoa trees; lack of rain adds stress to the plants. The reduced crop affected the country's economic outlook. Oil, gold, and cocoa are the largest sources of revenue for Ghana. Cocoa alone generates U.S. $2 billion in foreign exchange for the country. The plunge of oil and now cocoa hurt the government as well as the farmers. The government-funded Cocoa Board, which provides farmers fertilizers and chemicals for cocoa planting, has stopped giving farmers money since the beginning of this year. 800,000 cocoa farmers in Ghana are facing tough time in production. Bloomberg reports that a cocoa farmer, who lives 423 kilometers away from the capital of Ghana, is bracing the smallest harvest of six years as he does not have enough to fill a 64-kilogram sack. Limited production of cocoa in Ghana could push the global market price of cocoa beans as the pressure of cocoa demand in consumer market now rests on other exporters. Ivory Coast, Ghana's biggest rival in cocoa production, anticipates a 20 percent decrease this year. Figure 3 shows the global production of cocoa beans in 2012. With the cocoa producers being at risks, the processor and manufacturers carry concerns on the supply of chocolate in consumer market.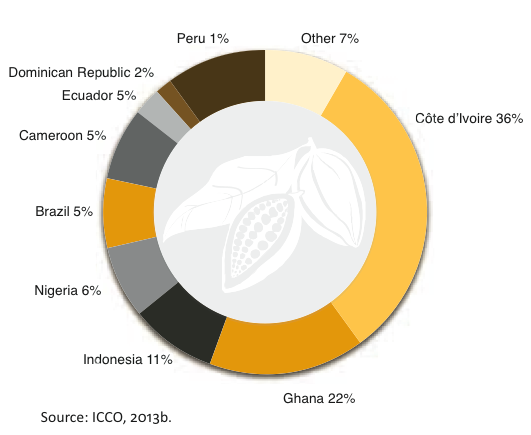 Figure 3 - The global production of cocoa beans in 2012 (Source)
Chocolate is a lucrative business; according to research firm MarketsandMarkets, the industry value worth $83 billion per year. Valentine's Day means big business opportunity for the industry. 58 million pounds of chocolate candy were sold during the Valentine's week in the U.S. alone. The daily consumption of chocolate is massive; a study in the UK revealed that 91 percent of the female participants admit to eating chocolate, while male participants counted for 87 percent. Although Europe and North America remain the world largest consumers of chocolate, Asia is an emerging market following tightly. Expanding economies in China, India, and Indonesia means people are more likely to trim their disposable incomes on the confections. Middle class population in China is on the rise, and the anticipated number of middle class population by 2016 is 360 million. The surge of middle class equates to greater purchasing power. Chocolate has not been the choice of sweet in Asia traditionally, but Hershey, which recently acquired 80 percent of a Shanghai food company, expects to see China coming to the second of world biggest chocolate consumption after North America by 2018. In addition, Chinese consumers prefer authentic and all natural products to luxury chocolate. Industry's optimism in Asia does not match with the market's concerns on shrinking cocoa production; the growing chocolate confectionary demand in Asia-Pacific of 4.5 percent versus a global 2.6 percent gain in 2015 foresees price surge in chocolate.
However, some marketing analysts suggest that poor global production output of cocoa would not boost the price of chocolate confectionary significantly because Europe and North America are developed markets in which their demands for chocolate are consistent. This claim is supported by Jonathan Parkman, the co-head of agriculture at Marex Spectron Group in London, as he explains that "Europe and America are mature markets for chocolate…So it's unlikely we are going to get any massive growth in those areas" in his recent interview with Bloomberg. Europe and North America have traditionally been big consumers of chocolate hence the supply of products would remain at the same level unless cocoa production in African countries collapses. However, chocolate processors in Asia begin to suffer because of the growing scarcity of cocoa in the global market. Therefore, consumers in Asia or other parts of the world are going to pay a little more on their bars of milk chocolate they purchase from supermarket. Price surge is inevitable.
Challenges in cocoa production: environmental and ethical issues in plantations
While the raw material production in tropical countries suffers, the biodiversity in plantations and the child labors working in the field are also gaining attention and concerns. Sustainability has been a popular topic when it comes to agricultural production. Tropical climate is ideal for cocoa growth, and farmers with limited planting space clear out land in the rainforest for extra space by either cutting or burning trees down. Both methods damage vegetation, by which animals are cut off from food source. Forest burning leads to severe release of carbon dioxide toxic particulates into the atmosphere. In response to the destructive farming practices, Rainforest Alliance introduced certified cocoa program to promote sustainable cocoa farming. The non-governmental organization believes that "Rigorous training in efficient and sustainable farm management is the key to stabilizing their microclimate and stopping the destructive cycle of poverty and deforestation" as stated on its official website. Production was concentrated in Ivory Coast, Tanzania, Dominican Republic, and Indonesia. Rainforest Alliance cocoa production skyrocketed from 12,000 metric tons in 2009 to 406,000 tons in 2012. The significant increase of production is the result of manufacturer's commitment in supporting the NGO's certified program. Hershey's is one of the big manufacturers who sources cocoa for its Bliss and Dagoba products from Rainforest Alliance. Chocolate products made of certified cocoa appeals to customers who endorse healthy living and prefer all-natural products.
Child labor in cocoa plantations has been controversial. Children performing hazardous tasks such as applying pesticides to cocoa trees without protective equipment and transporting wet beans to long distances are discouraged by International Labor Organization. The employment of children in cocoa farm has a long history that can be traced back to 2001, when the police authority in Mali suspected that most of the missing children were enslaved to cocoa plantations in Ivory Coast. Sometimes children are sold away by poverty-stricken parents in exchange for cash. The aforementioned phenomenon are signs of unhealthy economic development, and consumers should select cocoa products that are produced under internationally approved labor standard. Investment in legally and ethnically produced cocoa will bring positive economic development to cocoa-concentrated community in Africa.
Conclusion
It is safe to anticipate that the future cocoa beans price in the commodity market will remain stable, within the range of U.S. $2,800 to $2,999. If drought and unstable weather condition in West Africa persist, cocoa price will continue to rise. The market's forecast on global cocoa beans price is ambivalent in general, provided that the crop output is growing scarce. However, investors who are interested in making investment in the commodity should also be aware of the cocoa grinding industry in Europe. Their demand on cocoa in production can also affect the price of the crop.
Despite cocoa scarcity, consumer market in Asia appears to be strong to chocolate manufacturers. The rise of middle class and city population can contribute to the sales of chocolate. One concern that the rising market entails is the competition of cocoa beans amongst processors. Consumers are likely to pay more for their chocolate.
Environmental and ethical issues in cocoa production should also be considered when making investment in the commodity market or even when purchasing a bar of chocolate at a local supermarket. Consumers carry a responsibility of supporting healthy economic development in the producer countries. Their preferences on chocolate brand can be their personal statements on lifestyle and justice.
This article was written by Michelle Luk, an Academic Nexus financial analyst, and edited by Daniel Barankin.
Disclosure: The author has no positions in any stocks mentioned, and no plans to initiate any positions within the next 72 hours.
The author wrote this article themselves, and it expresses their own opinions. The author is not receiving compensation for it (other than from Seeking Alpha). The author has no business relationship with any company whose stock is mentioned in this article.