The retail sector is facing a sea change as online consumer spending is growing rapidly. For brick and mortar retailers to continue to prosper, their approaches need to be adjusted.
Online Consumer Spending Growth
There is a strong trend of consumers moving to online shopping. It's fairly common knowledge that this is occurring, but I don't think people realize its potential impact.
For 2011, ComScore forecasts 15% annual growth in online consumer spending (source). The interesting part is that this level of growth has been fairly consistent year-on-year. See the graph below: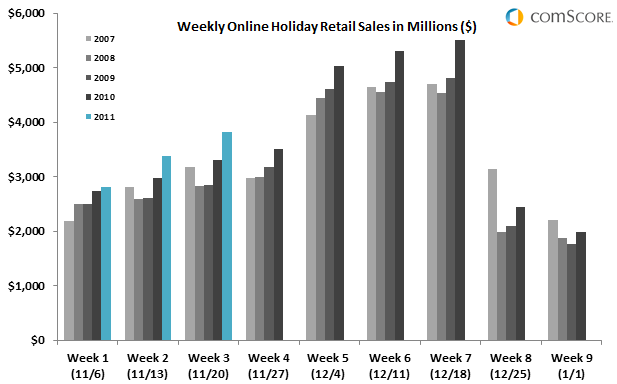 If this keeps up, online spending could double in less than 5 years. Shifts in consumer behaviour tend to eventually hit a tipping point where adoption rates hockey stick. As such, I'd expect this trend to accelerate in the coming years.
Currently, online spending accounts for $1 out of every $10 in discretionary spending. Assuming it only doubles, around 11% of brick and mortar retail sales will be moving online. That's a significant percentage of their business and as such you'd expect to see a comparable amount of resources being dedicated to capturing that.
Changing the Approach
As we can see, the future of traditional retailers, such as Wal-Mart (NYSE:WMT), Target (NYSE:TGT) and others, is heavily dependent on their ability to leverage an online presence.
Most retailers seem to understand this, but few are making substantial changes to their approach.
Walmart is one retailer willing to experiment. They recently launched two pop-up stores in Southern California. They are small compared to other WMT locations, at a size of around 1,000 sq. ft., and are focused on driving shoppers to Walmart's online presence. The experimental stores carry a limited range of toys and electronics, but most of the store's inventory can only be purchased online. That's why they also have computers that shoppers can use to order from Walmart's website.
It's great that Walmart is doing this, but it might be too little too late. Their online presence is highly underdeveloped. As I mentioned above, 10% of discretionary spending is online. This ratio isn't reflected in Walmart's numbers: Ecommerce only accounts for between 1.5 and 2% of their U.S. sales. This is a massive gulf that will only grow larger if they don't act quickly.
The biggest concern is that consumers will move to an online retailer like Amazon (NASDAQ:AMZN) before traditional retailers, like Walmart, get their act together.
That's why investing in traditional retail stocks is risky, even if valuations are reasonable.
Traditional Retailer Valuations
These are discounted cash flow valuations, using a 15% discount rate. Adjust the growth and discount rates below, based on your assumptions.
Wal-Mart
Purely from a valuation standpoint, Walmart might be a great 'Growth at a Reasonable Price' stock. It's fairly valued at its current price based on an annual free cash flow growth rate of 15%.
Target

In the case of Target, they're actually substantially undervalued, based on an annual free cash flow growth rate of 11.4%. Analyst expectations are in line with this for the next 5 years (source).
Now that we've had a look at their valuations, it's important to see if they pass the Buffett test.
Bricks and Mortar: Do they pass the Buffett test?
The venerable Warren Buffett said that as a rule of thumb, "only buy something that you'd be perfectly happy to hold if the market shut down for 10 years."
It's an interesting question because Buffett actually bought WMT in 2005 and we're fast approaching 2012. I'm sure that in 2005, he viewed Walmart as a strong business that would be very similar in 10 years.
That insight will most likely hold true. But, can we say that Walmart or any other traditional retailer will be similar in shape in another 10 years?
For us, at this point in time, the trends in online consumer spending make it difficult for us to firmly say that Walmart or Target will look much the same in 10 years. That's why we wouldn't purchase shares in either.
What do you think?
Disclosure: I have no positions in any stocks mentioned, and no plans to initiate any positions within the next 72 hours.