Tiger Woods won his first golf tournament in two years over the weekend. At his post-match press conference, Woods noted that his friend sent him a text the morning of the final round with some old LL Cool J lyrics:
Don't call it a comeback. I been here for years.
When I saw news of a major - and really groundbreaking partnership - between Clear Channel (CCMO.PK) and Cumulus Media (NASDAQ:CMLS), I was tempted to call it a comeback. On second thought, however, terrestrial radio has been here for years. Despite formidable threats from companies ranging from Sirius XM (NASDAQ:SIRI) to Pandora (NYSE:P), local broadcast radio still commands a vast majority of radio listening and advertising dollars. And now, in some circles, it's finally hitting back with the type of innovation that makes a company like Clear Channel look more like an aggressive new media company than a stodgy old broadcaster.
Consider something I wrote on Seeking Alpha several weeks ago, followed by news of the Clear Channel-Cumulus hook-up, courtesy of Radio-Info.com's daily email blast.
A combined venture - let's just call it Radio Everywhere - would make perfect sense. I have even heard rumblings from a few people I respect inside the industry that the idea is not all that far-fetched. One went so far as to say that it could happen.

A combined website - comprised of every terrestrial radio offering under the sun, ranging from individual stations to network programming to ESPN Radio - would draw millions upon millions of online listeners. It's too early to speculate on the many ways terrestrial radio could take such a concerted effort, but, needless to say, it would be incredibly powerful.
Click to enlarge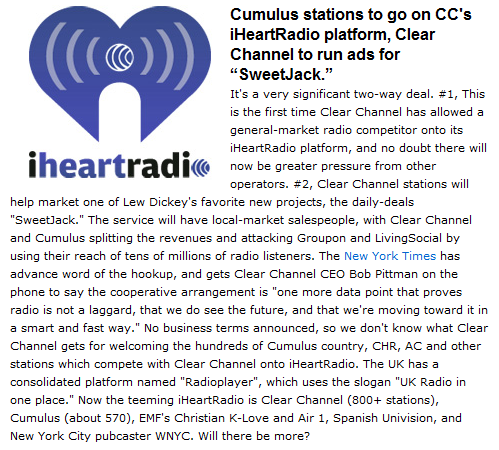 What Clear Channel and Cumulus have teamed up to do stops quite a bit short of my vision, but it's clearly on the right track.
While the news will not send me into either of the two stocks (too many other issues exist, ranging from debt to slow revenue growth), I do think it should give Pandora and Sirius XM investors a pause. This partnership only reinforces the notion that terrestrial radio is a massive force that can still put on the hurt. It's the "800 lb. gorilla," if you will.
By combining forces and making more than 1,300 stations available via iHeart Radio, Clear Channel and Cumulus expose two of Pandora and Sirius XM's major weaknesses.
Pandora does not appear to have the ability, most likely from a financial standpoint, to air exclusive content. While Sirius XM used Howard Stern to launch satellite radio somewhere north of obscurity, Pandora probably could never afford such high-level talent to take its brand and level of exposure to the next step.
As for Sirius XM, it certainly has the resources to innovate at the level of Clear Channel, but, for whatever reason, it refuses to step out of its mold. From what we have seen, satellite radio 2.0 hardly smacks of innovation and Sirius XM's Internet and mobile platforms have Commodore 64 written all over them. There seems to be a refusal at the company to make a real run at playing the multi-platform game against Pandora, Clear Channel and, now, Cumulus.
When I brought up "Radio Everywhere" several weeks ago, my overarching point was that, together as a unified front, terrestrial could do a much better job fending off threats not only from Internet and satellite radio, but from other competitors who have stepped onto its turf, such as Apple (NASDAQ:AAPL) via iPod and now, iPhone and iPad. While this news does not even come close to ending the war, it does send a noteworthy salvo that terrestrial radio, led - even if kicking and dragging - by Clear Channel CEO Bob Pittman, is ready for battle.
Disclosure: I am long P.