Jack and Jill went up the hill
To fetch a pail of water.
Jack fell down and broke his crown,
And Jill came tumbling after.
It is amazing that after all these years one can still recite these nursery rhymes from pre-school memories. It hits you like a ton of bricks, while looking at the economic activity of Canada relative to the U.S., only to come to the conclusion of Jack (the U.S.) is taking Jill (Canada), up this hill of economic activity as Canada is dealing with some challenges in its energy sector. These moves are reflected in the price movements of USD/CAD, with USD/CAD moving from a low of 1.0623 in early July 2014 to a high of 1.2836 in mid-March 2015, an increase of over 20%. Now, as Canada's key export, oil, is showing some signs of price recovery, the anticipation of a further pickup in Canada is driving some strength in the Loonie (Canadian Dollar). Concurrently seasonal factors in the U.S. appear to have made Jack stumbled a bit, causing USD/CAD to decline (or the Canadian dollar is strengthening at a faster rate than the U.S. Dollar). It looks as though USD/CAD is tumbling down a hill. This gives investors the opportunity to obtain capital appreciation in purchasing the CurrencyShares Canadian Dollar Trust ETF (NYSE:FXC), which is a position in the Canadian dollar relative to the U.S. Dollar. The USD/CAD is expected to decline to 1.188 over the next couple of months, a 1.60% from current levels, giving some upside potential in FXC.
Chart 1- USD/CAD Daily Candlestick Chart as at 27th April 2015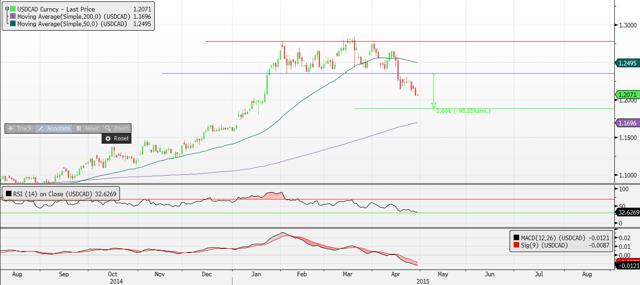 Source: Bloomberg
Economic Activity
Latest figures show the Canadian economy grew 2.4% year over year in January 2015, in line with its 12-month moving average. In its latest report the Bank of Canada cited that although the energy sector has been to the downside, in the non-energy component of the Canadian economy there exists a natural sequence of stronger exports, increased investment and improved employment opportunities.
Chart 2- USD/CAD Daily Candlestick Chart as at 27th April 2015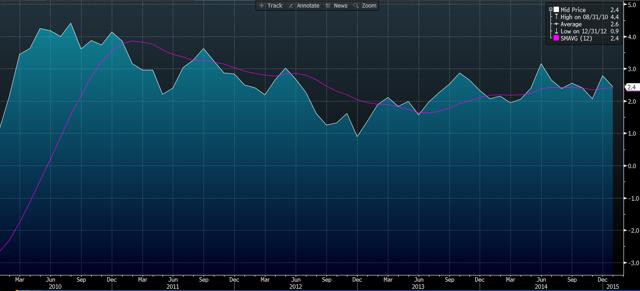 Source: Bloomberg
The Bank of Canada expects GDP to slow during the first half of 2015 and then subsequently strengthen to average about 2.5% on a quarterly basis until the middle of 2016.
Chart 3- Contributions to real Canadian GDP growth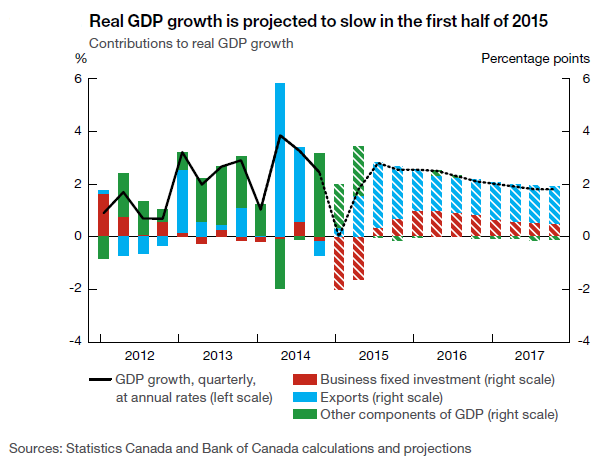 The strengthening of the Canadian economy is predicated on the improvement in demand toward non-energy exports (NEX). Some recent contributions to NEX include aircraft parts, industrial and electrical machinery and equipment, pharmaceutical products, building and packaging materials, and metal products. The Bank of Canada stated that the pick-up in the manufacturing sector, which accounts for 70% of NEX, will generate positive spillovers to other sectors, such as transportation and warehousing; wholesale trade; and finance, insurance, real estate and leasing.
Chart 4- Total Canadian Exports as at Q1 2015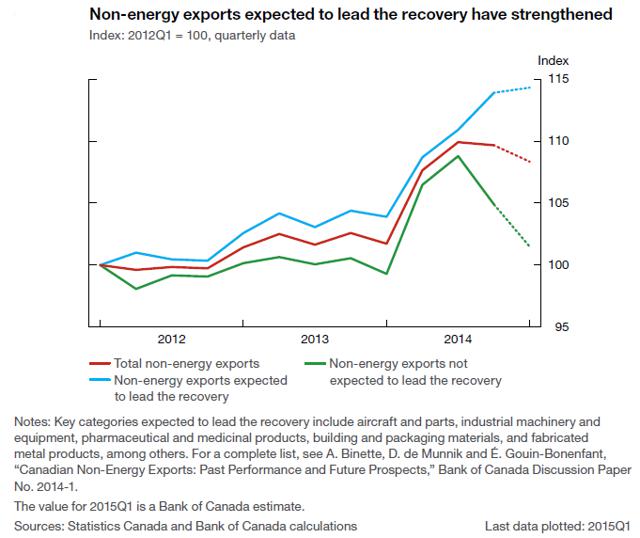 The exchange rate also plays a critical role in economic performance as it aids in improving exports. As such forecasting the direction of a currency will provide a gauge for both GDP growth and inflation. For instance the Bank of Canada cites the depreciation of the Canadian dollar, combined with stronger labor productivity growth in Canada than in the U.S. over the past 2 years, has led to a meaningful improvement in Canada's competitiveness.
Chart 5- The Canada-U.S. Competitiveness Gap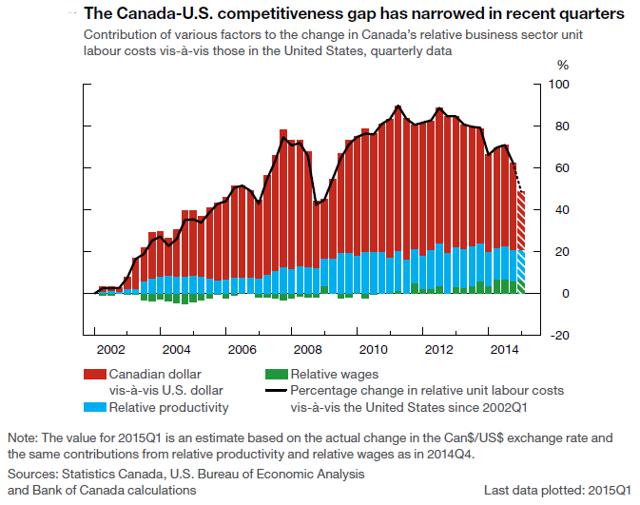 Other types of 'rhymes' also occur when it comes to the Canadian economy. Relationships exist with the Canadian Dollar and oil prices, which affect output as well as inflation. Once these relationships are ascertained, investors can take advantage of these opportunities.
Latest figures show that Canadian inflation registered at 1.2% year over year in March 2015. The core rate, which excludes 8 volatile products, slowed to 2.1%. Current inflation levels reflects the decline in energy prices. Also the pass-through effects of the lower Canadian dollar have also been acknowledged by the Bank of Canada.
Chart 6- Canadian CPI as at 31st March 2015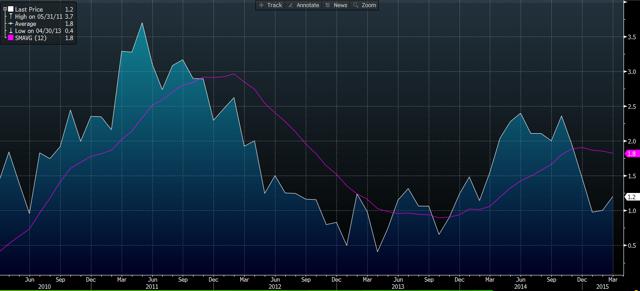 Source: Bloomberg
The Bank of Canada anticipates that CPI will ease to around 1%, before rising to 2% early in 2016 where core CPI is expected to remain around 2%. This is as a result of the upward pressure from past exchange rate depreciation offsets the ongoing downward pressure from excess supply which will gradually diminish as the output gap closes.
Chart 7- Canadian CPI Projections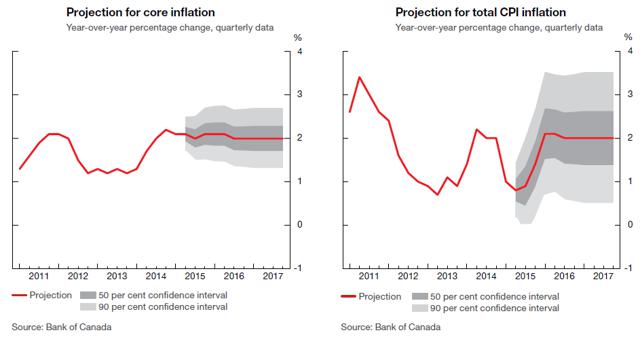 The Bank of Canada also eased financial conditions through a rate cut earlier this year. Currently the Bank of Canada's benchmark rate now stands at the historical low of 0.75%. The yield curve on government bonds have shifted lower. Lower borrowing costs should bode well for the Canadian economy.
Chart 8- Canadian Yield Curves as at 10th April 2015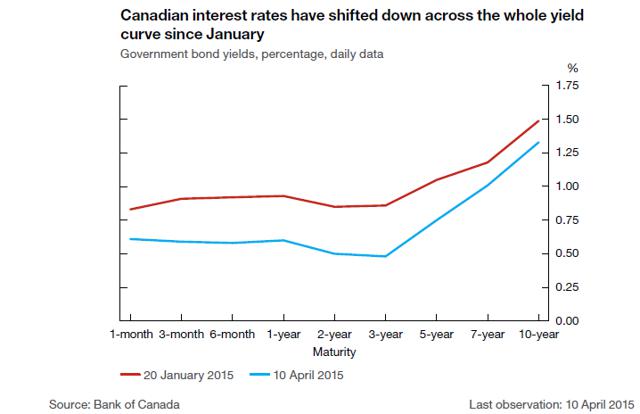 Chart 9- Canadian Business & Household Effective Interest Rates as at 10th April 2015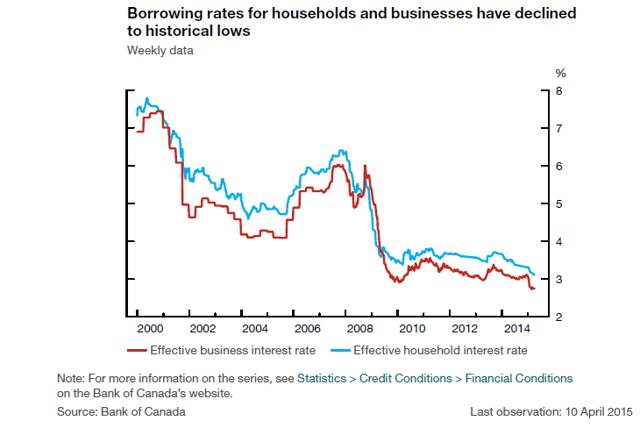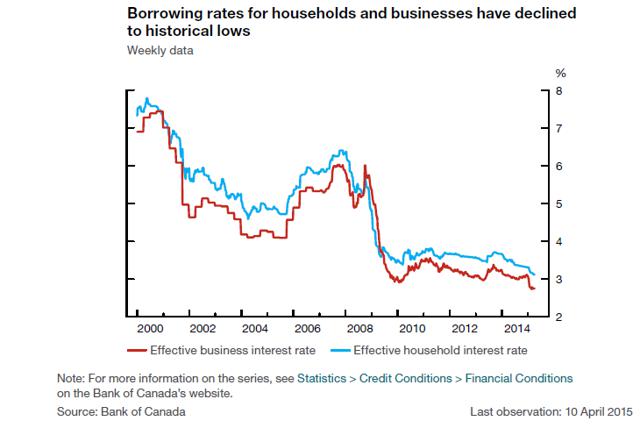 Easier credit conditions together with the 8 % decline in the value of the Canadian dollar will help mitigate the negative effects of the decline in oil prices. Consequently as expectations for the Canadian economy improves, so will the Canadian dollar, hence the tumbling down the hill of USD/CAD. Investors can benefit from this though FXC.
Disclosure: The author has no positions in any stocks mentioned, and no plans to initiate any positions within the next 72 hours.
The author wrote this article themselves, and it expresses their own opinions. The author is not receiving compensation for it (other than from Seeking Alpha). The author has no business relationship with any company whose stock is mentioned in this article.