Click to enlarge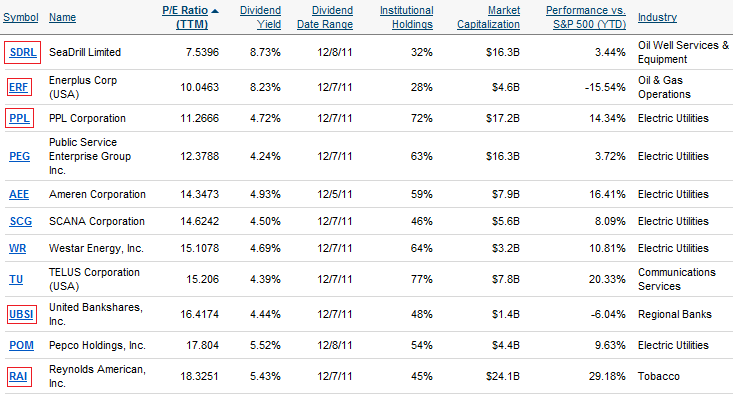 Is it time to flee to safety? With economic and political climates only becoming more tumultuous, I have been paying closer attention to dividend stocks recently. We all know about the blue chip dividend companies, but there are attractive companies with high yields that are going ex-dividend every week. This strategy can work in one of two ways: either you buy before the ex-date to receive the dividend or buy after if the stock declines far below the after-tax amount of the dividend.
Buying the stock to receive the dividend is intuitive but many have requested further details on the second strategy. Investopedia has a great example of how this works. To explain this, I will use AT&T (T) as an example. AT&T declared a $.43 dividend to shareholders of record on October 10th, 2011. On the ex-dividend date the stock price should decline by the after-tax dividend amount, with an assumed tax rate of approximately 15%, because many dividends qualify for a lower tax rate. As a result, an investor would expect the stock price to decline by $.37 = [$.43 * (1-.15)]. If AT&T declined by more than $.37 in the absence of negative news, you might have an attractive opportunity on your hands. Executing this strategy can generate outsized returns over short periods of time.
To focus on these opportunities I ran a screen with a focus on relative safety for the investments. Since this is a high yield quest, I began with a specification of a dividend yield greater than four percent and an ex-dividend date within the next week. To provide some layer of safety, I narrowed down the environment by looking at companies with market capitalizations greater than one billion, PEs between zero and twenty, and an institutional holding percentage of at least twenty-five percent. While not a precise requirement, I prefer companies that have underperformed the S&P 500 year-to-date, as it indicates limited downside relative to peers. This is summarized below:
Dividend Yield ≥ 4.0%
Ex-Dividend Date = Next Week
Market Capitalization ≥ $1B
PE Ratio: 0-20
Institutional Ownership ≥ 25%
After applying this screen I arrived at eleven potential trades, of which I will focus on five. Although I envision these as short-term trading ideas, you still need to be careful. The information presented below should simply be a starting point for further research.
SeaDrill Limited (NYSE:SDRL): 8.73% Yield –Ex-Dividend 12/8
SeaDrill is an offshore drilling company that operates over fifty oil and gas drilling platforms across the world. The high yield was initially concerning, so I dug deeper into the company as the oil and gas drilling industry can be somewhat volatile. The dividend history is short, but indicates a steady trend with a commitment to returning excess funds to shareholders. The third quarter financials also indicate a bullish stance on the dividend:
"Quarterly Cash Dividend: In the first quarter 2011 report, the Board increased the long-term quarterly dividend to US$0.70 based on improved market outlook and strong earnings visibility, as well as decided to pay out an additional US$0.20 per share during the next four quarters, payable by US$0.05 per quarter. The Board has in connection with the third quarter results reevaluated the dividend strategy and decided to make the additional US$0.05 dividend part of the long term quarterly dividend. In addition, the Board has decided to increase the quarterly dividend further by US$0.01 to US$0.76. The increase in dividend reflects the improved market outlook, the increase in contract backlog, the reduced level of debt per unit and still a healthy financing market for quality names."
Power Hedge wrote a great article examining SeaDrill's recent quarter and it builds my confidence in the pick.
Enerplus Corp (NYSE:ERF): 8.23% Yield – Ex-Dividend 12/7
Enerplus is an oil and gas producer with source properties spanning Canada, as well as the Northwest and Northeast United States. Forbes has a nice analysis of the company: "The company has hedged most of its 2012 oil production at over $95/bl. and some of the 2013 production at over $100/bl. If natural gas prices can resist weakening further, the dividend should be OK." With the PE at ten and fifteen percent relative underperformance, this is a relatively safe pick. Additionally, Enerplus was recently highlighted by Bullmarket.com as a top dividend stock for 2012. Note that Enerplus distributes earnings monthly rather than quarterly.
PPL Corporation (NYSE:PPL): 4.72% Yield – Ex-Dividend 12/7
PPL Corporation is a predominated regulated utility company with over five million customers in the Northeast and Northwest United States. This week over half of the screen results are utilities, thus I narrowed in on PPL because of its low PE and more than modest yield for the space. I have been a fan of electric utilities for years because of their high yields and low risk. I highlighted Integrys last week. For comparison, PPL holds a similar risk-return profile with proportionally lower PE and yield.
United Bankshares, Inc. (NASDAQ:UBSI): 4.44% Yield – Ex-Dividend 12/7
United Bankshares is a commercial and retail bank with over one hundred locations in the Northeastern United States. UBSI looks like a standard regional bank, but the high PE is alarming for the beaten down industry, despite the company's strong history of dividend increases. Between this and the relative strength index (RSI) nearing the overbought range, I would personally avoid UBSI because the yield is not spectacular for the risk assumed.
Reynolds American Inc. (NYSE:RAI): 5.43% Yield – Ex-Dividend 12/7
Reynolds is the other "big tobacco" company like Lorillard (NYSE:LO), that arose in my screen last week RAI is one of the "big tobacco" companies, with brands including Camel and Kool. I have invested in both Altria (NYSE:MO) and Philip Morris (NYSE:PM) with tremendous capital gains and dividends over the years. Reynolds is slightly more expensive and has a lower yield than Altria; therefore, I prefer Altria as a long-term investment but Reynolds holds up very well for this strategy.
The legal ruling against strong warning labels on cigarettes should benefit all companies in the industry. Tobacco companies are both mature and safe; precisely what investors are seeking in this economy. For this reason, I hold PM in my "Great Recession II" portfolio.