The Swedish krona could rise as lending rates remain unchanged, while its economic and inflationary outlook improve. The Swedish currency is represented by the CurrencyShares Swedish Krona Trust ETF (NYSE:FXS).
In April, Sweden's lending rate was held at current levels. The lending rate came in at -0.25%, above estimates calling for -0.4%. Since 2011, the key lending rate has fallen from over 2% to current levels. As its economy stabilized, policymakers felt it was appropriate to cease cutting the benchmark rate, at least for the near term.
"The expansionary monetary policy is having a positive impact on the Swedish economy and inflation has begun to rise. To ensure this development continues, the Executive Board of the Riksbank has decided to purchases government bonds for a further SEK 40-50 billion," according to Trading Economics.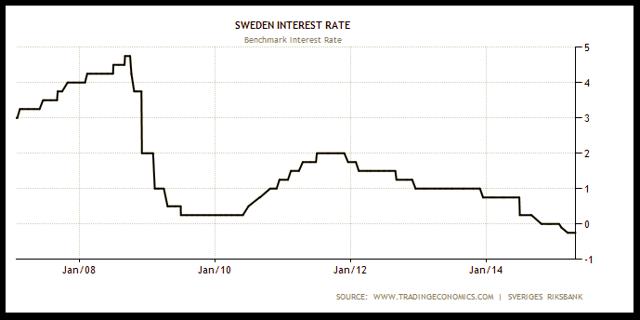 Additionally, economic growth measures have accelerated higher recently. In the fourth quarter, the economic growth figure came in at an annual pace of 2.7%, up from the previous quarter's revised reading of 2.3%, while also exceeding estimates for 1.45%. After bottoming in 2012 at contraction levels, economic growth has rebounded higher. Policymakers expect more stability in the country's economy's future, as well as the surrounding euro area economies, while using asset purchases to provide support.
"Economic activity abroad continues to slowly improve. Although the development of economic activity abroad continues to be uncertain, the recovery in the euro area appears to be on firmer ground. GDP growth in Sweden is good and the labor market is continuing to improve," according to Trading Economics.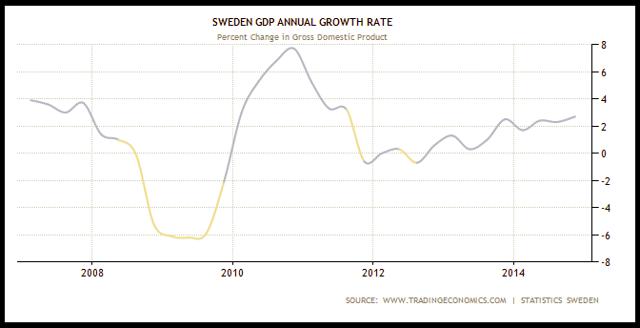 Moreover, inflation measures are holding up better than many of Sweden's European peers. In March, the inflation figure came in at an annual pace of 0.2%, up from the previous month's reading of 0.1%, while missing estimates for 0.3%. Over the last few years, the price measure has oscillated around 0%, seen below. Policymakers are content with the current level of inflation, but state they are ready to act if needed.
"Monetary policy reflects the fact that the Riksbank's tolerance for low inflation is very limited. To support the positive development and ensure that inflation rises sufficiently quickly, the Executive Board of the Riksbank has decided to extend the purchases of nominal government bonds by a further SEK 40-50 billion," according to Trading Economics.
The Swedish krona has held up well as economic growth and inflation measures stabilized. Policymakers left rates unchanged at its recent meeting, as they believed the current level was appropriate. Moreover, economic growth exceeded estimates in recent quarters. While inflation is low, it too remains stable, above contraction territory. As the Swedish economy continues to improve, its currency should move higher.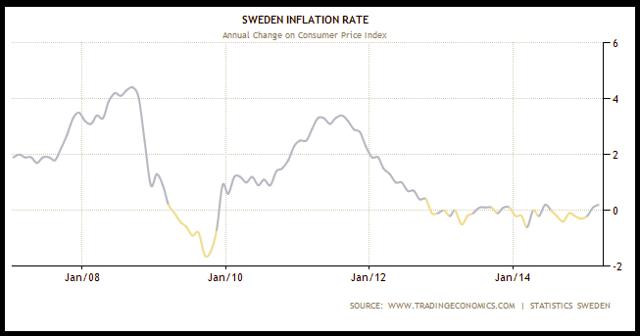 Disclosure: The author has no positions in any stocks mentioned, and no plans to initiate any positions within the next 72 hours.
The author wrote this article themselves, and it expresses their own opinions. The author is not receiving compensation for it (other than from Seeking Alpha). The author has no business relationship with any company whose stock is mentioned in this article.