A lot has been written about this stock lately after its recent earnings release [see transcript]. Will Lululemon (NASDAQ:LULU) head down? Did people miss a great buying opportunity on Thursday Dec. 1 when they could have bought it for about $45? Here's what I think about LULU:
LULU is a trendy, premium (also known as expensive in some circles) maker of yoga attire, selling mostly to rich moms. It competes primarily with Nike (NYSE:NKE) and Under Armour (NYSE:UA). The key to figuring out where LULU is headed is in understanding what its earnings and revenue growth are going to be and whether its margins are deteriorating materially. So what multiple is realistic for LULU?
The table below [] compares Revenue, growth, gross margins, operating margins and operating income growth rates for LULU and its closest competitors. Every dollar spent at LULU is likely coming at the expense of NKE or UA.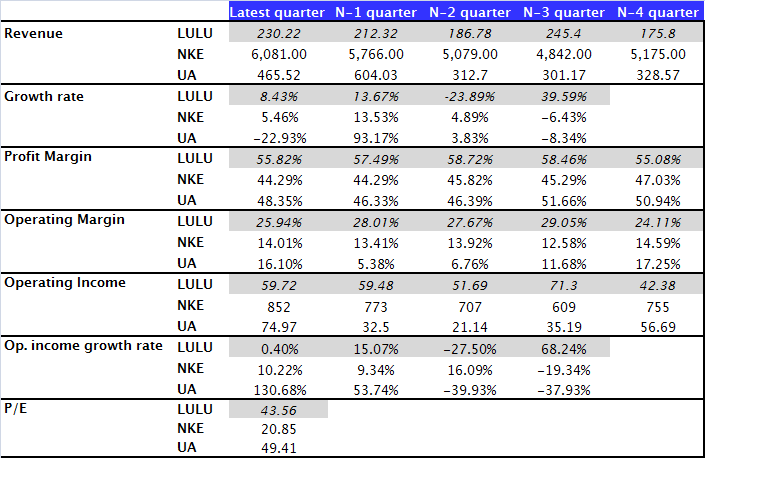 Focusing on a niche product category (compared to NKE) allows for greater gross margins. LULU sells their wares only through their own retail or online stores whereas Nike and Under Armour rely predominantly on retailers for their sales.
So does it deserve a multiple twice that of NKE? Probably so – you are paying for earnings power of 55% gross margin compared to NKE's 44%, and you are paying for earnings growth of 15% (looking at N-1 quarter) compared to about 10% for NKE. I am ignoring the latest earnings quarter as an aberration.
All that is fine and dandy but what are margins going to be in the future? In the last earnings call, LULU chief executive said holiday markdowns will lead to margin pressure. Going forward, I believe that those comfy cotton pants will also get more expensive to make, adding to downward pressure on margins.
Where to go from here?
Looking at the rear view mirror is no fun when driving – projecting out LULU's earnings, let's see if such a high multiple is justified. For that I define a new term I call Operating income multiple = Price to Operating income/share. Looking through the rear view mirror LULU commands a 29.4 multiple.

Now let's project how LULU might perform 4 quarters in the future. Potential scenarios revolve around how much revenue is going to grow, and to what extent margins are going to be compromised. I am listing 3 possible outcomes. I believe the middle scenario is most likely – growth will moderate to 25% YoY and margins will reduce to 53% of revenue. Using the same 29 multiple, I believe that the stock price is then fairly valued, which means there is limited downside.

Trading strategy
Investors can use a covered call strategy to protect against any nasty surprises. Consider selling June $60 calls for $4.19. I don't see how LULU can move beyond $64.19 by June for you to leave money on the table.
I would squeeze this lemon - there is juice in it!
Disclosure: I am long LULU.